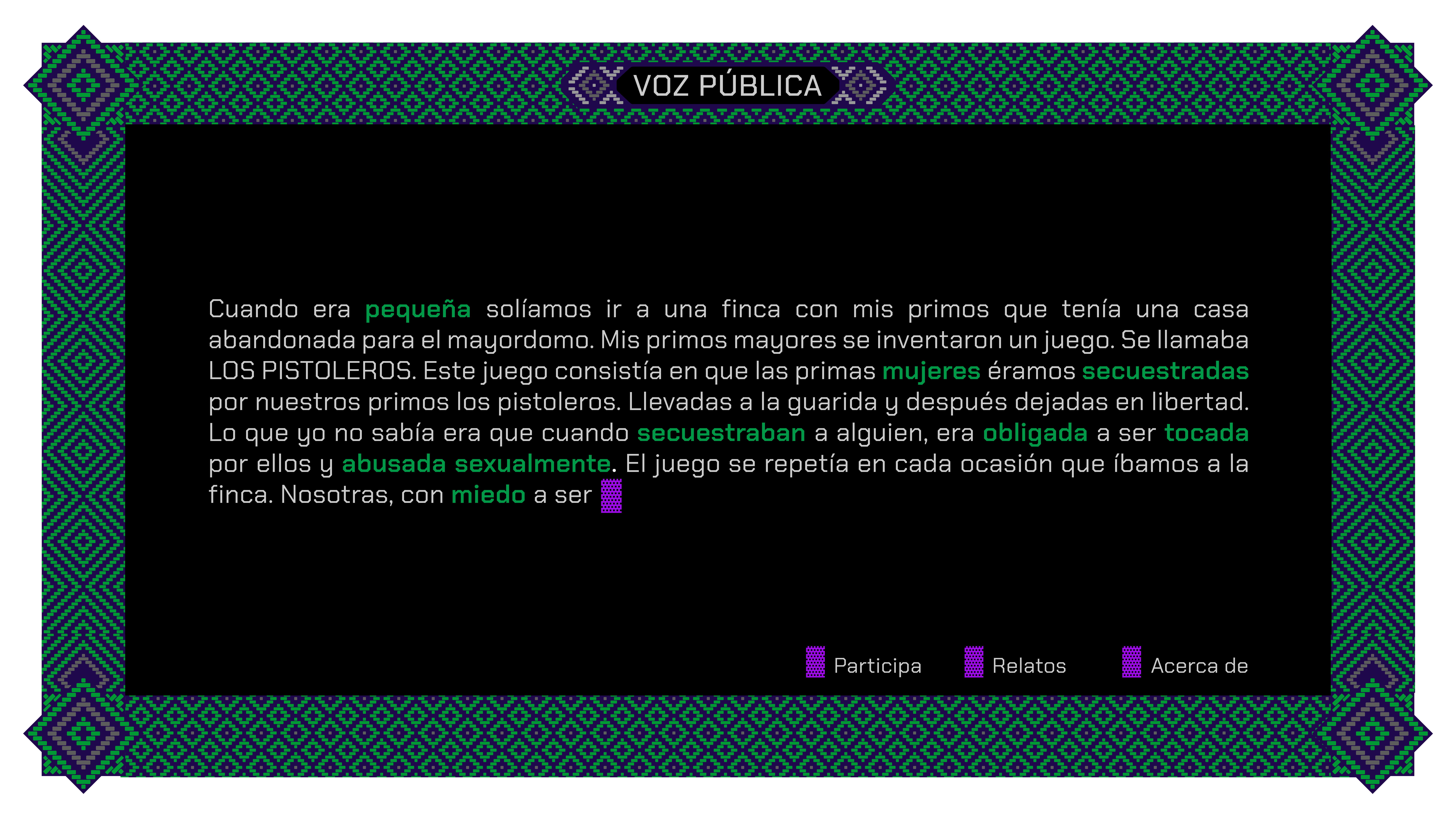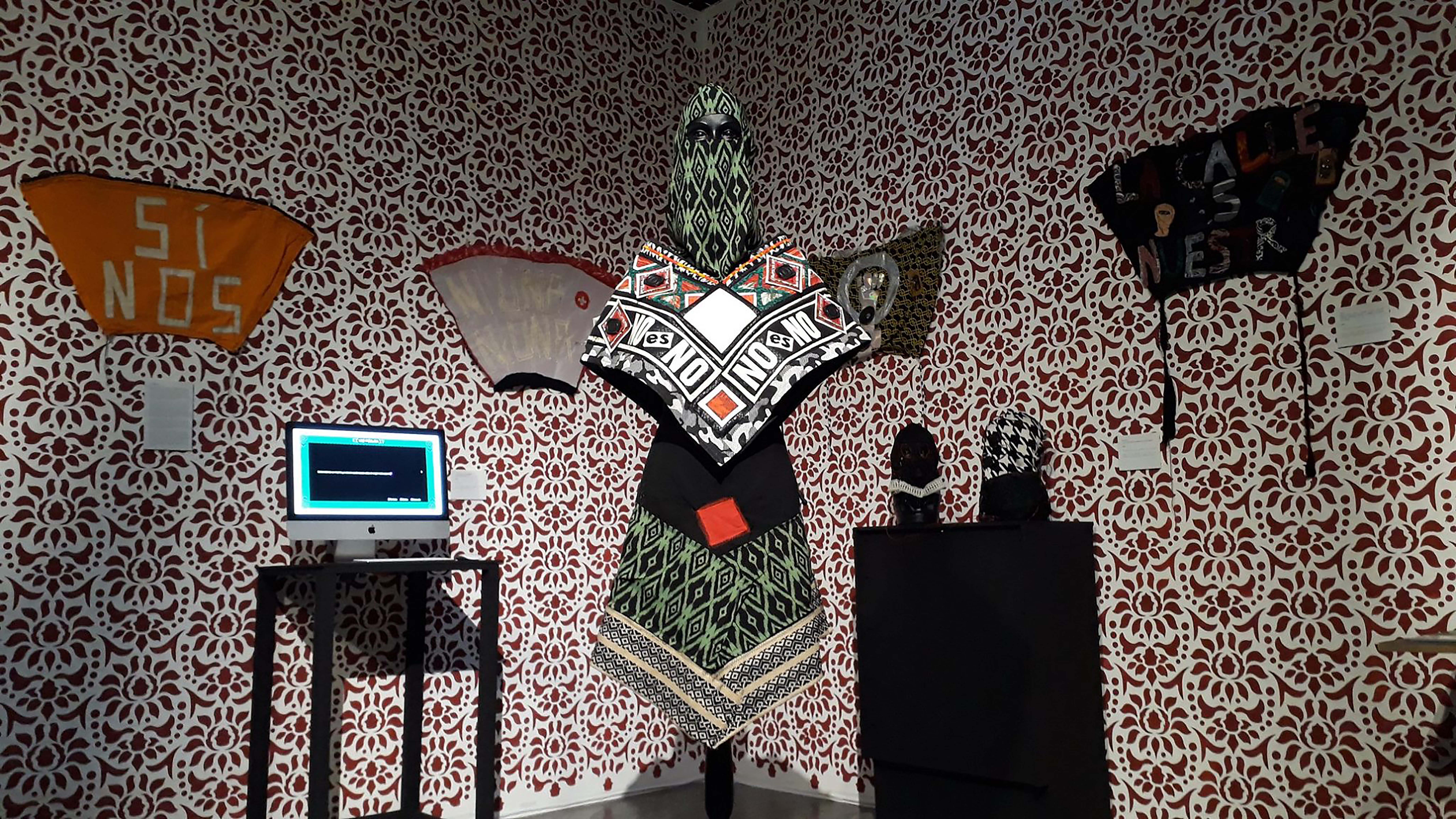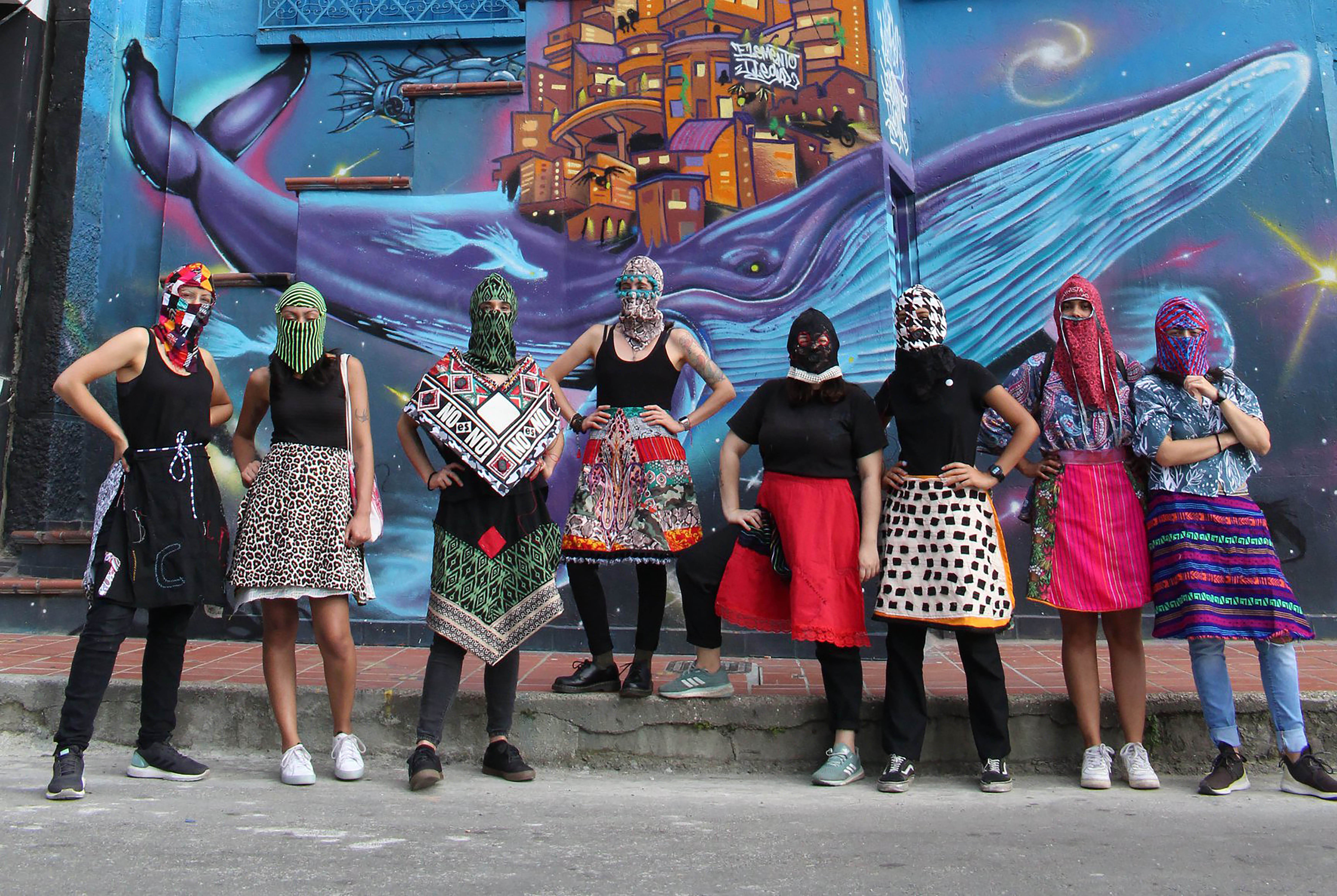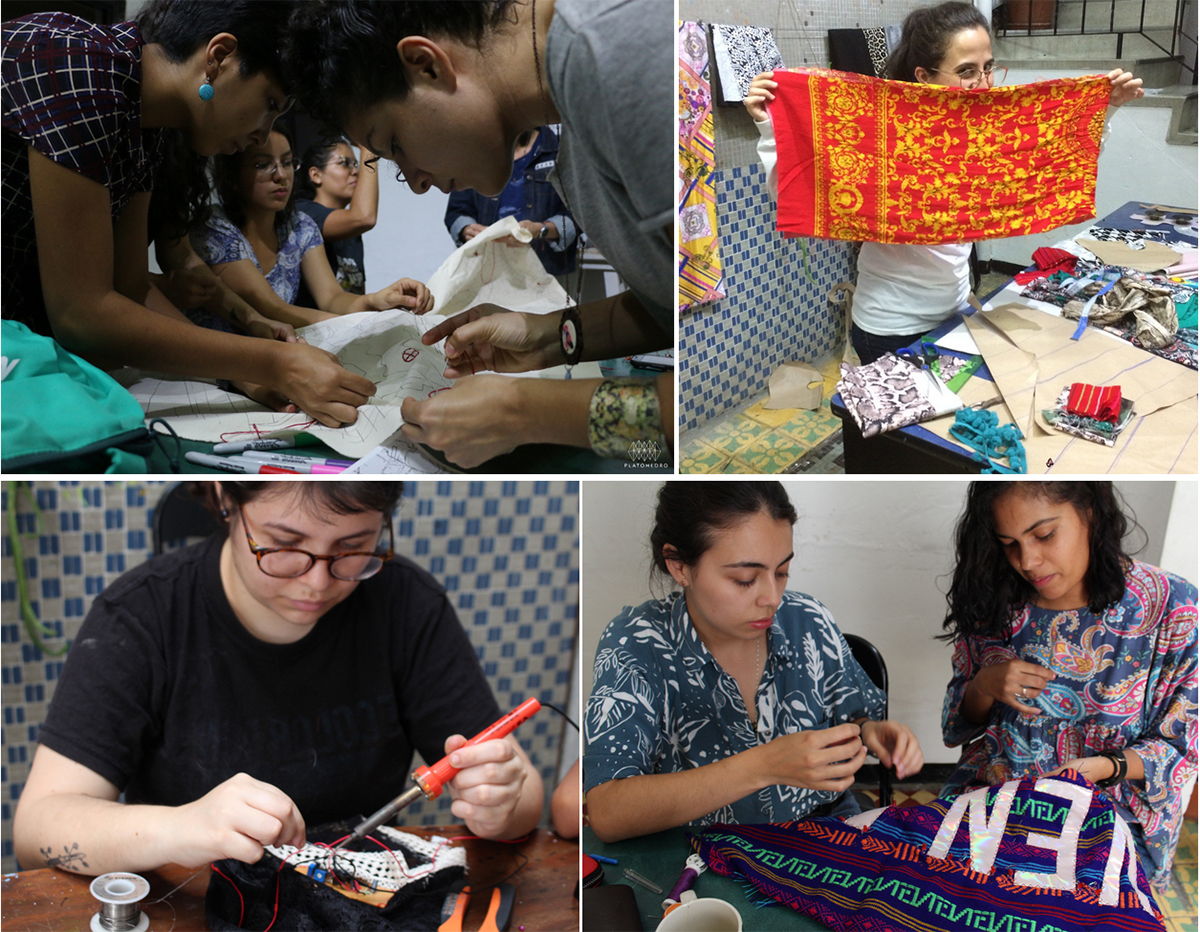 Please describe the concept of your artwork in 2000 words.

Voz Pública
Pieza artística de Dora Bartilotti


Voz Pública es una pieza de arte participativo que busca visibilizar el problema de violencia de género en el contexto urbano de latinoamérica. La intención del proyecto es ser un mecanismo portavoz de aquellas voces que han permanecido neutralizadas a consecuencia de una sociedad que aún discrimina a la mujer y que invisibiliza las violencias que la atraviesan, en una denuncia y demanda colectiva por recuperar nuestro derecho a la ciudad.

El proyecto se da en el contexto actual de Latinoamérica, en el cual, diferentes formas de machismo prevalecen y dan como resultado un contexto violento para las mujeres. Frente a esto y a una falta de respuesta y proporción de mecanismos para abordar el problema por parte del estado, es que surge Voz Pública como una propuesta que apuesta por el activismo creativo.

Voz pública está conformado por tres partes que trabajan en conjunto paralelamente: Una plataforma en línea (www.vozpublica.cc), un textil electrónico y una serie de Laboratorios urbanos llamados La Rebelión Textil.

La primera parte consiste en la plataforma de participación y visualización en línea en donde mujeres y personas no binarias pueden compartir, de forma textual y anónima, relatos personales relacionadas a este tipo de experiencias de violencia. A partir de estas aportaciones se genera una base de relatos vinculada con las otras dos partes del proyecto.

La segunda parte del proyecto, consiste en un textil electrónico basado en un sistema de computación embebido, un arreglo de microbocinas e hilo conductivos. El sistema embebido contiene la base de relatos del proyecto, la cual utiliza para dar voz a las historias a través de un sintetizador de voz. Este textil electrónico hace referencia visual a la tradición textil latinoamericana, así como a diversas propuestas gráficas vinculadas al activismo y lucha feminista. Esta prenda electrónica es activada en espacios públicos con mayor índice de este tipo de violencias, como son los parques, plazas, calles y transporte público. De esta manera, este dispositivo textil busca amplificar y visibilizar estos testimonios para convertirse en un mecanismo portavoz de sus narradoras. Igualmente, en tanto que el proyecto hace uso de las prendas, éste hace alusión a la presencia y ocupación del cuerpo sobre el espacio urbano.

La tercer parte del proyecto consiste en una serie de encuentros nombrados La Rebelión Textil: Laboratorios de textiles electrónicos y activismo feminista. Estos Laboratorios tienen por objetivo ser un espacio de reflexión, convivencia e intercambio de saberes, así como de apropiación y construcción grupal de textiles electrónicos basados en el prototipo inicial del proyecto. Las Rebeliones pretenden propiciar otros modos de asociación y relación que nos permita interrogar nuestras maneras de hacer, donde se apueste por la convivencialidad y la juntanza como formas contestatarias de organización colectiva en contra de los mecanismos y sistemas que nos oprimen, nos marginan, nos separan y nos individualizan. El objetivo final del laboratorio es generar acciones públicas para activar estos dispositivos, como una forma de acción y demanda colectiva por recuperar nuestro derecho a la ciudad.

Desde esta perspectiva, el proyecto se apropia de las tecnologías textiles electrónicas con dos objetivos: Por un lado, para dar una presencia física, a través del sonido, a aquellos relatos que previamente han sido compartidos por las participantes del proyecto. Por otro lado, como una forma de unir estos relatos a un sentido de corporeidad. En otras palabras, entramar los relatos y dejar que los mismo se sientan en la propia piel, pues aquí, el cuerpo juega un papel importante, ya que es en éste donde residen y donde toman efecto las estructuras de poder sobre las que se articulan las prácticas sociales y las instituciones que dan forma a nuestra comunidad.

En resumen, Voz Pública plantea un conjunto de significaciones corporales, espaciales, temporales y materiales que se entretejen desde su desarrollo formal hasta las dinámicas participativas y prácticas colaborativas que lo conforman. Dicho de otra manera, busca hilar voces para sumergirnos en las tramas de sus narrativas, propiciar puntos de encuentro para en conjunto bordar resistencias colectivas, y de esta manera, tramar acciones en la urdimbre de lo público que amplifiquen la protesta a través de nuestros cuerpos portavoces.
El proyecto ha realizado 6 ediciones de La Rebelión Textil, teniendo lugar en Xalapa, San Agustín en Oaxaca, en Tlaxcala, dos en Ciudad de México y en Medellín, Colombia.


Créditos de la pieza:
Proyecto de: Dora Bartilotti
[ Idea orginal y conceptualización, diseño y producción textil, diseño gráfico y de interfaz web, diseño e impartición de Laboratorios, programación y electrónica textil ]

Colaboradores: Leonardo Aranda
[ Programación Web y electrónica ]

Please describe the concept of your artwork in 2000 words. (EN)

Voz Pública (Public Voice)

Public Voice is a tactical mediation and a participatory art piece that seeks to make visible the problem of gender violence in the urban context of Latin America.

The intention of the project is to be a 'voicing and amplifying' mechanism for those voices that have remained neutralized as a result of a society that still discriminates against women/non-binary people, a society that makes invisible the violence that crosses them, as a complaint and collective demand to recover our right to the city.

The project takes place in the current context of Latin America, in which different forms of machismo (sexism) prevail and result in a violent context for women. Just in Mexico, 9 women are murdered every day, and 2 out of 3 have suffered some type of violence, of which 1 has been experienced it in the public space. Faced with this, and a lack of response and mechanisms to address the problem, provided by the state, multiple feminist initiatives and groups have taken to the streets to protest, and it is in this context that the project operates.

The project is made up of three parts working together :

The first part consists of an online participation and visualization platform (www.vozpublica.cc) )where women and non-binary people can share, in a textual and anonymous way, personal stories related to this problem. From these contributions a database is generated that compiles these stories. This database is linked to the other two parts of the projects.

The second part of the project consists of an electronic textile that takes as visual and graphic reference the Latin American textile tradition, revolutionary graphics, urban art, and the own protest slogans of feminist movements. The electronic part of the textile consists of an embedded computing system, an array of conductive micro-speakers and conductive threat. The embedded system contains the project database, which it uses to give voice to the stories through a voice synthesizer. This electronic textile is activated in public spaces with a high rate of gender violence, such as parks, squares, streets and public transportation.

The third part of the project consists of a series of laboratories by way of extended workshops (like 3 or 4 weeks of collective creation), called "The textile Rebellion". These Laboratories aim to be convivial spaces for reflection and exchange of knowledge, as well as the appropriation and collective construction of electronic textiles based on the initial prototype, originally used in the textile piece. The ultimate goal of the laboratory is to generate collective actions to activate these devices, as demand to recover our right to the city.

Credits of the piece:
Project by: Dora Bartilotti
[Original idea and conceptualization, textile design and production, graphic and web interface design, design and teaching of Laboratories, textile programming and electronics]

Collaborators: Leonardo Aranda
[Web and electronic programming]

More information: https://www.dorabartilotti.com/voz-publica/

Textil electrónico (Medidas variables)
(Capucha: 36 x 20 cm, Quexquémitl: 65 x 65 cm, Falda: 65 x 65 cm)

Textiles cosidos a mano y máquina.
Bordados hechos a mano con hilo conductivo e hilo de algodón.
Computadora embebida, bocinas, circuitos y cables electrónicos.

Electronic textile: ( Variable dimensions )
(Balaclava: 36 x 20 cm, textile: 65 x 65 cm, Skirt: 65 x 65 cm)

Hand and machine sewn textiles
handmade embroidery with conductive thread and cotton thread
Embedded computer, speakers, electronic circuits and cables.

https://www.dorabartilotti.com/voz-publica/

https://vimeo.com/429484634

Your OfficialURL (Website, Instagram, Facebook)

website: https://www.dorabartilotti.com/ Instagram: @dorabartilotti Facebook: Dora Bartilotti

Please describe how your work relates to the theme of the special prize.