1.Utilize Administrator Functions (Owner Only)
In My AWRD editor, there are functions that only the Organizer, or Owner, can utilize. Operation Members are unable to view or modify these functions.
How to access the page: My AWRD editor Home> Administration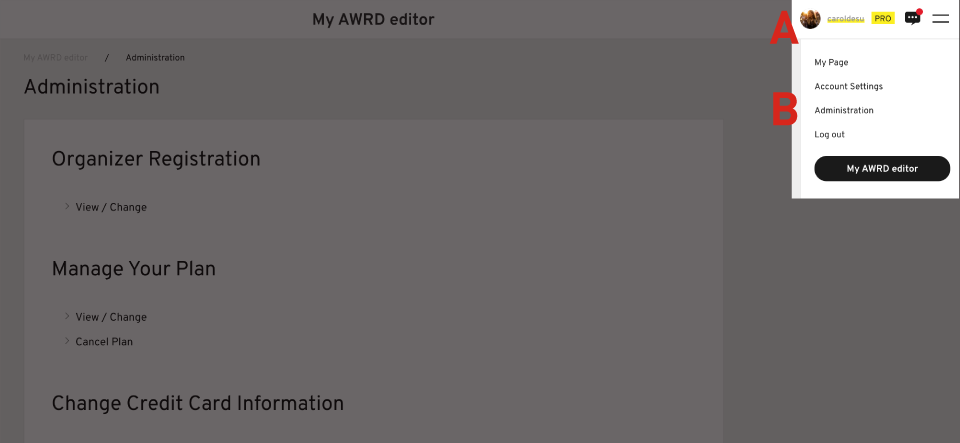 A. A menu will appear when the username is clicked.
B. When "Administration" is clicked, it will bring you to a page where you can view all administrator functions.
Confirm and Modify Organizer Functions
The Organizer Functions consist of the following items:
・Organizer Registration (View/ Change)
・Manage Your Plan (View/Change/Cancel)
・Change Credit Card Information (Edit/Renew)
・Delete Your Existing Project / Download Data (Delete/Download)
・Link Account (Link or Delete Account/API Settings)
2.Confirm Plan Information
Confirm Plan Information
Current plan (FREE/PRO) and the total number of projects will be displayed.
FREE plans can support 1 project, and it is possible for PRO Plans to support up to 60 projects at the same time. You can change your plan and delete projects from the "Administration" menu.
Filter Projects / Create New Project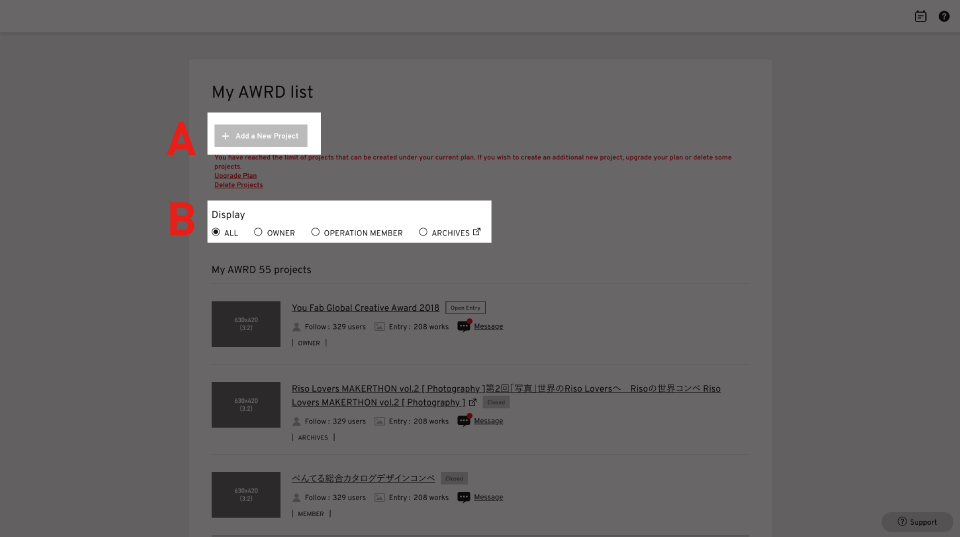 It is possible to apply a filter to the project list.
A: Create New Project Button
If the button cannot be clicked, try changing the plan from the "Administration" screen, or delete the current project and try creating a new one.

B: Project Filtering Area
Projects can be filtered as outlined in the below categories.
・OWNER: Projects that you have created and are sponsoring
・OPERATION MEMBER: Projects in which you are participating as an operation member
・ARCHIVES: Projects that have been deleted and transitioned to archived pages (when a project is archived, only the summary page will be displayed)
TIPS
An archived page is automatically generated when a project is deleted.
The archived page is displayed only to the Organizer via My AWRD home, and is not displayed to Operations Members.
It is not possible to delete archived pages.
Confirm All Owned AWRD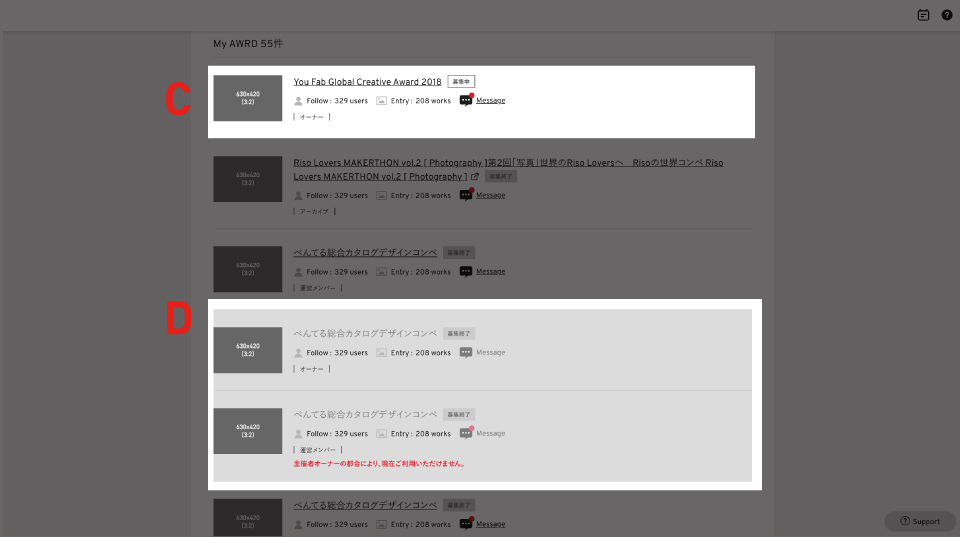 C: Situations where projects can be edited/deleted
D: Situations where projects cannot be edited/deleted
Warning
If an error occurs with processing credit card payments, the user will be unable to access projects and a situation as described in D (above) will occur.
Please be careful the deleted project won't be restore.