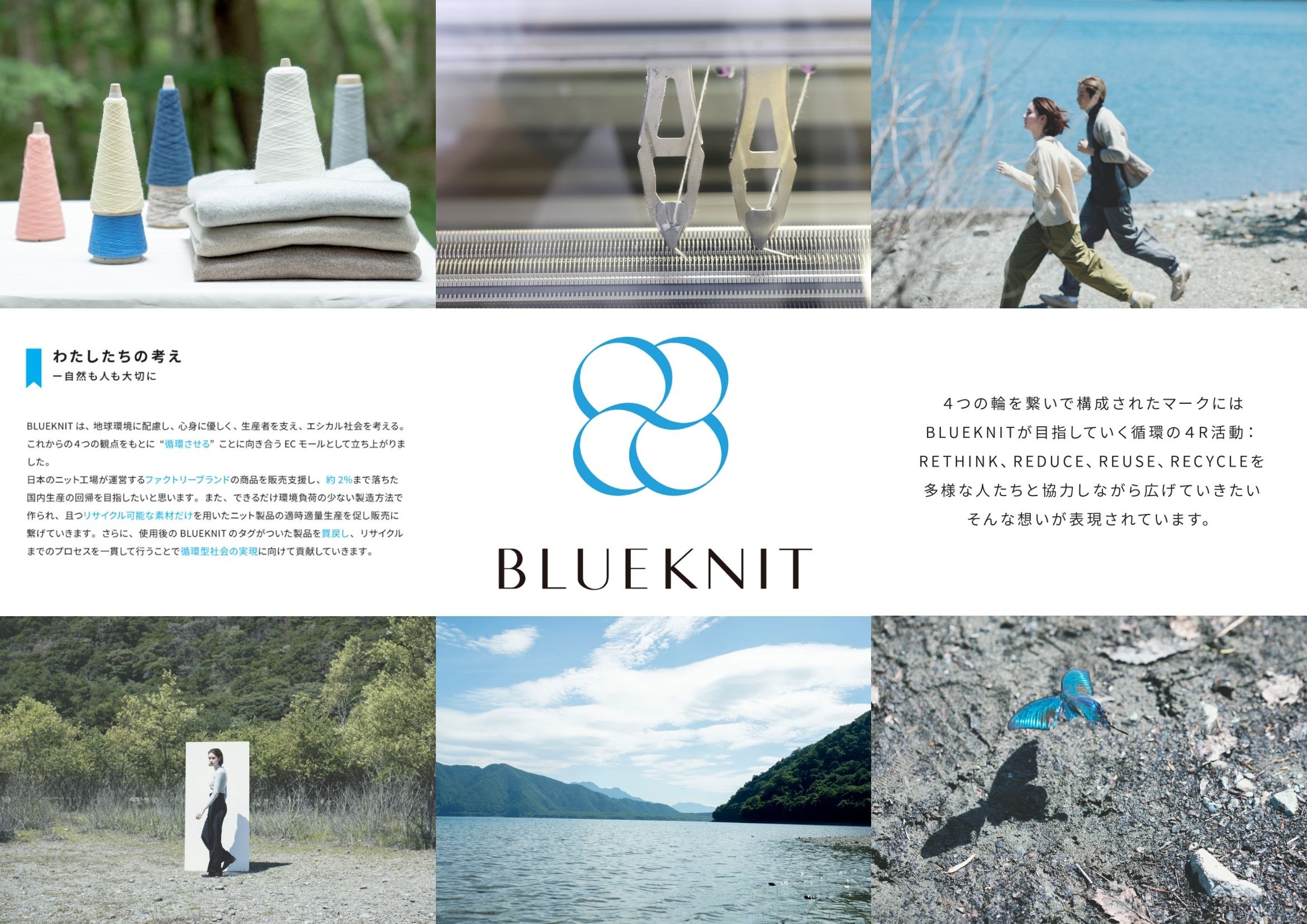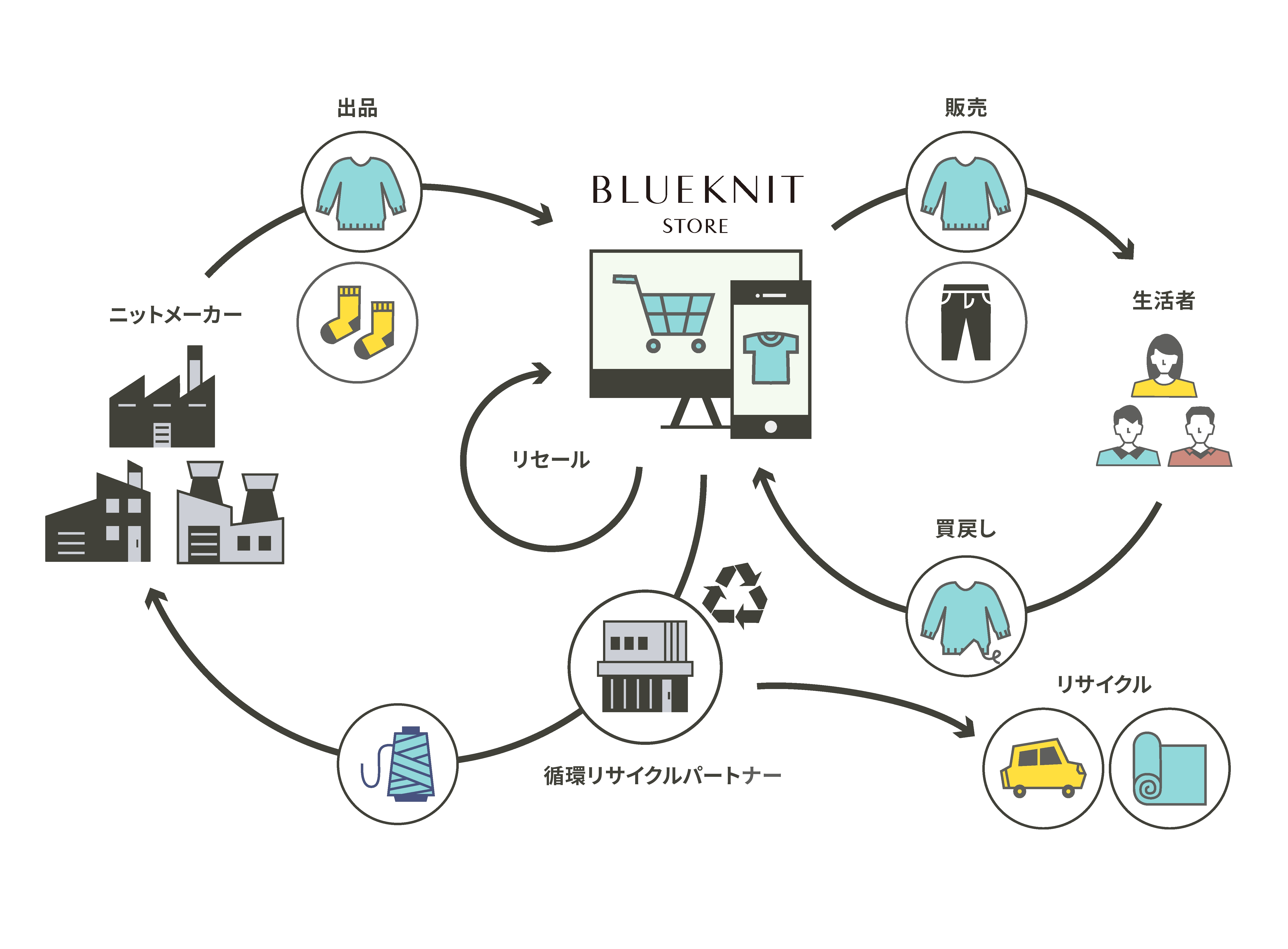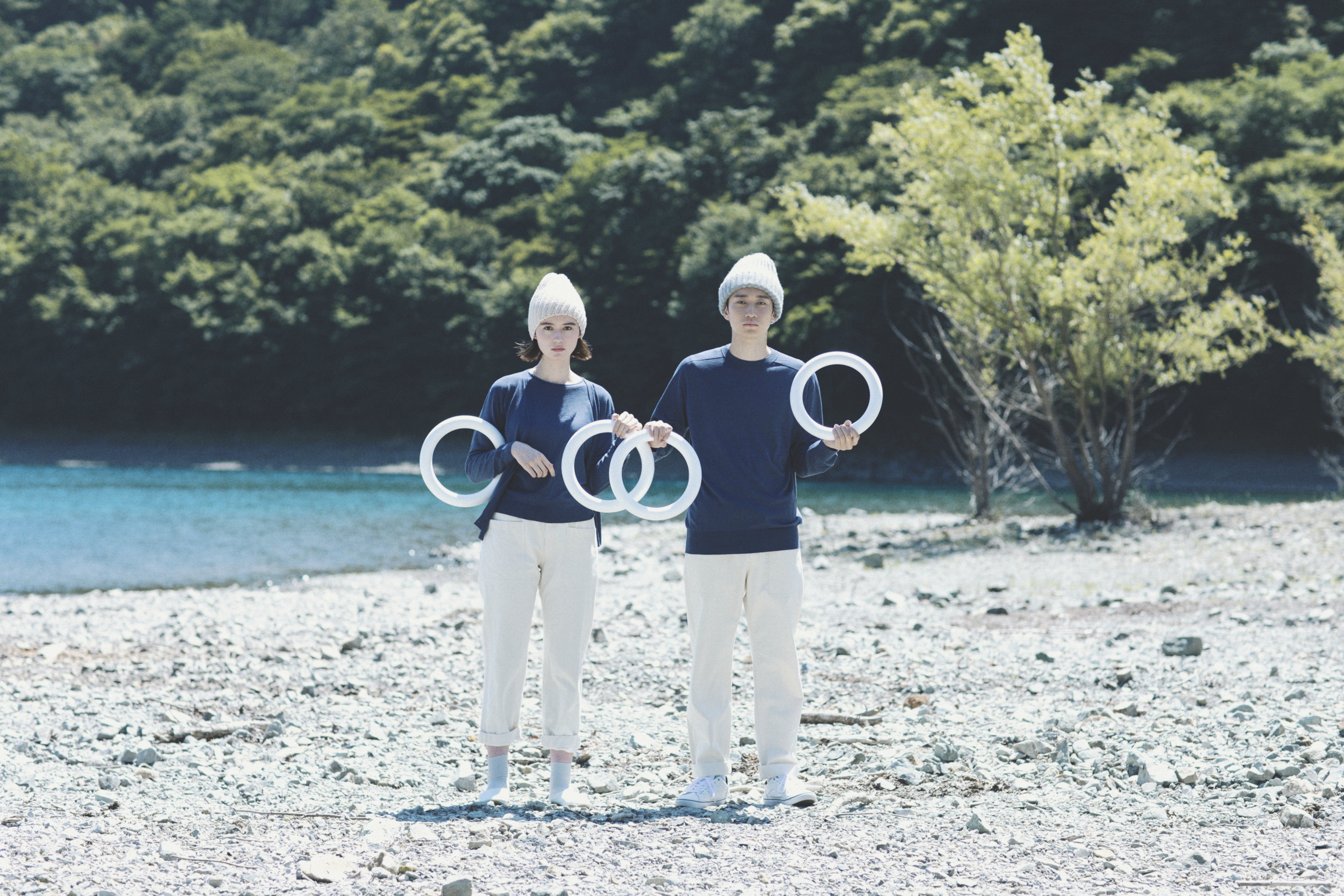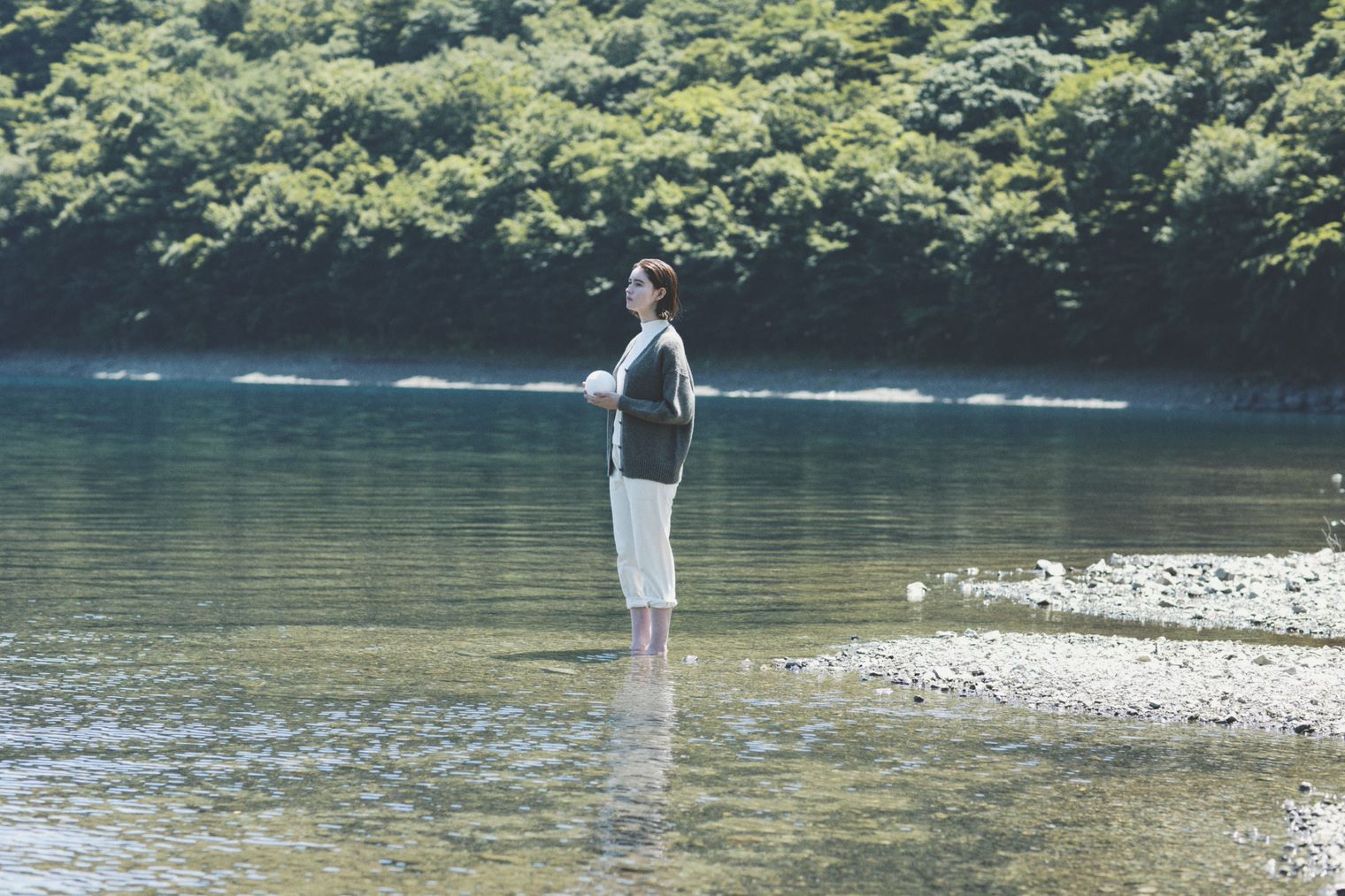 応募プロジェクト・アイデアの紹介動画URL(5分以内)

https://tinyurl.com/5n79kksw

繊維工業における事業所数は、2万3千以上あった2005年からの15年間で1万余りと半分以下にまで減少しました。こうした状況は全国の繊維産地において進んでおり、現在では、 繊維製品の国産化率は2%まで低下しました 高齢化や人口減少など様々な課題によってそこにしかない産地の技術継承が途切れつつあります。 デジタル社会の対応に直面するニットファクトリー各社の D2C ビジネスのサポートをは じめ参加工場の自社発信体制を支援し、ニットファクトリーを中心とした人材雇用や教育のコラボレーションにより地域活性化にも貢献することを目指します。 製品を生産するにあたり、地球環境に配慮し、心身に優しく、生産者を支え、エシカル社会を考える。これら4つの観点のもと"循環させる"ことに向き合った生産方式を取ります 。作る人、売る人、使う人がフェアに関わり、従来の3Rに加えBLUEKNITでは4つ目の 『R』 RETHINKを提唱し、消費者を含めた多様な方々と共に廃棄ゼロの循環型モノづくり ・エシカル消費について考え、実現に向けて廃棄ロス削減を行うECモールとして立ち上が りました。


The number of establishments in the textile industry has decreased from more than 23,000 in 2005 to more than 10,000, less than half of what it was in the previous 15 years. This situation is progressing in all textile production areas in Japan, and the domestic production rate of textile products has now dropped to 2%. The succession of skills in unique production areas is being disrupted by various issues such as aging and declining populations.
We aim to support the D2C business of knit factories facing the challenges of dealing with the digital society, as well as the in-house transmission system of participating factories, and also contribute to regional revitalization through collaboration in human resource employment and education centered on knit factories.
In the production of our products, we consider the global environment, are kind to the body and mind, support the producers, and consider ethical society. Based on these four perspectives, we adopt a production system that is oriented toward "recycling." Makers, sellers, and users are involved in the fair, and in addition to the conventional 3Rs, BLUEKNIT advocates the fourth "R" meaning RETHINK, and has launched as an e- commerce mall that reduces waste to achieve zero waste by thinking about recycling-oriented manufacturing and ethical consumption together with various people, including consumers.

#CIRCULARECONOMY #LOCALMADE #WHOLEGARMENT

応募プロジェクト・アイデアのWebサイトがありましたら、URLをご記入ください。

【特別賞】「地域資源の活用」として、素材や知見などの、地域資源をどのように活用して、課題に取り組んでいるか。(日英併記)

BLUEKNITの製品は日本の糸メーカーさまの糸を中心に使用し、生産は各地域のニットフ ァクトリーさまが行うローカルメイドを支援します。そして、それぞれ出来上がった製品は工程段階から地球環境に対する汚染が最小限になる素材を使用しています。 食で言えば「地産地消」が頻繁に使われます。イタリアでは村でブドウを作ってワインを 作り、パスタも作り、その暮らしのスタイルが生まれます。食と衣服がつながっているこ とが想像できます。ニットファクトリーさまがそれぞれの地域の特徴を活かしながら、素材から製品に繋げています。そこから先は、BLUEKNITが取り組みをサイトやSNSを通して発信し次第に共感が集まる事でツーリズムが生まれます。ニットファクトリーさんに地域の人々や他府県から集まるきっかけができ地域資源を活用した地方産業の活性化へと私たちは繋げます。


BLUEKNIT products are made with yarns from Japanese yarn makers, and we support locally made products produced by local knit factories in each region. Each finished product is made from materials that minimize pollution to the global environment at every stage of the production process.
In terms of food, "local production for local consumption" is frequently used. For example, in Italy, grapes are grown in villages, wine is made, pasta is made, and a way of life is created. You can imagine that food and clothing are connected.
Similarly, the knit factories are connected from materials to products while taking advantage of the characteristics of each region. From there, BLUEKNIT communicates its efforts through its website and social networking services, and gradually, tourism demand is created through the gathering of empathy. We will create opportunities for local people and people from other areas to gather at knit factories, which will lead to the revitalization of local industries by utilizing local resources.

【特別賞】「コミュニティから始まり、持続される」として、地域コミュニティでの活動を通じて、どのようにその活動を持続させているか。

BLUEKNITは参加するニットファクトリーの自社発信体制を支援し、工場の地域活性化にも貢献することを目指します。 工場で働く方々や地域のこと、応援してくれる人々のことなど取材し発信していきます。どのような人々がどんな想いで製品を作り、どのような環境で働かれているのか。生産者と消費者にギャップがあった繊維産業にコミュニケーションを通じて皆様にニット製品以上の価値を提供します。また、高い技術力を有し妥協のない日本産のニット製品をグローバル市場に繋いでいく可能性を追求します。 BLUEKNITの活動を通じて、地方産業の人材雇用や教育、コラボレーションのマッチング を促進します。様々な交流をすることで身近にありながら、なかなか知られていなかった技術や伝承にも繋げ持続的で発展のある繊維産業に推し進めていきます。


BLUEKNIT aims to support participating knit factories in their own transmission system and also to contribute to the revitalization of the local community of the factories.
We will report on the people who work at the factories, the local community, and the people who support them. What kind of people make products with what kind of thoughts, and under what kind of environment do they work? Through communication, we will provide value more than knit products to the textile industry, where there has been a gap between producers and consumers. We will also pursue the possibility of linking Japanese knit products, which have high technology and are uncompromising, to the global market. Through BLUEKNIT's activities, we will promote the matching of local industries for employment, education, and collaboration. Through various exchanges, we will promote the development of a sustainable and growing textile industry by connecting with the transmission of familiar but often unacknowledged skills and traditions.

【特別賞】「天然資源の再生」どのように廃棄物や汚染を排除し、天然資源を再生しているか。

カーボンニュートラル実現のため、一次生産の時点で土に還る糸(天然繊維・生分解性繊 維)やリサイクル糸、残糸を用いて編成されています。ご購入後は愛用して頂き、不要になれば私たちが商品を買戻しします BLUEKNITのリユース、リサイクルシステムにより 、リセールが難しい状態であってもパートナー企業であるBPLabさまの循環プラットフォ ーム「BIOLOGIC LOOP』を活用し糸に再生、もしくはリサイクル資源として生まれ変わります。再生された糸でニットファクトリーさまが新たに企画・二次生産を行います。商品の状態によってリセールが繰り返し行われ、資源の循環に回ることでBLUEKNITでは廃棄ゼロニット製品の提供を目指します。また、生産にあたりホールガーメント技術を活用しているため、生産工程で生じる廃棄素材の最小化が図れます。縫製工程の簡略化など労働問題に加え、素材のロスを無くし循環システムの構築によって繊維産業が抱える人権・ 労働・環境問題などを持続可能な産業へと目指す取り組みを行っています。


In order to achieve carbon neutrality, our products are knitted using yarns that return to the soil (natural and biodegradable fibers), recycled yarns, and leftover yarns at the time of primary production. If they are no longer needed after purchase, we will purchase them back. BLUEKNIT's reuse and recycle system allows for items that are difficult to resell to be recycled into yarn or recycled resources through our partner company BPLab's "BIOLOGIC LOOP" recycling platform. The recycled yarns are then used in knit factories. Knit factories will plan and conduct secondary production with the recycled yarn. The resale process is repeated depending on the condition of the product, and BLUEKNIT aims to provide zero waste knit products through the recycling of resources. In addition, the use of WHOLEGARMENT technology in production minimizes waste materials generated in the production process. In addition to labor issues such as simplification of the sewing process, BLUEKNIT is working to make the textile industry a sustainable industry by eliminating material loss and building a recycling system to address human rights, labor, and environmental issues faced by the textile industry.