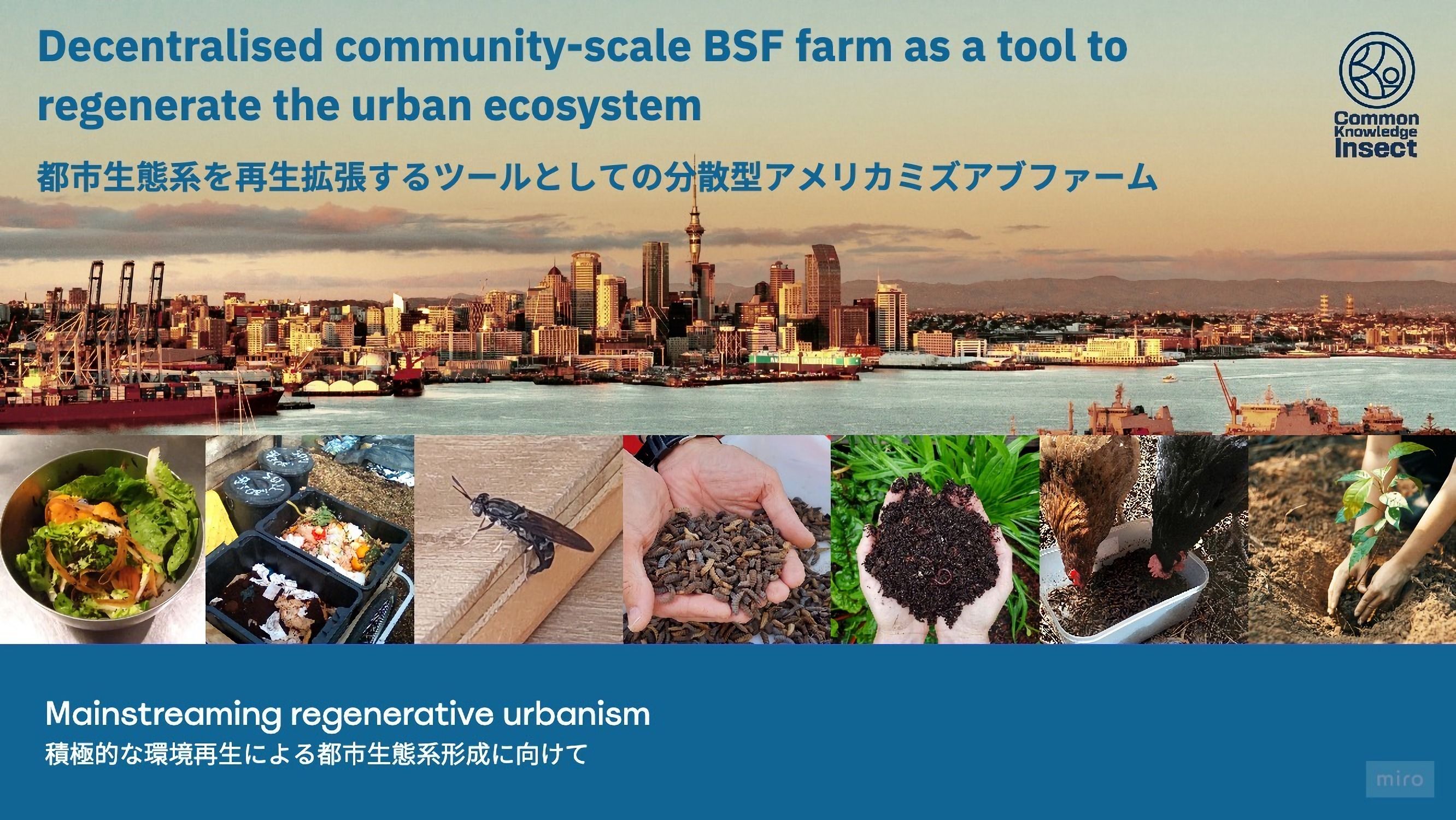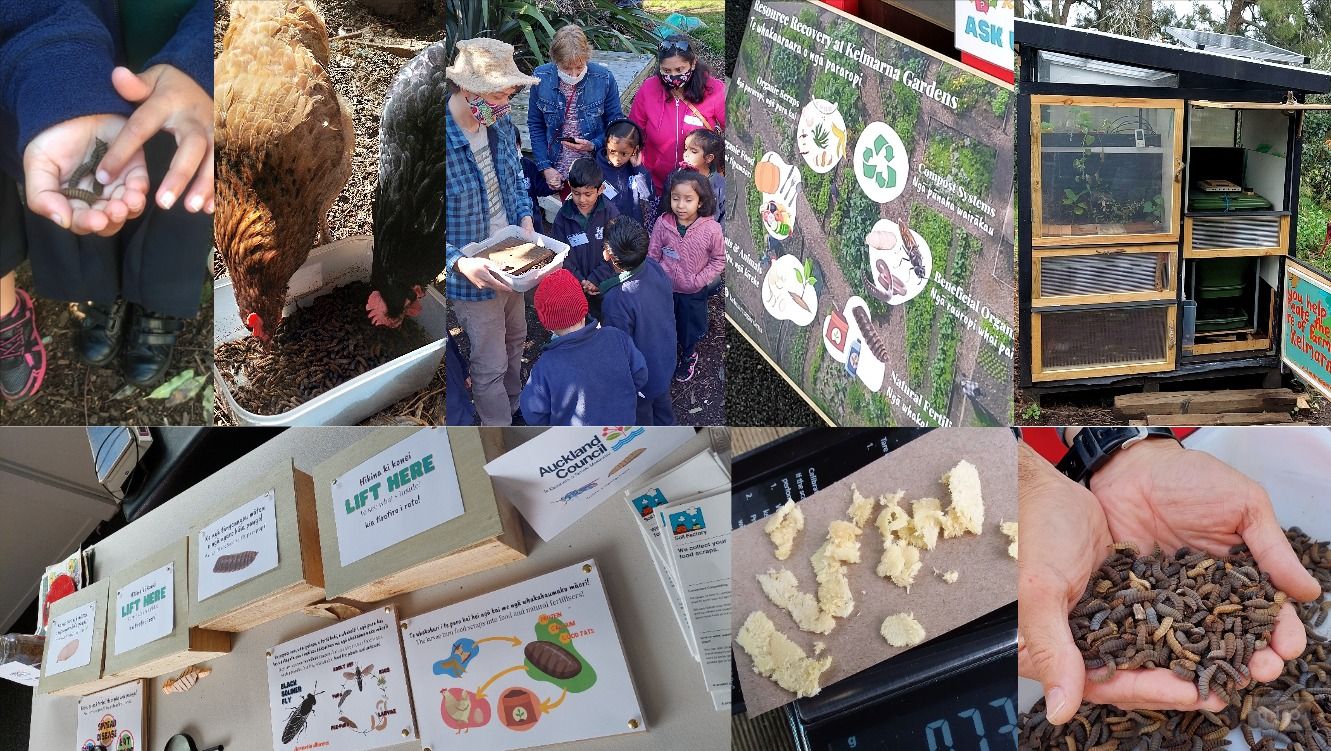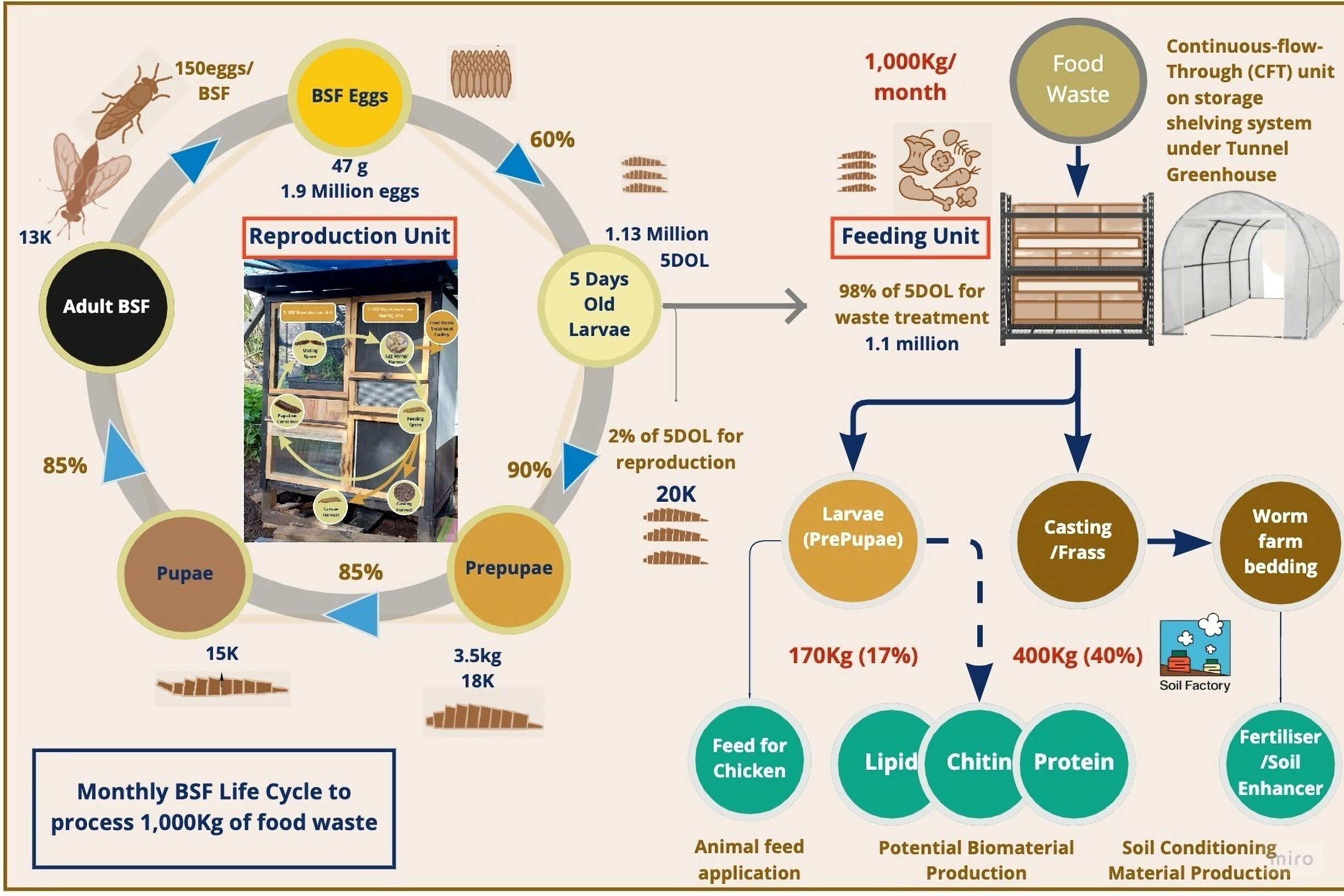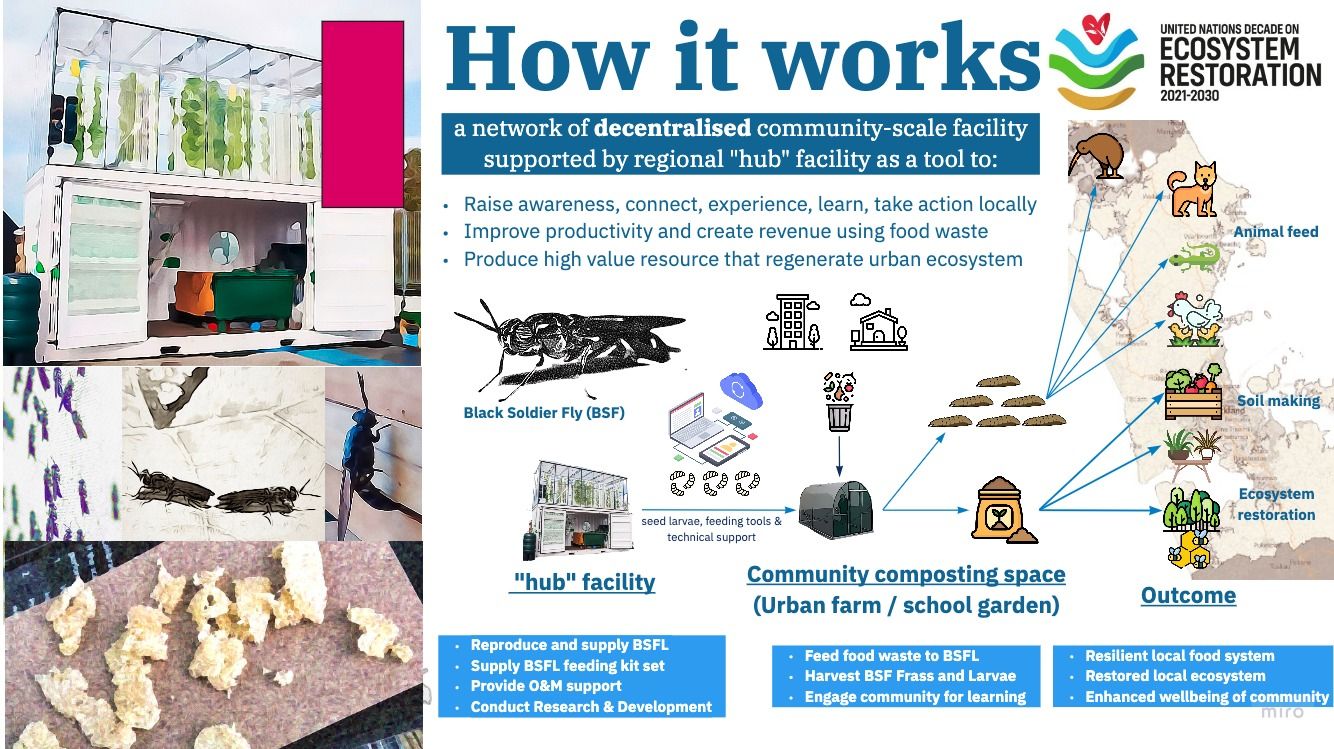 都市生態系を再生拡張する社会基盤インフラとしてのアメリカミズアブファーム Decentralised community-scale BSF farm as a tool to regenerate the urban ecosystem

応募プロジェクト・アイデアの紹介動画URL(5分以内)

裏庭のミミズコンポストを蠢くウジ虫に乗っ取られるという衝撃的な出会いに始まった一連の出来事は、メリアブという昆虫の幼虫であるウジ虫が本来商材ではなく、生態系における分解者として、地球上の土壌形成という重要な基盤生態系サービスを提供する役割を担っていることを気づかせてくれました。
メリアブが食品産業にとって優れた飼料資源であることは明白ですが、メリアブが都市環境の生態系回復と拡張に寄与し貢献できる可能性とその重要性はまだ多く議論されていません。
地元の都市農園での実験や対話を通じてこのウジ虫を広くコミュニティーにおいて日常的に利用できる仕組みを作り都市内で排出される有機廃棄物を全て都市内で生態系回復に必要な有機資材として分散的に再生産し、人間と多様な生物を養う都市生態系環境のwell-being(塩梅)をより良いものに導くために利用するというビジョンを描くに至りました。
このシステムを可視化することで都市化や食システムに関わる問題の本質について考え、ローカルに取り組むための機会についての対話の機会を創出できるのではないのかと考え現在地元のコミュニティーガーデンと協働でデモンストレーション用のプロトタイプシステムを制作しています。

A series of events that began with a shocking encounter with a wriggling maggot taking over the worm compost in my backyard made me realise that maggots, larvae of an insect called Black Soldier Fly (BSFL), are not essentially a commercial commodity but are decomposers in the ecosystem, providing an essential critical ecosystem service of soil formation on the planet.
While it is clear that BSFL is an excellent sustainable feed resource for the food industry, the potential and importance of BSF's contribution to the restoration of urban ecosystems and environments have not yet been discussed much.
Through experiments and dialogue in local urban farms, we created a vision of using the decentralised BSF system for the betterment of the well-being of the urban ecosystem, which nourishes all humans and diverse organisms.
We will fulfil this vision by making BSFL widely available to the community and enabling to convert most, if not all, of organic waste generated in the city into a resource for ecosystem restoration and regeneration activity within the community.
We are currently working with a local community garden to develop a prototype system to demonstrate the ability and lifecycle of BSF and to validate the project idea through dialogue with community members about the nature of the problems associated with urbanisation and food systems and the ways to address them locally.

#BSF #ecosystem #regenerative urbanism

応募プロジェクト・アイデアのWebサイトがありましたら、URLをご記入ください。

https://www.instagram.com/commonknowledgeinsect/

【特別賞】「地域資源の活用」として、素材や知見などの、地域資源をどのように活用して、課題に取り組んでいるか。(日英併記)

循環型社会形成を目指して活動している既存のローカルな団体や組織の生産性向上と環境インパクト強化を目的にメリアブの幼齢幼虫を生産供給し、活動現場での利用と生成物の活用を支援するサービスの開発と普及を目指しています。

利用者は中核地域施設から定期的に供給される必要量の幼齢幼虫に地域で発生する食料廃棄物を飼料として与え、コミュニティー内で効率よく安定的に有用な昆虫由来の有機資材を潤沢に生産する資源循環システムを構築することができます。


既存の微生物やミミズ、発酵素材を利用するコンポスト技術と組み合わせ、最終生成物を農園で利用、販売することでローカルな環境再生型の食生産システムの普及と発展に寄与し、関連する循環ビジネス、グリーン雇用、地域特産品等の創出を通じてローカルな循環型経済の構築を促します。

地域の学校と連帯して物質循環を可視化したシステムを利用して食を取り巻く生態系循環と生物多様性への理解を深める参加型体験学習プログラムの開発を可能にし、世代を超えた地域住民の環境意識と行動変化を促し地域生態系の保全、回復をともなうに環境再生型食システムのオーナーシップを高めることが期待できます。(514文字)

The project aims to support existing local groups and organisations working on regenerative farming and ecosystem restoration activities to increase their productivity, create revenue and strengthen their environmental impact.

The centralised hub facility will produce and supply the young BSF larvae for distribution and deliver the service to support the production and utilisation of BSF-derived products at the community level.

It enables the users to establish a resource recovery system that efficiently and stably produces an abundance of valuable insect-derived organic materials within the community by feeding locally generated food waste as a feed source to the young larvae supplied by the hub facility.

The user could produce added value BSF-derived products by integrating the BSF system with existing composting technology using micro-organisms, earthworms and fermented materials. The end products can be used and sold on farms to improve productivity and create revenue.
It would support the development of a local regenerative food production system and build a local circular economy by creating related circular businesses, green jobs and local speciality products.

Localised BSF-based circular systems can be used as participatory learning programmes in collaboration with schools and the community to deepen understanding of material circular cycles and biodiversity around the local food system.
It aims to raise environmental awareness and promote collective behavioural change across generations to adopt an eco-centric perspective to support a regenerative food system that utilises locally generated organic waste as a resource to improve and sustain the well-being of the community and ecosystem.

【特別賞】「コミュニティから始まり、持続される」として、地域コミュニティでの活動を通じて、どのようにその活動を持続させているか。

私たちはコミュニティーにおけるコンポストプログラムやリジェネラティブな都市農業等の環境再生に寄与する既存の取り組みを支援し、社会環境的なインパクトのスケールアップを目的としてメリアブシステムをそれぞれの活動に組み合わせて実装、活用するためのサービスを提供します。
このサービスを通じて環境再生活動の生産性と収益性を改善し、利用者や支援協力者の幅を広げることでより安定した組織運営基盤を築くことできると考えます。

私たちはコミュニティーでの利用に特化したメリアブシステムが地域再生資源である有機廃棄物の活用を通して人々と生態系をつなぎ、社会環境的な利益を分配還元する社会共通資本的なソーシャルインフラストラクチャーとしてコミュニティーに根付いて持続的に拡散発展していく未来を描いています。

そのためにはコミュニティー特有の環境条件、ユーザーの特性、需要やニーズの変化に対応して柔軟に利用されるためのアクセシビリティを含むデザインの向上、有機廃棄物の昆虫飼料としての品質管理、効率的で安全な昆虫由来生成物の安定生産と有効利用、市場開拓などについての研究開発をユーザーを含む関連機関や専門家と連帯して継続して取り組む必要があると考えています。

We support local initiatives that contribute to ecosystem restoration, such as community composting programmes and regenerative urban agriculture, and provide services to implement and utilise B S F systems in combination with existing activities to scale up their socio-environmental impact.
Through this service, we believe we can help improve the productivity and profitability of regenerative activities, broaden the range of users, and support collaborators to establish a more stable operational base for the organisation.

We envision a future in which the urban environment is transformed into a forest-like ecosystem by scaling up the impact of community-scale BSF system application. We envision a future in which the BSF system is deeply rooted within the community environment as a common social capital-like infrastructure that connects people and ecosystems and distributes the social and environmental benefits to the community.


To this end, research and development need to be carried out and sustained to improve the facility design, including accessibility, and to enable flexible use in response to community-specific environmental conditions and context, user characteristics and changing demands and needs.
A collaborative investigation will be required with relevant institutions and experts, including users, to establish the technology and process to manage the quality of organic waste as insect feed, stable, safe and effective production of insect-derived products, and market development.

【特別賞】「天然資源の再生」どのように廃棄物や汚染を排除し、天然資源を再生しているか。

これまで一般に利用されてきた様々な微生物を利用する生ゴミコンポスト技術は既存の焼却や埋め立て量を減らすことを主目的とする環境負荷削減技術としての側面が強く、有機廃棄物からの資源回収効率や最終生成物であるコンポストの循環資源としての価値創造に重きを置くものありませんでした。
自然界において存在する様々な分解者たる昆虫、ミミズ、微生物、発酵菌などの役割と再生産される有機資源の需要とニーズついて学ぶことで、都市生活で発生する余剰有機物を適切な分解生物を利用して効率よく処理し、生産される再生資源を地域内で適切に利用する循環ライフサイクルの構築によって有機廃棄物というもの社会環境から排除することにつながります。

狼を森に返すことで動物の行動が変化し植生と水環境を含む生態系全体の機能が最適に調節されるように、メリアブ を人類の新たなキーストーン種として都市生活の中に意図的にデザインするシステムの実装は我々が生態系の一部として自覚を持って行動するよう促し、人間が主体となって生態系の回復、再生、拡張をもたらす持続的な発展を可能にする社会変革に繋がるのと考えます。
(463文字)

Currently, food waste composting technologies, which utilise various micro-organisms that have been commonly used until now in general, have a strong focus on environmental impact reduction aimed at reducing the amount of waste to be sent to incineration and landfill.
Therefore the efficiency of resource recovery from organic waste and the adding value to the final product, compost, as a circular resource was not given much attention in general.
By learning about the roles of various decomposers in nature, such as BSF, worms, micro-organisms and fermentative bacteria, as well as the needs and demands of the organic resources produced through the system, the project enables to design and eliminates the concept of the waste by establishing a circular life cycle in which surplus organic matter generated in an urban community is efficiently decomposed using appropriate decomposing organisms and the various high-value end-products produced are used as a resource within the community.
Just as returning once-lost-wolves to the forest environment changes animal behaviour and rebuilds the entire ecosystem, the implementation of a system that uses BSF (as a modern keystone species to humanity) to deliberately design the production of valuable regenerative resources within urban community space in a visible manner encourages us to act consciously as part of the ecosystem to fulfil our role.
It would make us feel better to take the initiative to enable sustainable development by eliminating waste from the supply chain and systematically delivering the restoration, regeneration and expansion of ecosystems through its design of the circular social business model.