The winning designs for the HAPTIC DESIGN AWARD have been announced. Please take a look at the work from these "HAPTIC DESIGNERS".
For more information on the winning entries, please visit the HAPTIC DESIGN AWARD website
HAPTIC DESIGN >> http://hapticdesign.org/
facebook >> https://www.facebook.com/hapticdesign.org/
Grand Prize: Ridge Line User Interface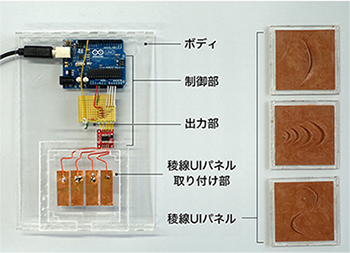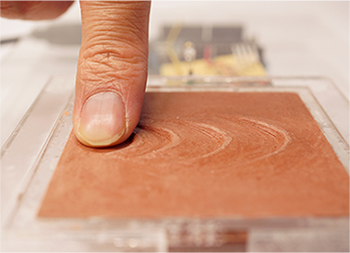 Concept:

The idea behind this prototype work is to create a new kind of switch interface.
This interface consists of two or more touch sensitive areas. These are divided into "perceptual ridges" by physical bumps and partitions.
Unlike existing switches that can be operated by pushing a button, or touching a fixed area on a screen, this interface operates by sliding your finger across the "perceptual ridge way", which also generates tactile feedback.
The design ensures mistakes caused by sudden accidental movements are less likely to occur, and through its simple construction, also brings a high degree of freedom to shaping its form.
With information provided both visually and by touch through three-dimensional modeling, this work breaks new ground in the field of user interface design.
First prize: Work/Model category – tsumishi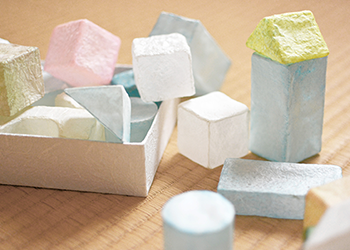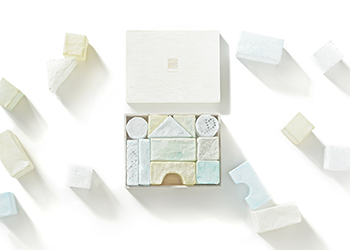 Concept

First, please try to remember how you hold a baby in your arms.
"tsumishi" are building blocks made from traditional Japanese "Washi" paper, that capture this feeling of a natural, gentle embrace.
Not only humans but many animals, when they are babies their bodies are small, their eyes are large and round, and this makes them seem adorable to us.
We are equipped with an instinctive need to protect them.
Because of this we act with a kindness towards all babies, and at the same time our movements become conscientious and careful.
Through this behavior the idea of making something delicate and fragile came to me.
The "tsumishi" are hollow, and appear transparent when held up to the light.
Different varieties of paper are used, so you can enjoy the subtle contrasts in color and texture.
If they can become a means by which we treat objects with more care, and help continue an aspect of traditional Japanese culture, then I will be very happy.
Ideas category – LIP SERVICE

Concept:
The texture cigarettes "LIP SERVICE" are an attempt to update a product that's been traditionally the favorite of many people, by bringing the stimulating perspective of HAPTIC to their lips.
By wrapping cigarettes in ten materials with different textures, smokers can savor a variety of sensations.
Until now, people have chosen their cigarettes based on differences in the quality of tobacco they contain.
However, the paper wrapping this tobacco has been almost uniformly the same.
Lips that touch a cigarette are one of the most sensitive parts of the human body.
By experiencing various textures, the sensation of smoking a cigarette subtly changes, and we get a fresh, revitalizing feeling each time.