"Paper" is so interesting! We are looking for new designs for "play," "communication," and "surprise," using historical and familiar materials, "paper."
"You Fab" is a global contest that seeks laser cutter ideas. In the second "You Fab 2013", we will collect ideas from around the world under the theme of "paper", the most familiar material in our lives.
Since the birth of paper 2000 years ago, humans have used paper to create cultures and record those cultures on paper. Fold, layer, paste, break, tear, draw, wrap, cut, print ... When you think of paper processing, you can feel the primitive "hand" movement, which is a proof that we have lived with paper long before tools were born.
In 2013, we are looking for ideas to expand the potential of paper with a long history! In addition to conventional tools such as "hands" and "scissors", the high-tech machine tool "laser cutter" is a new creative weapon. Renew the appeal of paper with a new "hand" of ideas and laser cutters.
We are recruiting in three categories: "paper toys", "paper greeting cards", and "party wear and accessories made of paper"!
In this contest, among the various relationships between paper and people, we focused on three things, "play", "communication", and "surprise", and developed "toys", "greeting cards", "party wear and accessories". We are looking for ideas using laser cutters in three categories.
Paper with a wide variety of colors and textures. It's up to you what paper you use.
Don't worry if you haven't experienced a laser cutter yet, "What is a laser cutter?" "What can you do?" Read the "What you can do with a laser cutter" below to expand your ideas.
* Fab = Manufacturing using digital machine tools such as laser cutters. Click here for details
What you can do with a laser cutter
According to the data on the computer, the material can be cut, engraved and engraved on the surface by laser light.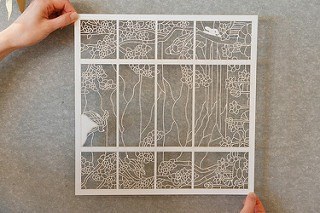 1. Shaving and stamping
By adjusting the laser intensity, you can change the depth of the engraving. The photo shows an example of engraving on a paper with a white front and orange back using a laser cutter to make it uneven. As you go to the logo below, you are engraving deeper.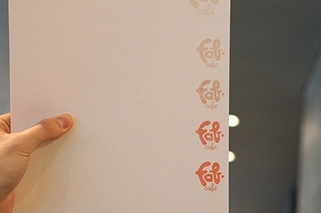 2. Disconnect
An example of cutting paper with a laser cutter. Even for designs smaller than 1mm, they can be reproduced exactly as shown in the data. Performs dense cutting, which is impossible with scissors or electric saws.
Application method
This open call for entries will be held in an open competition format using Loftwork.com's portfolio. Click the application procedure and follow the instructions to create and apply the design.
Organizer Loftwork Co., Ltd., FabCafe Tokyo
Sponsor: Takeo Corporation
takeopaper.com is a web store operated by Takeo Corporation, a paper trading company. Approximately 9,000 types of paper with a wide variety of textures and colors are available, and are sold from a single sheet in all paper sizes (large sheet-shaped paper and base paper distributed by paper manufacturers). We can also cut to your favorite size.
Recruitment Target
Category A: Toys (play)
Paper with a wide variety of colors and textures is a material that directly stimulates human qualifications and tactile sensations. Use a laser cutter to match the traditional processing of cutting, pasting, and stacking.
Category B: Greeting Card (Communication)
Congratulations, thanksgiving, knowledge you want to pass on to your juniors ... Since ancient times, humans have used paper as a means of communication. Think of an idea design for a greeting card that creates rich communication.
Category C: Partywear or accessories (surprise)
Think of new ways to use paper that you couldn't think of before. If you enjoy it overnight, we are looking for amazing partywear and accessory designs, such as partyware that can be recycled as it is and bulky folding accessories.
About the Prize(s)
About the award
Excellence award (1 for each category)

Prize money 50,000 yen ・ Sell works at FabCafe online store ・ Invite to prize party at FabCafe Tokyo or FabCafe Taipei

Special award (1 for each category)

Works sold at FabCafe's online store
Schedule
Outline of open call for participants
| | |
| --- | --- |
| Application period | Wednesday, May 15, 2013-Monday, July 15, 24:00 Japan Time |
Judge
Eisuke Tachikawa
NOSIGNER Representative / Special Visiting Associate Professor at the Graduate School of System Design and Management, Keio University
Eisuke Tachikawa aspires to social design innovation (design for a better future), employing a comprehensive design strategy based on the concept of designing the unseen. His techniques incorporate insights from the fields of architecture, graphics, and products and have been well-received all over the world. He has been conferred more than 50 major design awards in Japan and abroad, including the Good Design Gold Award, the Design for Asia Grand Award (Hong Kong), the Platinum PENTAWARDS Platinum Award (Food Packaging Category/Belgium), the Japan Sign Design Association (SDA) Grand Award, and the Japan Design Space Award (DSA).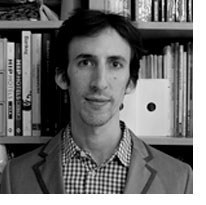 Johnny Strategy
Artist, Writer
Johnny was born in Brooklyn but moved to Tokyo a year later. He spent the first 18 years of his life growing up in Tokyo. He returned, for the first time, to the United States to attend college where he earned his bachelor's degree in Art Education and his BFA in Art and Visual Technology. He also completed intensive studies in art history. He is currently based in Brooklyn/Tokyo.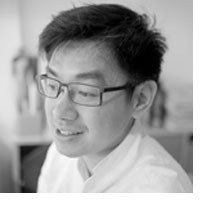 Tim Wong
FabCafe Taipei / Loftwork Taiwan co-founder
Tim was born in Hong Kong and lived in the US for 17 years. He relocated to Taiwan in 2008, because he believes Taiwan has the good opportunity to create a creative platform that cultivates innovative ideas and projects with creative talents from different background. Before co-foundin FabCafe Taipei in 2013 and Loftwork Taiwan in 2014, Tim has been an urban design practitioner for 7 years and worked on urban design projects across the US, Middle East, and various Asian cities. He graduated from Harvard Graduate School of Design with dual Master degrees in Architecture and Urban Design.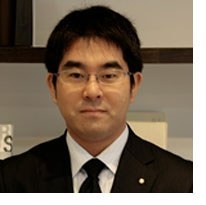 Yuichi Takeo
Managing Director, Takeo Corporation
Born in 1974. After graduating from Keio University's Faculty of Policy Studies, worked for a TV program production company before joining Takeo in 2004. Current position since February 2011. My hobbies are work (bitter smile), moving my head and body. The policy is "Strict to work and gentle to people". http://www.takeo.co.jp/