The Mesh Idea Awards were held in 2015 as a way to celebrate ideas that used the Smart DIY Kit Mesh, which lets anyone become an inventor.
Mesh is one of the new businesses that came from Sony's new business creation program. Their activities include working towards a world where if you can dream it, you can make it.
This award is targeted towards creators of all kinds, regardless of whether or not they have any knowledge of electronic kits, and looks for ideas that say, "With Mesh, I want to try to make this happen," or even, "I made this happen."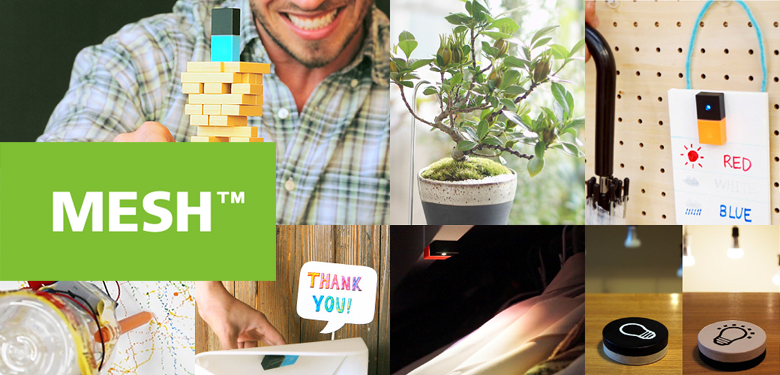 <Award Overview>
Application Period:

August 1st, 2015, to Monday, September 15th, 2015 at midnight (JST).
Categories: Idea Sketch Category and Product Category
Awards:
Idea Sketch Award: 3 winners
1 set of 4 Mesh Tags
The best three submitted works (includes those not yet implemented) received a gift from Mesh.
Product Award: 3 winners
4 Mesh tags of winner's choice + an original Mesh T-shirt
The best three submitted works received Mesh tags of their choosing as well as an original Mesh T-shirt.
Judges:
Manabu Tago/MTDO inc. Representative Director Art Director, Designer
Yuka Watanabe/GLOBAL STEM LEARNING ASSOCITAION, JAPAN Representative of the Board of Directors
Takehiro Hagiwara/Sony New Business Creation MESH Project Representative
Mayumi Ishikawa/Loftwork Inc. PR, Planner, Blogger
※As of August 2015
Mesh is a DIY kit that uses four small digital tools called electronic tags. Just by combining them with all sorts of objects and linking them through your tablet as a terminal, anyone can easily create devices or toys that are useful in everyday life.
What kinds of things can you do with Mesh? Check out the video below to find out.
The two application categories are the "Idea Sketch" category, where applicants submitted simple sketches, and the "Product" category, for ideas that have already been brought life by using Mesh.
From things to make daily life a little more convenient to communication tools, toys, surprising devices, and conceptual media art, we gathered a wide range of works that made Mesh possible for many more things.
What is Mesh?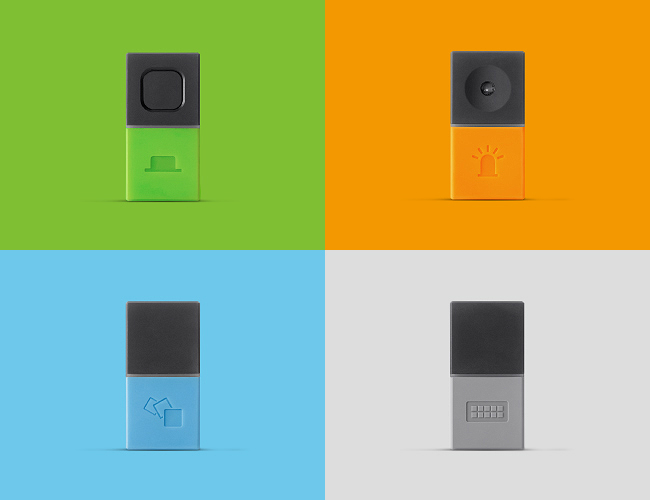 Mesh's four electronic tags each have a different function. Green = Button, Orange = LED, Blue = Move, Gray = GPIO.
Creators do not need any special programming knowledge or skills to use Mesh. Just by using the tablet app and dragging and dropping the Mesh tag icon, each electronic tag can be connected to the objects around you.
What's more, for those who do have knowledge of programming or electronic kits, you can connect them to other hardware for even more advanced projects.
What sorts of ideas came from all of Mesh's various hidden abilities?
These are the six winners that were chosen after an impartial judging contest.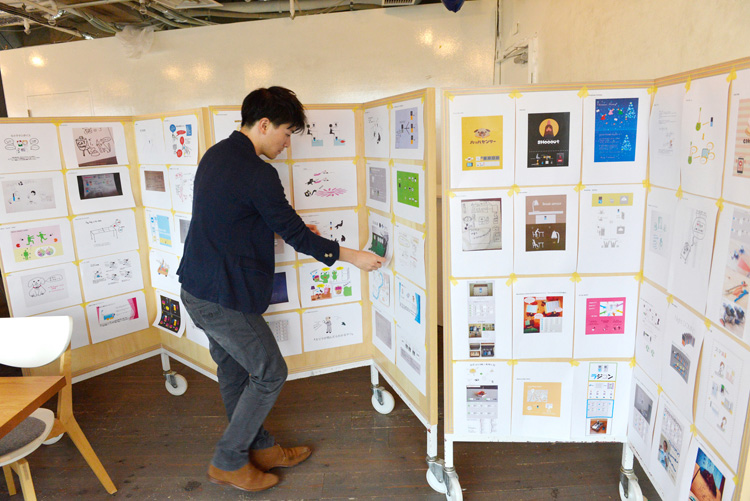 Winning Products
Idea Sketch Category Winning Design: The Switch
Winner: Muto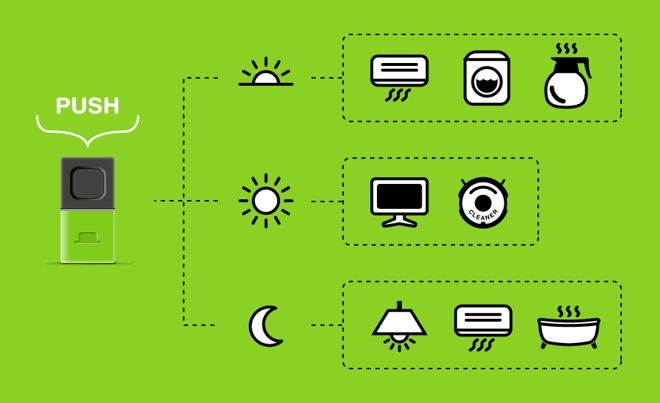 Make life easier with this one switch!
Once you've set the timers on your everyday household appliances, all you have to do is press this switch!
Idea Sketch Category Winning Design: Cutting Board Chorus
Winner: Gomi Hayakawa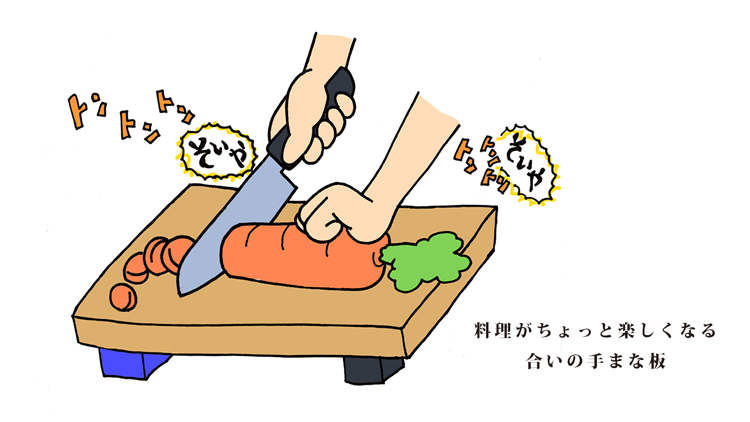 Aligning with the rhythm of your knife cutting, Mesh reacts and responds for a more amusing cooking experience!
Idea Sketch Category Winning Design: Message Bento
Winner: Ein_Stil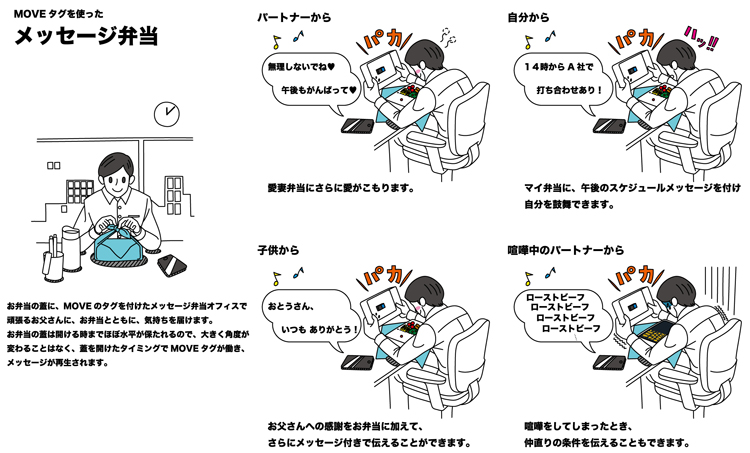 By attaching a Move tag to the lid of a bento lunch box, deliver a message at lunchtime. Cheer on Dad, who's hard at work at the office, when he goes to eat lunch.
Recharge your physical energy with a bento, recharge your mental energy with a message.
Product Category Winning Design: Office×IoT×Happy Communication that begins with thanks for souvenirs and gifts
Winner: abird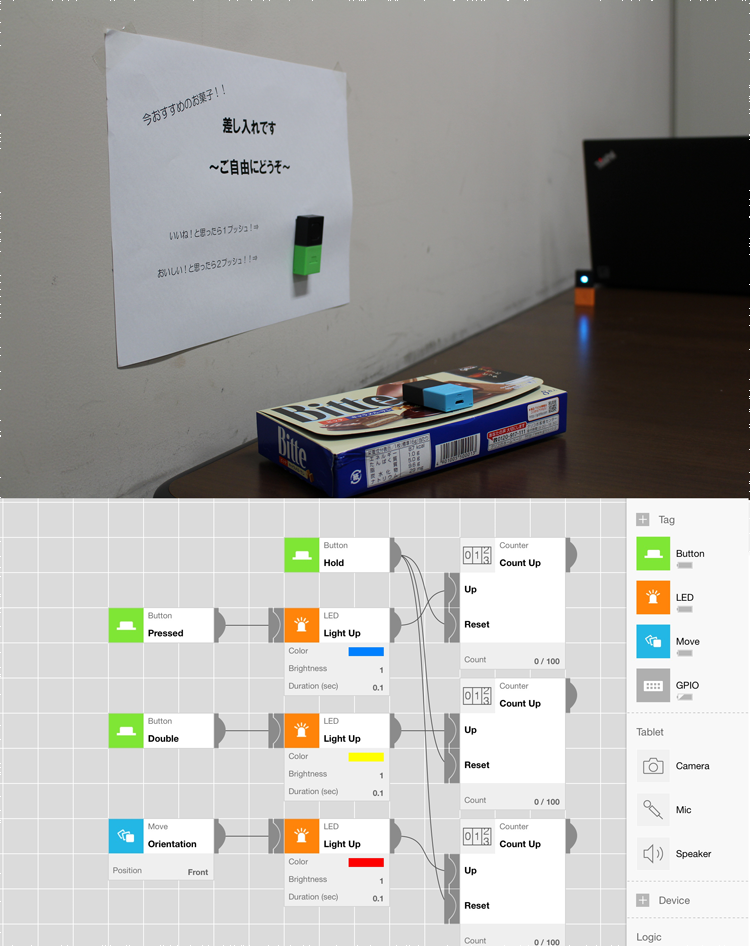 "Improve the effects of communication with souvenirs and gifts"
People leave souvenirs and treats in the shared space, and I eat them, but I don't know who to thank for them, and I'm too shy to go say thank you…
I've bought a souvenir or I've left some treats, but I don't know if they liked them, and I'm too shy to ask…
Has this ever happened to you?
By using Mesh, you can easily say thank you, even without being face to face. Additionally, you can quantitatively ascertain whether or not your souvenir or treat was good. What's more, when someone says that the souvenir or treat is delicious, or says that it's nice, or picks it up, you're alerted by the LED light, so you can communicate with them.
Product Category Winning Design: Real Bakudan Game
Winner: kufabstudio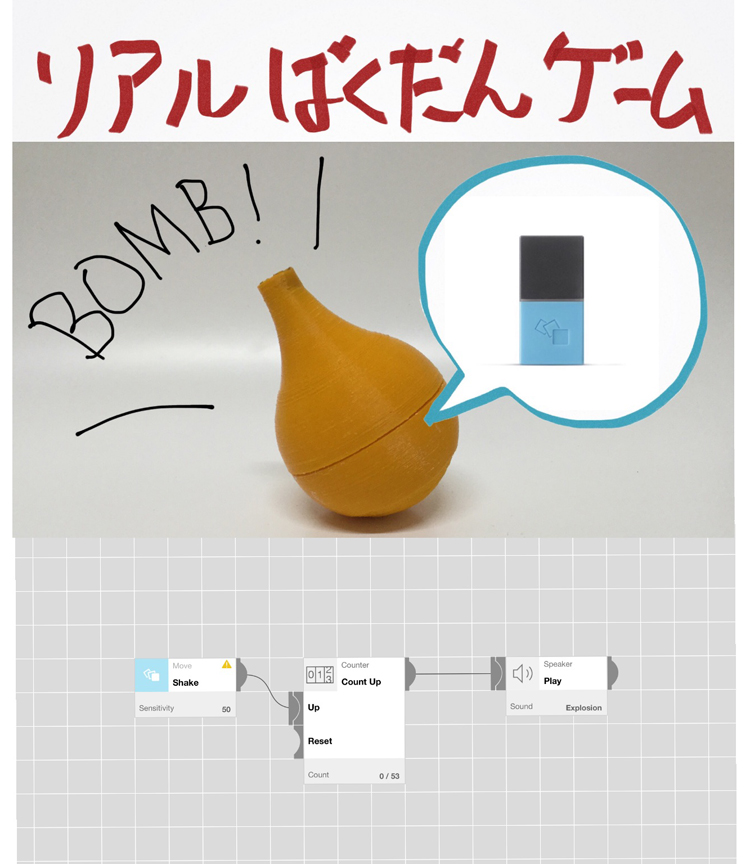 This creation is a bomb built by 3D printer and fit with a Move tag.
Using a counter function, this bomb will make an explosion sound after it is shaken more than a set number of times.
Rules:
1. A third party sets a random number for the count.
2. Each player can shake the bomb up to three times.
3. Whoever goes over the count and makes the bomb explode loses!
This game is full of excitement; you never know when it will explode!!
Product Category Winning Design: Magic Treasure Chest
Winner: fumi
The Scenario
"Combine the key and the magic spell to open the magic treasure chest."
A prop for an escape game,
Or a safeguard for the key to your secret base.
Only with the power of teamwork
Can you take the treasure.
That is how we use this device.
The Result
Strengthen your team bonding with this magical experience.
The Possibilities of MESH
"With Mesh in your life, what kinds of interesting things can you do?" So many ideas were born from this question, by ordinary people who wanted to improve the inconveniences in their life or better their daily communication. They dreamed it, and they made it. This is the kind of world we live in today, and it's growing right before our very eyes.