THE 2018 CONFERENCE ON ARTIFICIAL LIFE「ALIFE 2018」is being held July 23-27, 2018 (Mon-Fri) at the Miraikan - The National Museum of Emerging Science and Innovation. The person who is doing a variety of related programs in cooperation with this event is concept designer Ryuta Aoki.
What kind of person is Ryuta Aoki, who has launched a number of events and continues to have an impact on society? Where does he get his motivation for developing projects? The AWRD Editorial Department sets out to discover just that!
Can we create a system for maximizing the ability of artists?
ー (AWRD Editorial Department, omitted hereafter) The hackathon Art Hack Day that specializes in first ever art in Japan gained a lot of attention.
(Ryuta Aoki, omitted hereafter)
Art Hack Day is a project that launched in 2014 and got its start when 3331 Arts Chiyoda general director Masato Nakamura talked to me at the Chiyoda Art Festival.
I still think that the importance society places on artists, or how it values them, is still low. Even though they create new things for the world, there are a great many artists that still only make ¥2-3 million a year. Since they create new things, from the perspective of scarcity value I think they should be valued much, much more.
Art Hack Day is a project that started with the idea of trying to make a means for those artists to maximum their ability.
ー Why did you incorporate a hackathon?
You could call it the artist's formative language or the way they express themselves, but if the receiving side also does not receive training, they won't know how to view the art. Because they don't know how to view the art, miscommunication occurs between the sender and the receiver.
So we wondered what kind of things would be created if we temporarily put aside the way the artist views the world or thinks and use a process whereby the artists work together with people in other fields, such as engineers and researchers, to create the work. We thought a hackathon would be a way we could do this.
Hackathons normally last two days being held on Saturday and Sunday, and there are some cases where they go for three days, but Art Hack Day has a two week autonomous activity period.
ー Using a long creation period was a rare experiment for a hackathon, wasn't it?
At the time I think no one except educational institutions, such as universities, were having two week hackathons. It took some courage. I was worried what would happen if nobody came back. (Laughing)
But when the participants actually started to work, they took it very seriously and would not quit easily. They all have a sense of responsibility. What they accomplished in two weeks was really significant.
The result was that the artist group the emerged from Art Hack Day has exhibited in a variety of art festivals, been chosen to exhibit at events, and has been getting increasing exposure in the media, so I'm very happy about how their opportunities to work are increasing.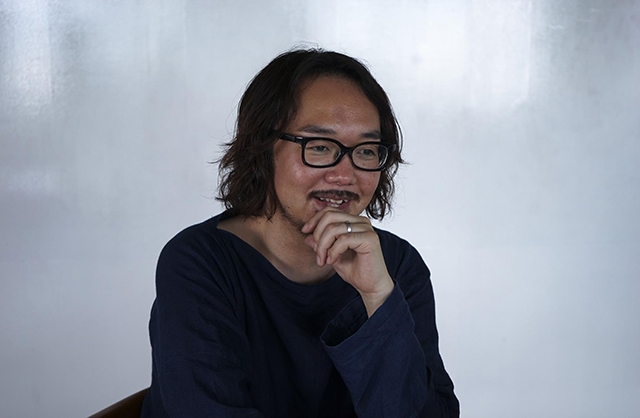 ー You have started a variety of events, and one might wonder who this great person is, but when you introduce yourself to someone for the first time, what do you call yourself?
That's a tough question. Starting this year I'm calling myself a "concept designer." I also have "society sculptor" on my business card, but I'm not actively saying that. I think my creations are the activities that sculpt society, and I work viewing everything born from those activities to be art.
|In the end, there are only people. The greatest output is creating an art group.
ー Speaking of long hackathons, the Craft Hackathon, for which you were an advisor, also had a long production period, right?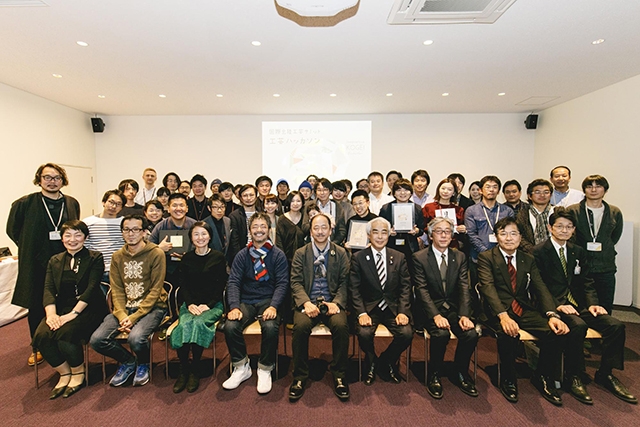 Yes. The Craft Hackathon was a hackathon proposing the "Future of Crafts" and was held in Takaoka City in Toyama Prefecture. This project was brought to my attention by Sari Hayashiguchi of Epiphany Works and I participated as an advisor.
The production period was about two months long. The process for producing lacquerware or copperware requires a long time in the first place. I think this made possible wonderful teams and output and led to the decision to hold the exhibition event EDGE of TOKYO in Shibuya November 30 to December 2 of this year.
I heard the teams are further brushing up their works, so I'm looking forward to the exhibition.
ー It's wonderful that there continue to be activities the teams can keep working on.
I think that in the end there are just people. It's a bit extreme to say, but I'm not that concerned about each piece of art.
The formation of teams of artists makes it possible to continuously show society the interesting world of artists. Continuously creating new work has no meaning unless it is done as a team.
Speaking of Art Hack Day as well, it was the creation of art groups that was the greatest output.
This year's Art Hack Day 2018 is being held as a related event to the 2018 Conference on Artificial Life "ALIFE 2018," and the works will be exhibited for several months in Miraikan's permanent exhibition Media Lab.
ーTell me about THE 2018 CONFERENCE ON ARTIFICIAL LIFE「ALIFE 2018」.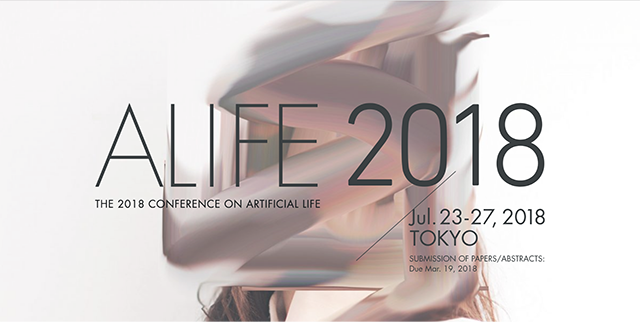 The Conference on Artificial Life has been held biannually since 1991 by European and American societies, but last year it merged with the group called ISAL and this year the conference will be held in Japan for the first time.
Artificial life is a difficult subject that must be comprehensively discussed among a wide range of people with different knowledge to be understood. Research into artificial life has always been an interdisciplinary approach. For this reason, rather than just holding a one-and-done conference, it was thought better to create a continuous framework, so it was created together with ALIFE Lab, which is a platform for approaching life from a variety of perspectives.
For this I'm holding a variety of workshops and symposiums, writing books, and linking it with Art Hack Day.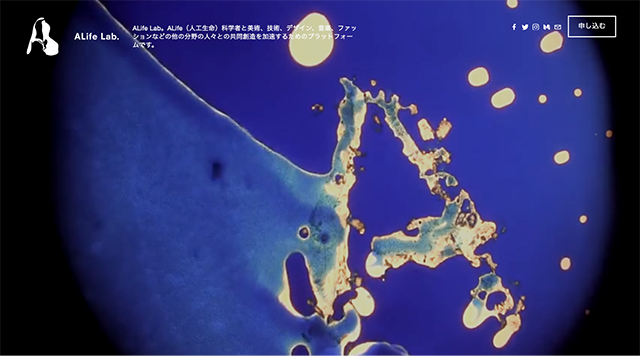 Artists express alerts to society
ー It seems the realm of art continues to expand.

There is always the question of "What defines art?" but speaking in the context of social sculpting the project itself is the art. Rather than understanding something by looking at it once, it is understanding something through activity and experience. Every activity is a work of art and everyone is an artist.
ーEveryone is an artist?
I think there is a difference between artist as an occupation based on skills and artist as an ability.
Artist as an occupation means you secure a livelihood from what you create and it is your work. Artist as an ability deepens your thinking and feeling as you enjoy the experience of thinking and analyzing what is behind it.
I often talk about the "Canary in the coal mine theory of art." The canaries were taken into the mines by the miners and when there was toxic gas in the mine the canaries died first to warn the miners. The American writer Kurt Vonnegut said it is exactly the same with artists.
Artists are society's alerts. They begin sensuously understanding things that are happening in society and express that with the expression and skills they have nurtured. That could be a painting, a song, or a poem, for example.
I think it's probably this ability that is the most important part of the artist. So I think we can say that in addition to artists, a person who is training this ability, such as a manager, is also an artist.
ー Yeah, there are some people who say management itself is a work of art.
That's right. There was an interesting theory in a book I read a long time ago and it was what people did to live in the previous generation the next generation will do for fun.
ー Interesting.
Fishing is that way. There are people that are doing for a hobby what used to be done to live.
ー You're right, it has become a hobby.
So managing a company becomes an art, or rather it changes the world by creating an invisible engine that changes society. I think that kind of thing makes someone an artist of the new generation.
I think this is the next phase of social sculpting. I think it will differ depending on the way of output, how money is made, and what it's called, but I think how art is positioned in society will change.
If we ask what art will be in the next 100 years, it might be people who are like social entrepreneurs.
In the future, as artificial intelligence begins working, the concern about "What should we do next?" will arise. At that time I think the ability to look at things from a new perspective will be very important.
Don't worry about failure. It is one process of the objective. Always in beta forever.
ー Tell me what you struggled with as you launched numerous projects.
This goes for all events, but I don't really have a concept for what the finished event will be like. As with programming, I'm always in beta version forever. If I'm going to provide what I have for the time being and improve on it as I go, I think it's very important to have an adaptive environment in which I can make those adaptations.
ー Do you have a message or advice for those who want to plan events like an award or a hackathon?
A variety of people apply for the awards or hackathons. On the application sheet they write about their enthusiasm or give passionate comments. So you must be ready to bear these feelings of the applicants. Since they took the trouble to apply, you must face them, you must not ignore them, so you want to look at their applications seriously.
It is important to have the perspective that this might improve those people's lives or, conversely, have a negative impact on them. Rather than basing it on a profit motive, it think the most important thing is to respect each other, to have the frame of mind of meeting each other halfway.
I think awards and hackathons are a launching point for the future, so whether or not they are good at identifying talent is important. After that it's spirit and determination! Go for it! (laughing)
---
■PROFILE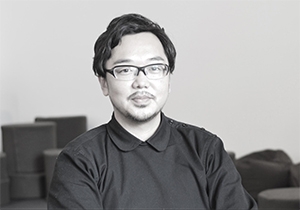 Ryuta Aoki | Concept Designer / Social Sculptor
Co-founder & Co-CEO of Alternative Machine Inc. / Founder & CEO. of VOLOCITEE Inc. Founder & Curator of TEDxKids@Chiyoda / Founder & Director of Art Hack Day / Co-founder & Director of TAICOLAB., TEA-ROOM and ALIFE Lab.
■event information
THE 2018 CONFERENCE ON ARTIFICIAL LIFE「ALIFE 2018」
Date: July 23-27
Place: Miraikan - The National Museum of Emerging Science and Innovation
program
1) July 22 (Sun) Preconference (Invitation only panel discussion)
2) July 23 (Mon) – 27 (Fri) Main conference (academic conference style: 5 days)
3) Mid June (Planned) Art Exhibition (ALIFE Award, Art Hack Day award-winning works, etc.)
4) July 23 (Mon) – 27 (Fri) (Planned) Workshop for children
Application:From the official site
Written by
reiko shinohara
AWRD編集部 / PR、ライター
デザイン、アート、ライフスタイルにまつわる分野でライティング、コミュニケーション活動を行う。 群馬県富岡市出身、O型、うお座、動物占いは ひつじ。