KIGI x OFS presents an interview with Ms. Tamae Ueshima, who is the Grand Prix winner of the "Shirokane 5-chome Awards vol. 1, Jewelry & Craft Division."
Ephemeral, beautiful, Ms. Ueshima creates brooches that will stay in one's heart forever. Contrary to her reserved, calm and polite way of talking, she stoically pursues perfection in her craft, thoroughly facing her materials until each work is completed.
"Light over heavy, white over black" An Encounter with Tracing Paper
ーI was surprised to find that you used tracing paper as a material in your award-winning work. Making something three-dimensional out of something so flat, and what's more making an accessory out of it. Please tell us the motivation behind the idea.
I started using the material while working on my graduation thesis project at the Hiko Mizuno College of Jewelry last year.
At that time, I was looking back on what kinds of materials I myself was interested in. As I went deeper, I found that I wanted to adopt something light rather than heavy, white rather than black. So I started researching and experimenting in various ways to create accessories from light, flat things. During this process, I found tracing paper.
The prize-winning piece is a work born from a derivative of that material. While taking various approaches to the material, I discovered a phenomenon; it swells up when exposed to flame. I immediately knew I could adopt this as an accessory and finished up the work.
<The prize-winning work>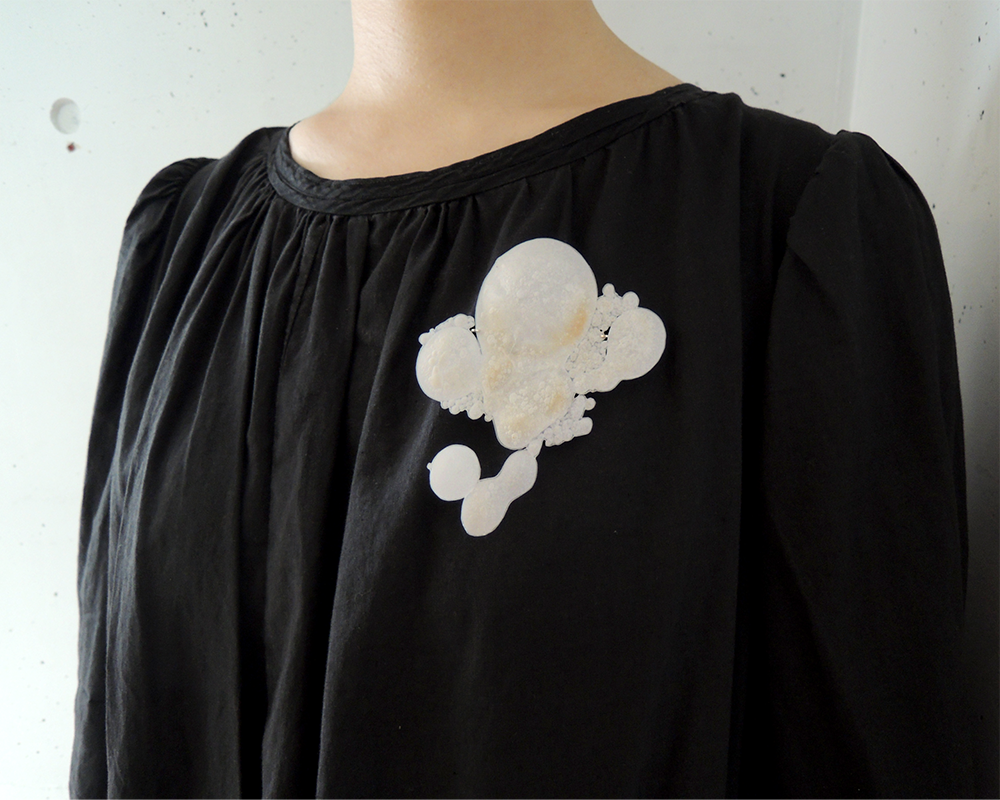 Title:floating/ "Shirokane 5-Chome Awards vol. 1 - Jewelry & Crafts" category Grand prix work
concept:
They float and disappear.
The small encounters and discoveries in everyday life.
The air and throbbing feeling of that time.
I can't remember everything,
But I want to keep something, even if it is only a little bit.
ーIt's a material not really used for accessories. What kind of commitment do you have to your materials?
These days if you buy parts anyone can make accessories, and you can get them anywhere.
I didn't want to make something like that, but rather wanted to challenge myself to craft something that only a jewelry maker could make.
ーI looked at this piece with a feeling close to that when looking at a work of art, but do you have some kind of scheme to give it quality as a product?
To make something into an accessory, you have to finish it as something with value. For that reason, I was very careful about things like paper thickness and the sense of size.
Also, the back side of the brooch is pretty important. The shape of the motif on the surface changes with the pin that holds it. So, I made it paying careful attention to the shape and structure of the pins. All of the pins are handmade.
When I saw the call for entries page for the awards, I realized I couldn't just make things for myself.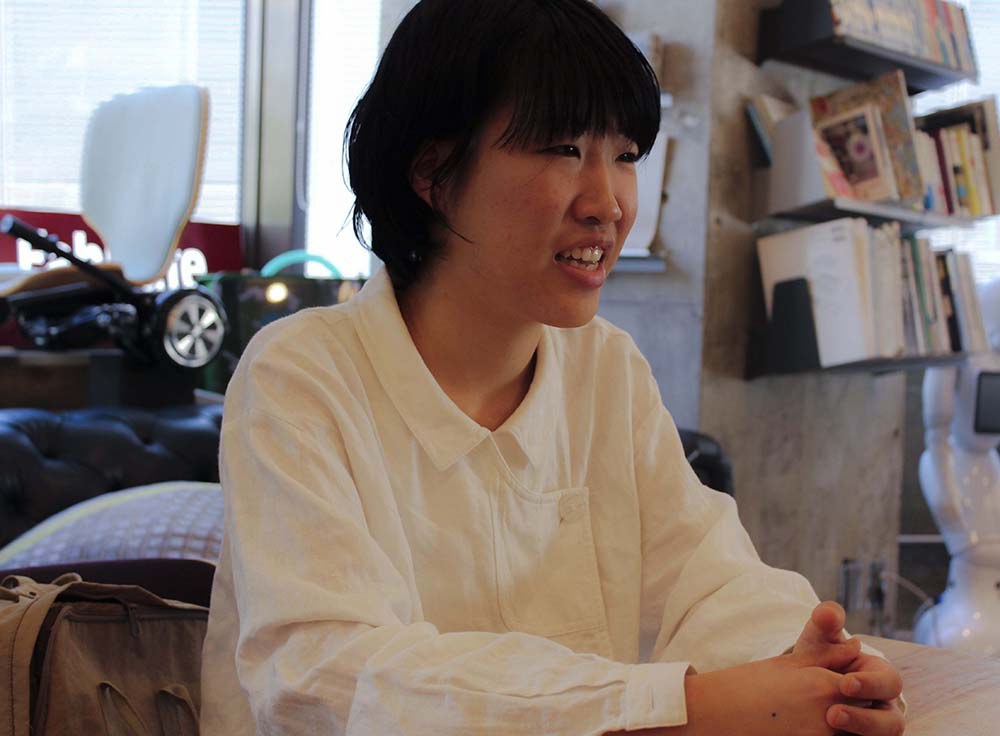 ーHow did you learn about the Shirokane 5-Chome Awards?
Currently I'm a special research student at Hiko Mizuno, but when I enrolled I decided to participate in several awards competitions.
What should I join? As I was looking, a teacher told me "this looks like a good fit for you," and that was the Shirokane 5-Chome Award.
When I looked at the call for entries site, I saw that it was a competition that would test my potential, so I decided to participate.
With jewelry, there are things like awards, but in Japan jewelry is mostly glittery things made with materials like gems and precious metals. That kind of thing doesn't really fit my style, so it was difficult to find a competition that was appealing to me.
I thought that with the Shirokane 5-Chome Awards, they would accept the uniqueness of contemporary materials.
ーHow was it to participate?
When I first joined, I thought I would have been happy just to have my work chosen and receive the judges' comments.
I was deeply moved to be honored with the Grand Prix. I was so happy to have my work properly recognized. It was a good experience.
ーHave you taken part in any other competitions up to now?
In 2017 I participated in an exhibition at Galerie Marzee in the Netherlands, but this was my first time participating in a competition.
ーHow was the response at overseas exhibitions? Are there any episodes you can share with us?
Galerie Marzee is a prestigious gallery in the Netherlands dealing with contemporary jewelry, and exhibits works by famous contemporary jewelry makers.
Every year, this gallery holds a "world graduate work exhibition," gathering excellent graduation thesis projects from all over the world.
I decided to take part, and I went to the Netherlands and made a presentation. Anyway, students gather from various countries, and I was really shocked by how differently everything is done there.
ーThis shock, was it caused by something that was overwhelmingly different from Japan?
Students abroad take a lot of time crafting a concept. I think that we learned concept making over the course of one year. Japan is short, right? I feel that there is a tendency to place more emphasis on mastery of technique, but I think there are differences depending on the school.
The presentation format also allowed me to present my work as worn by various people, and I have a lot of confidence in my work. I was stimulated by seeing its appearance, and I also felt that Japanese people including myself are shy. (laughs)
Over and over again I learned there the importance of communicating with words, and the importance of communicating through wearing.
ーWhat brought you to the path of jewelry?
I've always liked crafts, since I was a high school student, when I was enrolled at a Tokyo Metropolitan Kogei High School, a crafting and manufacturing high school.
I studied metal forging there, making pots by hammering metal plates, making vessels...I kept training in that way for a long time.
For three years I did nothing but metal crafting, so after that I wanted to try other things.
When I heard about alumni from my highschool studying accessories at Hiko Mizuno, I was really inspired. So, when deciding where to proceed after high school, I thought of going to Hiko Mizuno.
ーWhat kinds of stories did the alumni talk about?
They were talking about being given an assignment to make 50 rings with familiar things at home.
When they showed me pictures, I thought, "Interesting! This kind of thing exists!" And my interest in making accessories was immediately sparked.
Actually, when I started at Hiko Mizuno, I was given this assignment, and made rings out of a strainer, working gloves, things like that, made 5 rings a day and finished the assignment.
It's a great exercise in stretching your thinking, so I still do it now and then.
ーAre there any accessory makers who have influenced you?
There are two people. The first one is Professor Mikiko Minewaki. She graduated from The Hiko Mizuno College of Jewelry and is also a lecturer at the school.
She has won awards at Schmuck, a world-renowned contemporary jewelry exhibition known as the Oscars of Contemporary Jewelry in Munich, Germany, and has been holding numerous solo exhibitions in Japan and continues to be energetically active outside of lecturing.
Her work really excites me, she does things like making necklaces with stuffed animals, making rings with 100 yen coin writers, proposing ways of thinking about accessories with different materials. She's someone who I want to absorb more and more from.
The second person is Dutch artist Vep Kessler. She is also a jewelry maker working in the world. When I was in my third year at Hiko Mizu, I participated in her workshop.
The process of grappling with various materials such as metal, wood and resin, and finding concepts while working with your hands was very fresh. It was just before my third year graduation thesis project, and I think it was really beneficial to have been a part of this workshop, and because I was a part of it, it connects to the present work.
ーCould you show us some of your work so far?

These are brooches made with paint. It's made by stretching acrylic paint until it is a flat, collecting it with a spatula, and then shaving it off. All of the pins on the back are handmade as well.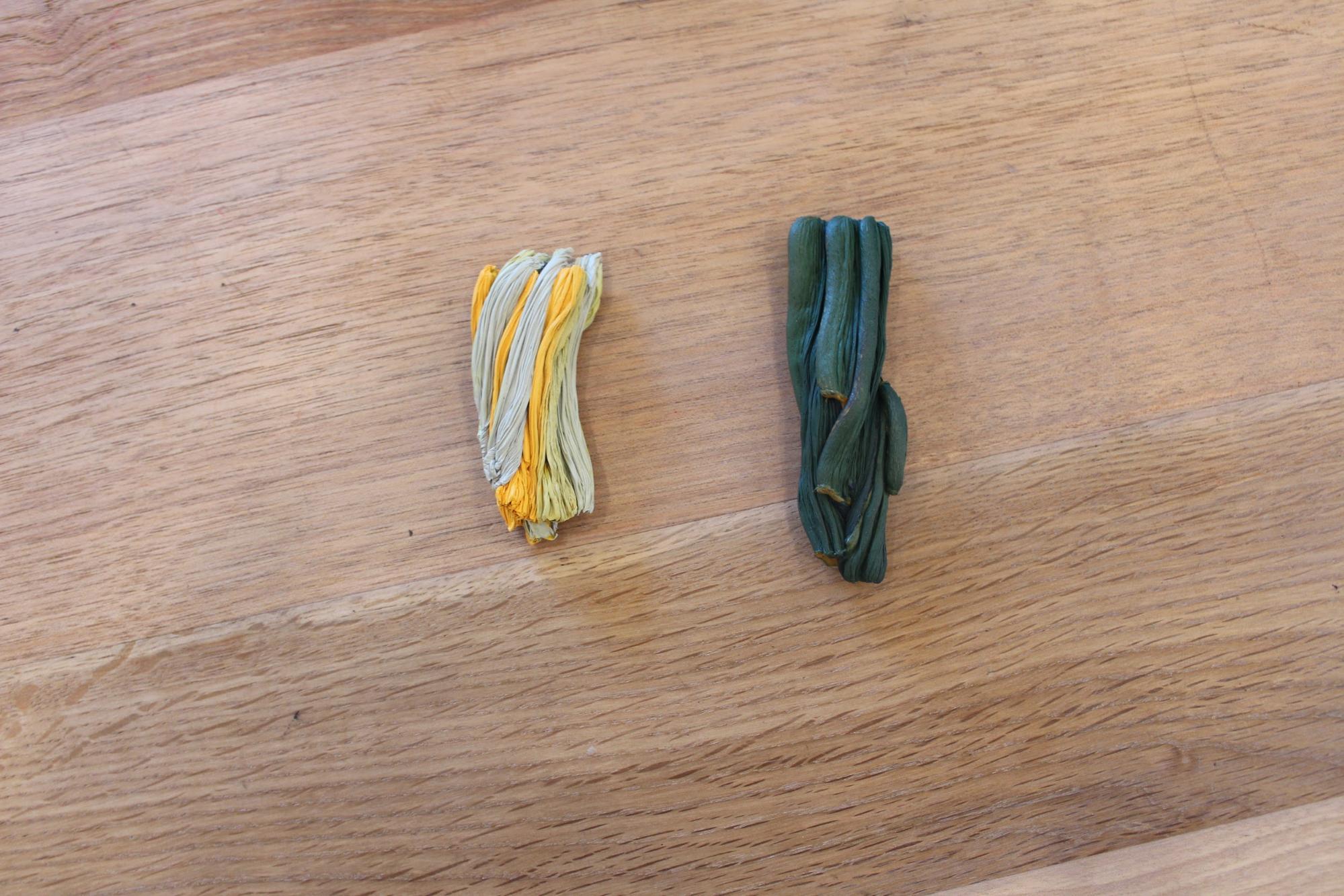 ーYou deal with all kinds of materials carefully as potential accessory materials, don't you?
The course I've progressed upon is one that cherishes one's relationship to the materials, and by interacting with a material you might discover new shapes or unique approaches.
As steps, there is a desire to make a concept, a search for materials, and designing while working with your hands, and I feel like it's a sort of flow where all of these things are done at the same time.
ーPlease give us a final message.
I was advised and given the information about this competition from my teacher. In my case it was true as well, but I realized that students don't really know such information. It's important information, through which you can test your possibilities, so I think that it is important to keep your antenna out so that you can catch this kind of info in your everyday life. For this purpose, I also think it is important to communicate one's strengths to other people.
With respect to production, the jewelry world is saturated, and you always have to be creating new works, so I think it is important to find value that only you can offer, without worrying about what's happening around you.
---
■profile
Tamae Ueshima
Native of Chiba Prefecture. Fashion Art Accessory Major at Hiko Mizuno College of Jewelry. From her experience there, she creates jewelry using motifs born by new approaches to materials. Currently, she is enrolled at the same school as a special research student.
URL:https://awrd.com/creatives/detail/2729730
■Related Site
Shirokane 5-Chome Awards, Jewelry & Crafts Exhibition
Period: August 15th (Wed) - September 2nd (Sun)
Venue: OFS Gallery
Artist present: 8/22, 23, 29
URL:http://ofs.tokyo/awrd_exhibition
■Items can be purchased from 8/22 through crowd funding.
URL:https://camp-fire.jp/profile/OURFAVOURITESHOP