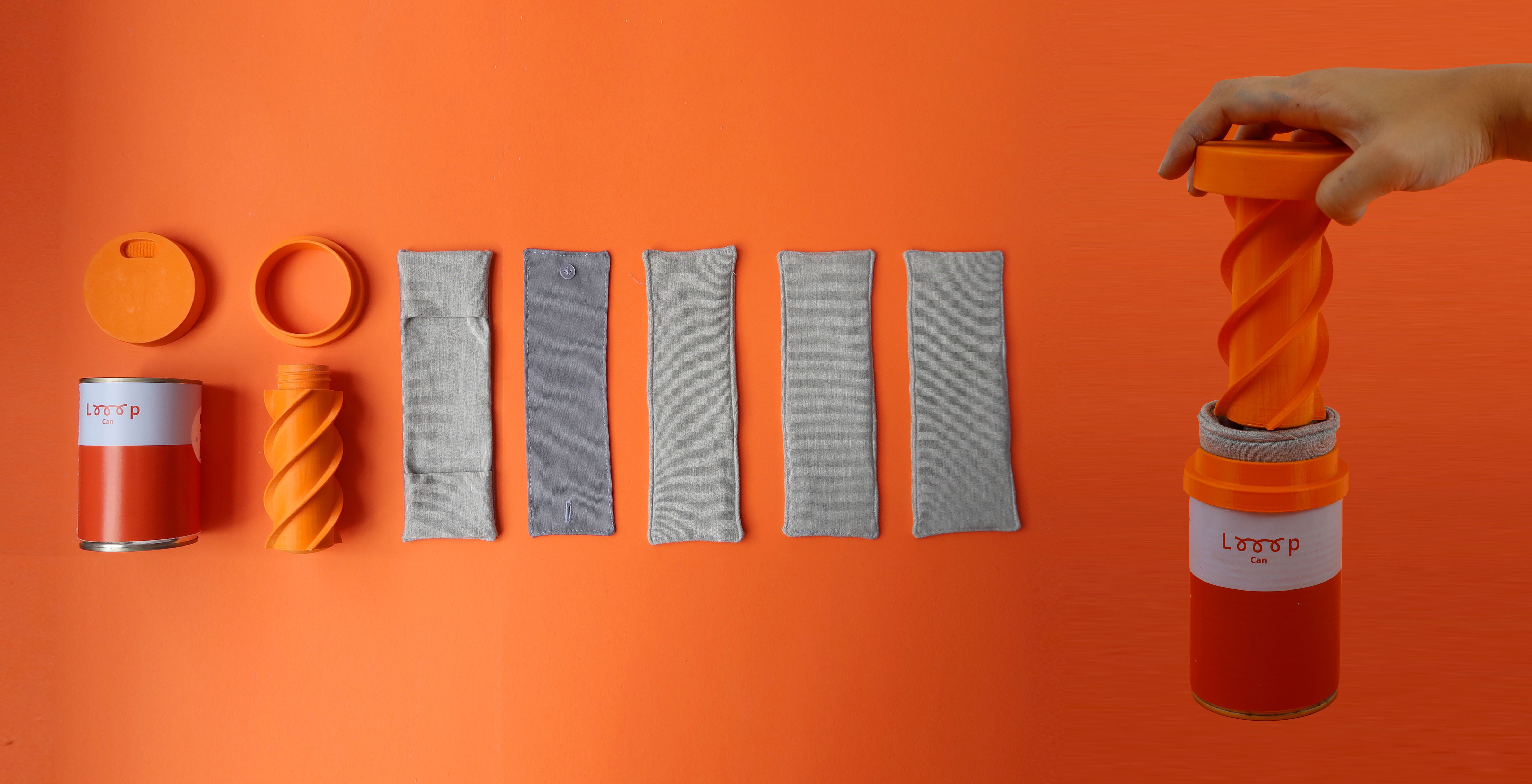 There are 3 parts in total: the assembled part, the wing part and pad itself. The orange and light blue colour on package paper tell the user how much water they should add.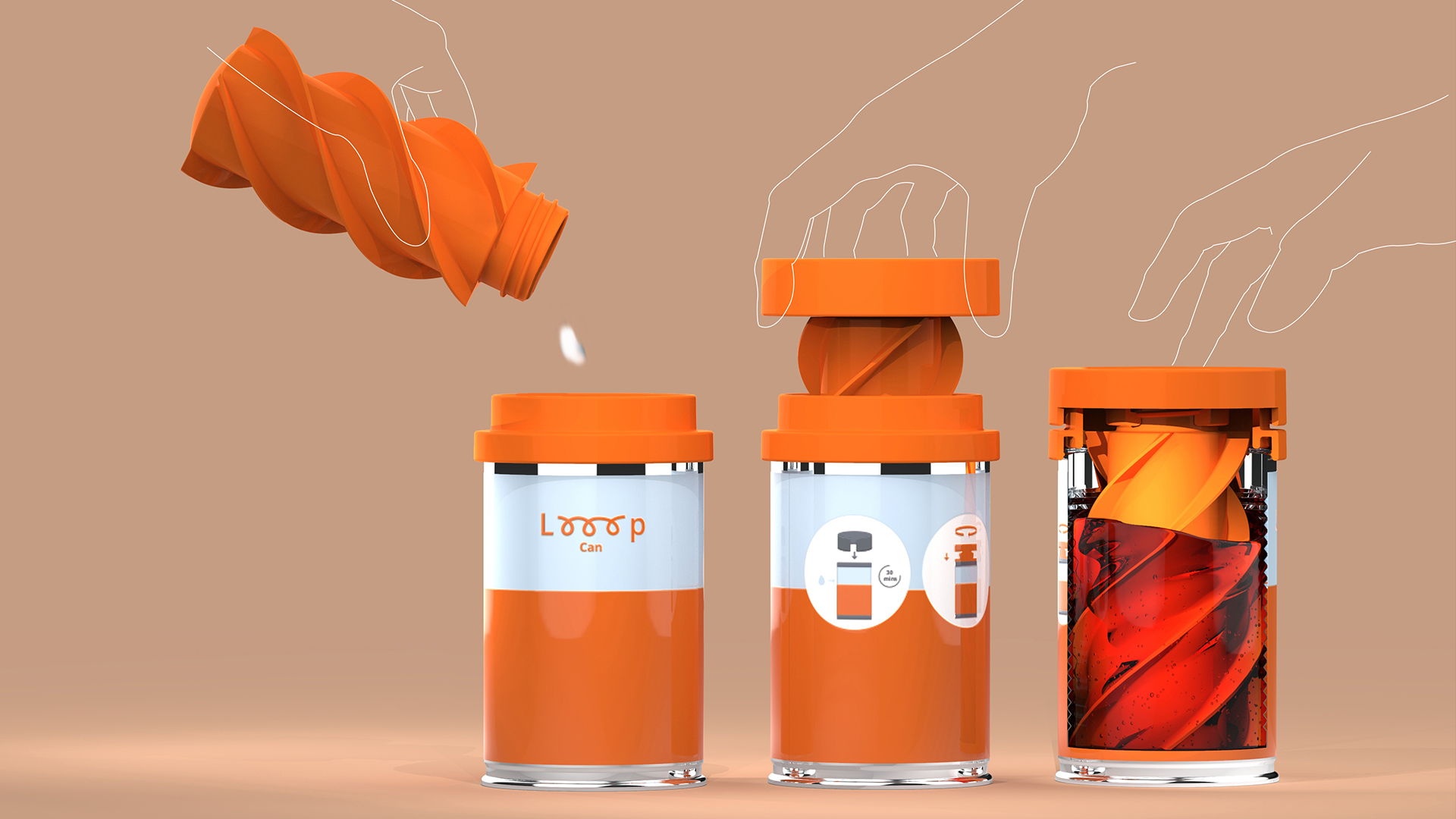 I hope that one day, there won't be anymore heartbreaking period poverty news in the world.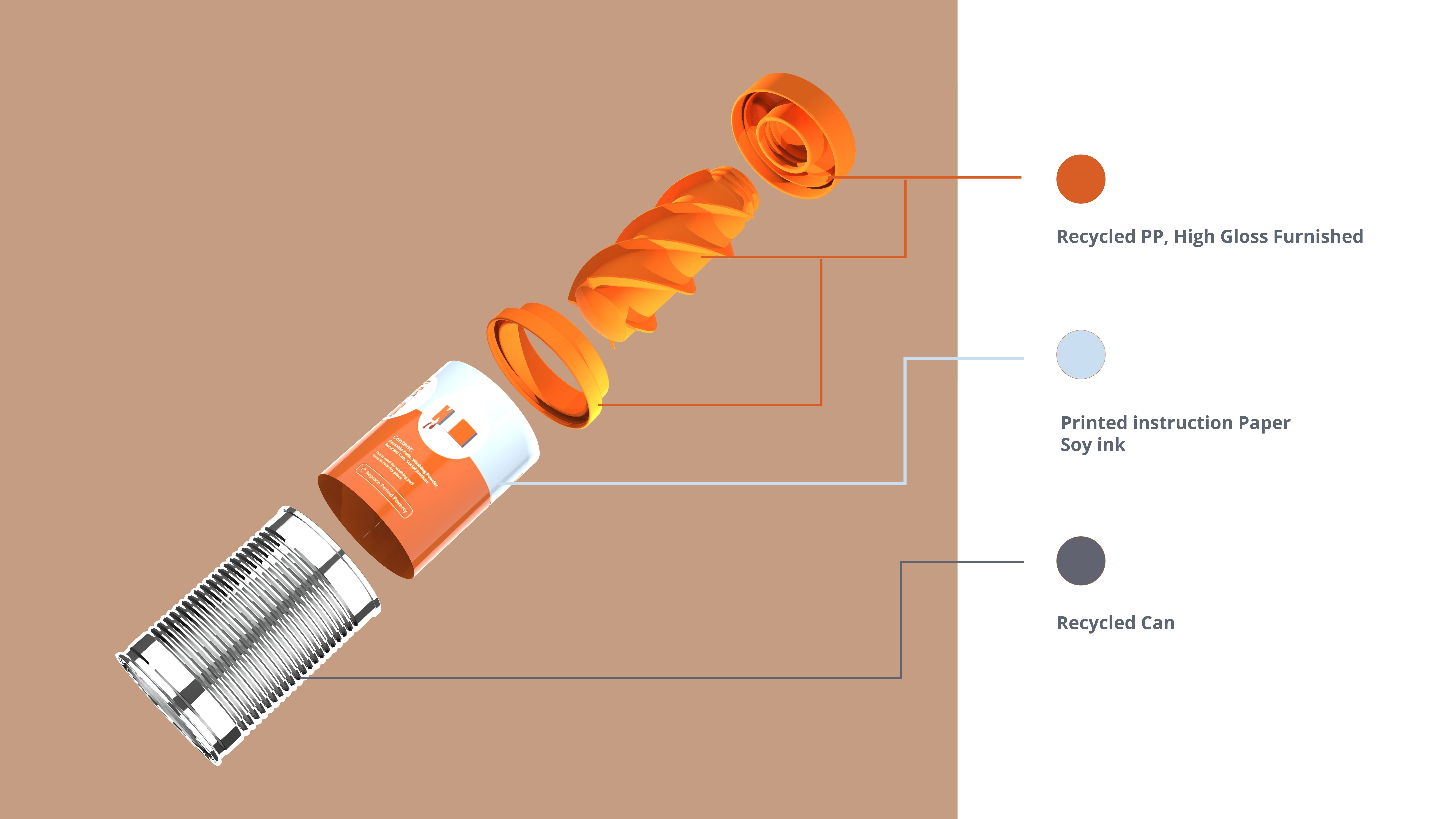 Recycled PP is used in injection moulding Looop parts.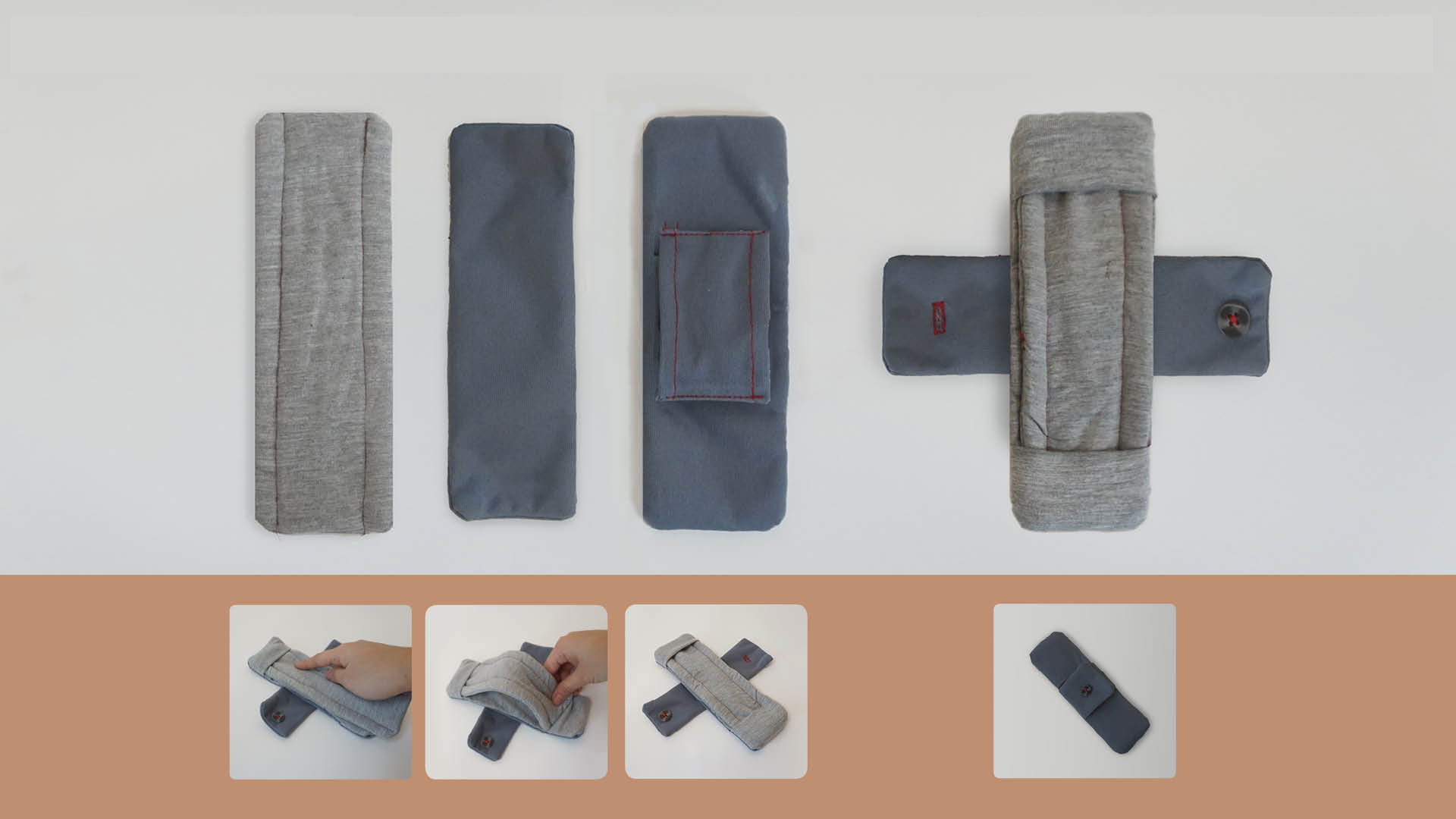 I call it Looop with three "O" to normalise the period as a recurrent natural biological phenomena.
Title of the submitted project/idea

Title of the submitted project/idea (English)

URL of a video introducing the submitted project or idea (5 minutes or less)

https://vimeo.com/568215583

Brief concept description of the submitted project/idea

Looop Can is a cleaning kit for washing reusable menstruation pad for reducing period poverty for refugees in water-scarcity regions or asylum seekers in financial difficulties.

Buoyancy Force is used to reduce water required for washing, and the gyroscope spinning mechanism allows less human effort. Looop Pad uses bamboo terry, fleece and PUL as they are less likely to cause skin allergies. With injection modeling, the total cost is around £3 for the whole set including the Recycled PP made washing parts and pads.

Expects to have a 5 years lifespan which covers the minimum time that a refugee stays in the camp waiting for identity approval.

Brief concept description of the submitted project/idea (English)

Looop Can is a cleaning kit for washing reusable menstruation pad for reducing period poverty for refugees in water-scarcity regions or asylum seekers in financial difficulties.

Buoyancy Force is used to reduce water required for washing, and the gyroscope spinning mechanism allows less human effort. Looop Pad uses bamboo terry, fleece and PUL as they are less likely to cause skin allergies. With injection modeling, the total cost is around £3 for the whole set including the Recycled PP made washing parts and pads.

Expects to have a 5 years lifespan which covers the minimum time that a refugee stays in the camp waiting for identity approval.

Detailed description of the submitted project/idea

What it does:
Looop Can is a cleaning kit for washing reusable menstruation pad for reducing period poverty in water-scarcity regions. Using Buoyancy Force, the tool reduces water required for washing pads and gyroscope mechanisms to spin without too much human effort input.

Inspiration:
There are about 26 million people who fled their countries due to conflict, violence, or war. Note that women suffer more vulnerabilities such as widespread gender-based violence and almost 60% of female refugees suffer period poverty problems as they rather spend their funding on food or sacrifice pads for baby diapers. Most of them come from strictly religious countries who see inserting tampons as taboo. This inspires me to design a product that can protect fundamental human rights to water, sanitation, and health for refugees from 12 to 24 years old, who suffer language and culture barriers and have limited financial ability.

How it works:
So this is how you use Looop Can. First, you add the used pad in. Then you add the baking soda stored inside the container and add water until the level where the packaging indicates. Screw the cap, immerse the screw container and spin to mix the baking soda and water. Buoyancy Force is used to reduce water required for washing, and the gyroscope spinning mechanism allows less human effort, so that people who have period cramps can wash easily. Wait at least 30 minutes until the period blood disintegrates, then use the container to scrub the bloodstain. Rinse and scrub for 3 times and one pad can be cleaned with just 500 ml of water.

Looop Can provides baking soda, a natural cleaning detergent, to help remove blood stains. Washing water can be discarded into the natural environment since period blood and baking soda are compostable and harmless to the environment.

Design Process:
Through interviewing NGOs in Greece refugee camps, I learnt that NGOs won't give out resources unless it is sufficient for every single refugee to avoid conflict. Disposable resources will eventually run out so reusable products are preferred for economic sustainability.

Through researching the material used in reusable pads, I designed the pad to have separable layers so that they dry quicker regardless of weather. The quick-drying bamboo fabric became an ideal option. The pads are also rectangular so they resemble less like menstrual products and reduces gender stigma in refugee camps.

For the can, I studied yoyo, pseudosphere, perpetual motion, gyroscope, centripetal acceleration, and found out that buoyant force will reduce water usage depending on the size of an object immersed in liquid. This is not enough, as washing blood requires extra scrubbing. Silicone works but it is expensive. 3D printing reduces the shipping time but bacteria can hide in the tiny gaps on the printed surface which causes hygiene problems. Recycling steel cans and using plastic adapted parts for scrubbing function become the final design consideration for the affordability and usability of the user.

How is it different?
Instead of creating a completely new kit out of scratch, Looop Can uses recycled steel cans so that the washing container is easily replaceable. Most modern steel cans for food are given a hermetic plastic coating on the interior, which is used to protect the content from damage such as scratches or dents. Recycled PP is used to make the washing parts. With injection modeling, the total cost is around £3 for the whole set including the washing parts and pads.

My pad's design uses bamboo terry as the contact layer, bamboo fleece as the absorption layer and PUL as the leak proof layer as they are anti-odour, anti-bacterial and eco-friendly, which makes them less likely to cause skin allergies. The pad takes half a day to dry indoors. A rectangular shaped design reduces fabric off cut waste.

Future Plan:
The Looop Can will be a stepping stone to promote hygiene awareness campaigns in the refugee camp. Refugees who join the 30 minutes menstrual hygiene management session can get 2 units of Looop Can as it makes sure that they learn how to use it properly. It also reduces gender-based violence as users don't have to risk going out to travel long distances at night for toilets.

I want to fight for better gender equality in water and sanitation access. I expect Looop can will restore human dignity and reduce period stigma in water scarcity regions such as Jordan, Africa. I hope that one day, there won't be heartbreaking period poverty news in the world.

Detailed description of the submitted project/idea (English)

What it does:
Looop Can is a cleaning kit for washing reusable menstruation pad for reducing period poverty in water-scarcity regions. Using Buoyancy Force, the tool reduces water required for washing pads and gyroscope mechanisms to spin without too much human effort input.

Inspiration:
There are about 26 million people who fled their countries due to conflict, violence, or war. Note that women suffer more vulnerabilities such as widespread gender-based violence and almost 60% of female refugees suffer period poverty problems as they rather spend their funding on food or sacrifice pads for baby diapers. Most of them come from strictly religious countries who see inserting tampons as taboo. This inspires me to design a product that can protect fundamental human rights to water, sanitation, and health for refugees from 12 to 24 years old, who suffer language and culture barriers and have limited financial ability.

How it works:
So this is how you use Looop Can. First, you add the used pad in. Then you add the baking soda stored inside the container and add water until the level where the packaging indicates. Screw the cap, immerse the screw container and spin to mix the baking soda and water. Buoyancy Force is used to reduce water required for washing, and the gyroscope spinning mechanism allows less human effort, so that people who have period cramps can wash easily. Wait at least 30 minutes until the period blood disintegrates, then use the container to scrub the bloodstain. Rinse and scrub for 3 times and one pad can be cleaned with just 500 ml of water.

Looop Can provides baking soda, a natural cleaning detergent, to help remove blood stains. Washing water can be discarded into the natural environment since period blood and baking soda are compostable and harmless to the environment.

Design Process:
Through interviewing NGOs in Greece refugee camps, I learnt that NGOs won't give out resources unless it is sufficient for every single refugee to avoid conflict. Disposable resources will eventually run out so reusable products are preferred for economic sustainability.

Through researching the material used in reusable pads, I designed the pad to have separable layers so that they dry quicker regardless of weather. The quick-drying bamboo fabric became an ideal option. The pads are also rectangular so they resemble less like menstrual products and reduces gender stigma in refugee camps.

For the can, I studied yoyo, pseudosphere, perpetual motion, gyroscope, centripetal acceleration, and found out that buoyant force will reduce water usage depending on the size of an object immersed in liquid. This is not enough, as washing blood requires extra scrubbing. Silicone works but it is expensive. 3D printing reduces the shipping time but bacteria can hide in the tiny gaps on the printed surface which causes hygiene problems. Recycling steel cans and using plastic adapted parts for scrubbing function become the final design consideration for the affordability and usability of the user.

How is it different?
Instead of creating a completely new kit out of scratch, Looop Can uses recycled steel cans so that the washing container is easily replaceable. Most modern steel cans for food are given a hermetic plastic coating on the interior, which is used to protect the content from damage such as scratches or dents. Recycled PP is used to make the washing parts. With injection modeling, the total cost is around £3 for the whole set including the washing parts and pads.

My pad's design uses bamboo terry as the contact layer, bamboo fleece as the absorption layer and PUL as the leak proof layer as they are anti-odour, anti-bacterial and eco-friendly, which makes them less likely to cause skin allergies. The pad takes half a day to dry indoors. A rectangular shaped design reduces fabric off cut waste.

Future Plan:
The Looop Can will be a stepping stone to promote hygiene awareness campaigns in the refugee camp. Refugees who join the 30 minutes menstrual hygiene management session can get 2 units of Looop Can as it makes sure that they learn how to use it properly. It also reduces gender-based violence as users don't have to risk going out to travel long distances at night for toilets.

I want to fight for better gender equality in water and sanitation access. I expect Looop can will restore human dignity and reduce period stigma in water scarcity regions such as Jordan, Africa. I hope that one day, there won't be heartbreaking period poverty news in the world.

URL of your project / idea

https://www.waveeedesign.com/work-1/looopcan