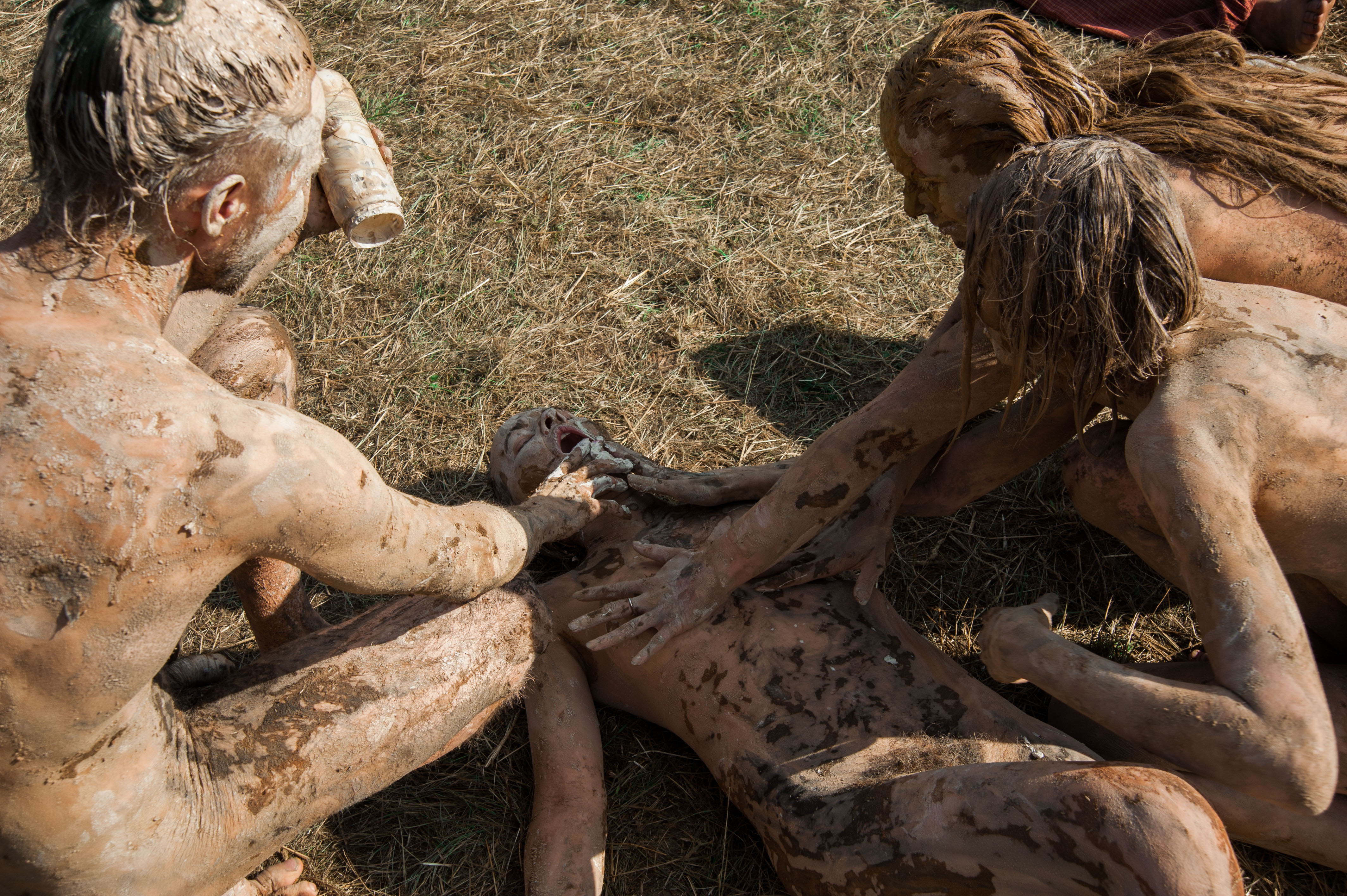 Intercoursing Clay, Collaborative performance of masharu, Kristi Oleshko, Anton Tarasenko and Ekaterina Sleptsova during Potok Festival (RU), Photo by Evgenija Beljakova, 2019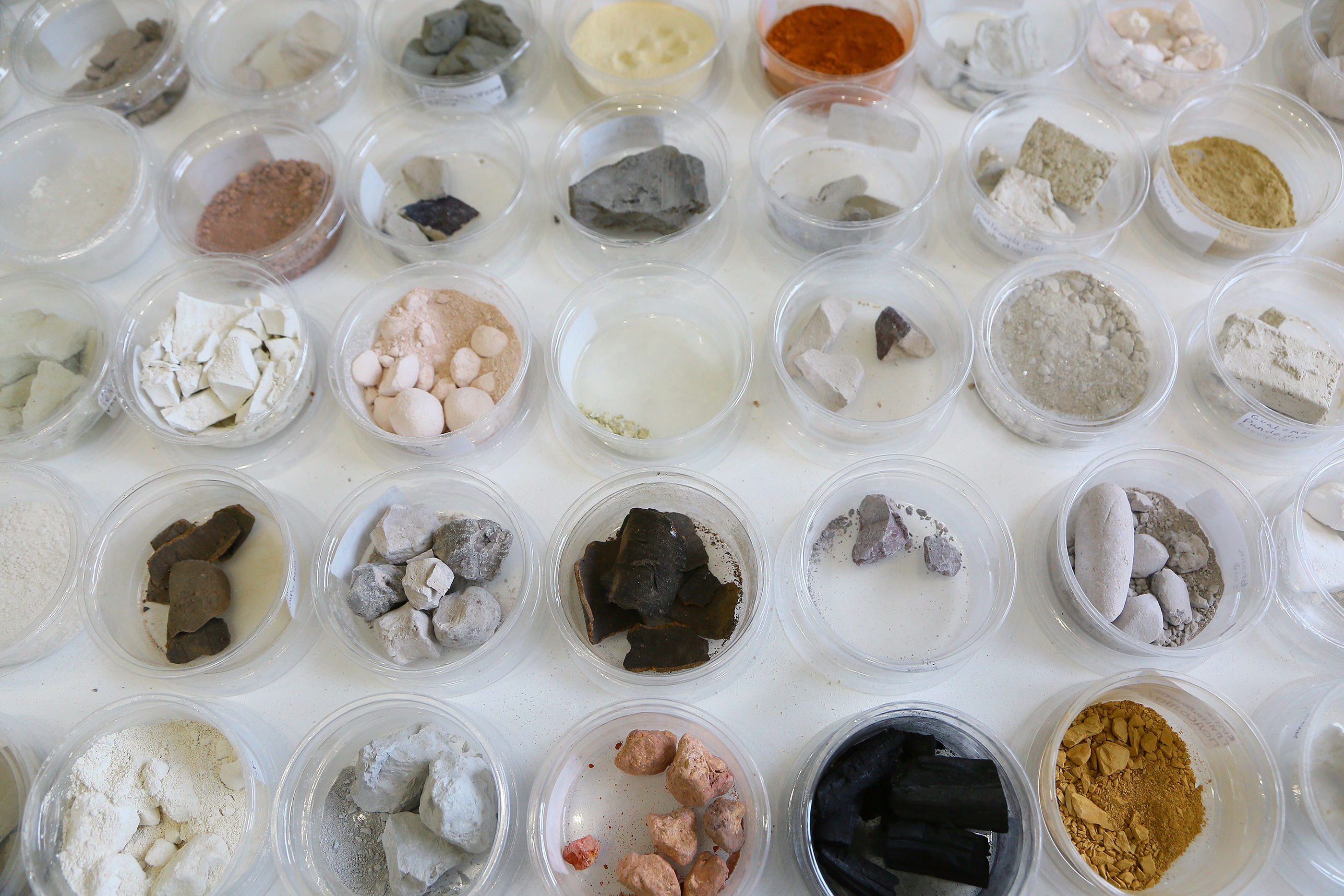 Museum of Edible Earth, Photo by masharu, 2019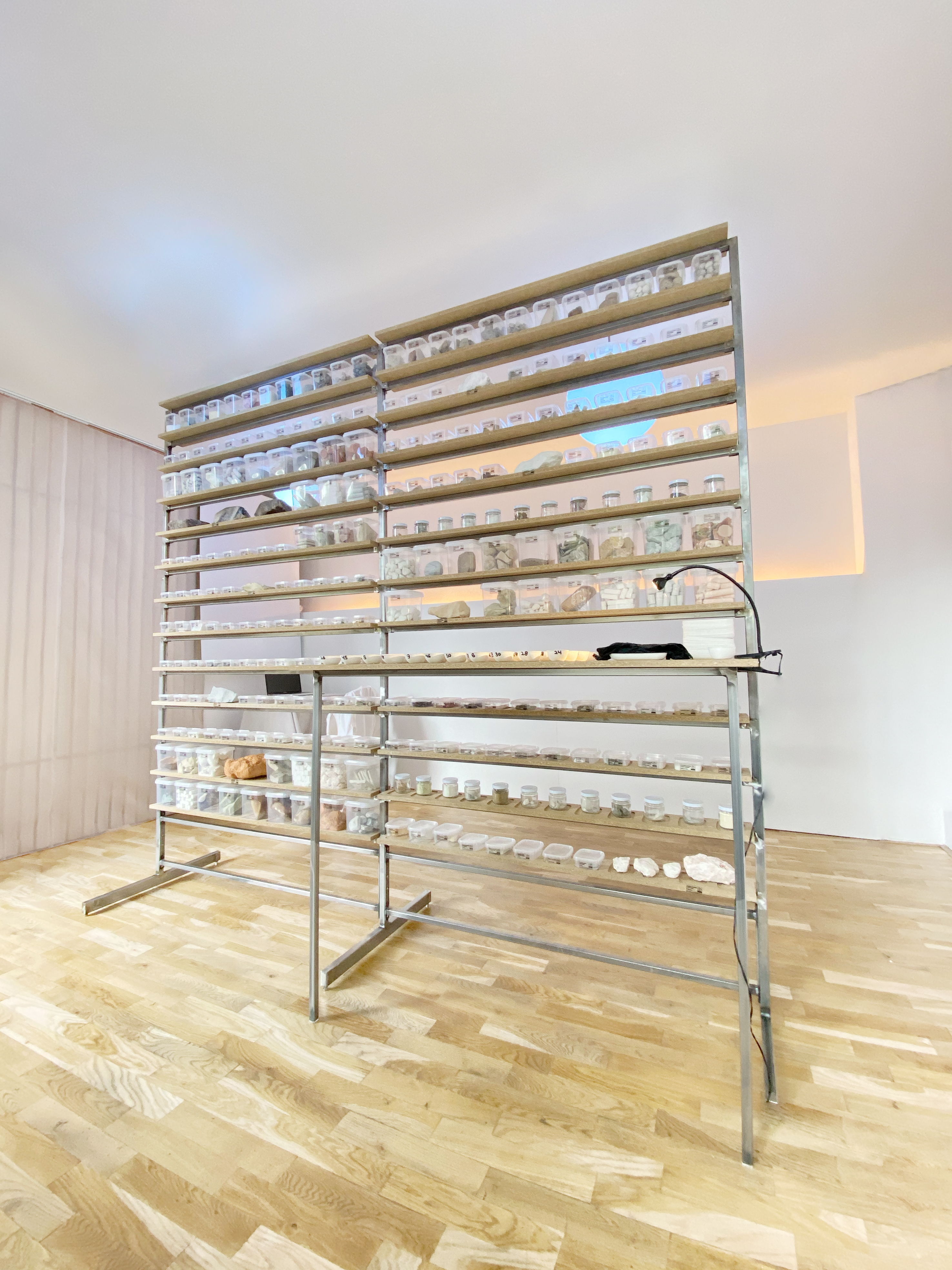 Museum of Edible Earth X diptych in love, Product design by Basse Stittgen (NL/DE). Build-up assistance by Asia Semeniuk (PL/NL). Curated by Ola Lanko (NL/UA) in diptych (NL), Photo by Alexandra Hunts, 2020
Map of the Museum of Edible Earth, Graphic design by Luuk van Veen, 2021
the Museum of Edible Earth

the Museum of Edible Earth

Please describe the concept of your artwork in 2000 words.

「彼女は地球を食べることに戻りました...彼女は少しずつ彼女の先祖の食欲、一次ミネラルの味、元の食べ物であったものの無制限の満足感を取り戻していました。彼女は一握りの地球をポケットに入れ、見られずに少しずつ食べて、混乱した喜びを感じました...」-ガブリエルガルシアマルケス(百年の孤独)

土食は、土や粘土、チョーク、柔らかい岩などの土壌のような物質を食べる習慣です。古くから人々は地球の神聖さを信じてきました。地球に触れたり食べたりすることの重要性は、多くの文化に存在します。聖書とコーランでは、神は粘土から最初の人間を創造されました。アフリカ、南アメリカ、アジアでは、地球を食べることは今でも一般的な文化的、精神的、または癒しの習慣です。宗教や国に関係なく、地球は母親としての自然の具現化です。それは女性、生命を与える力、出産すること、そして血統の継続性を象徴しています。いくつかの文化では、地球を食べることは、自分の起源、自分自身、そして活力を与える力との再接続の精神的な実践と見なすことができます。
ヨーロッパやアメリカでは、地球を食べることも文化的な伝統でしたが、現在では、DSM-IV(精神障害の診断と統計マニュアル)に含まれている異食症として知られる心理的障害と公式に見なされています。しかし、オランダの一部の人々はまださまざまな種類の地球を食べることを実践しています。 EcoplazaやBiomarktなどの健康食品店で入手できるいくつかの人気ブランドは、公式に内部使用を目的とした粘土を提供しています。その上、タンザニア、ナイジェリア、ガーナ、コンゴ、スリナムからのいくつかの粘土は、ラベルのない製品として文化的な店でオランダの市場で入手可能です。

Museum of Edible Earthは、アムステルダムを拠点とするアーティストmasharu(RU / NL –彼ら/彼ら)から彼らのスタジオであるmasharuスタジオまでのプロジェクトです。その目標は、可能な限り多くの国から、そしてそれらの異なる文化的用途と歴史を通して、また学際的なパートナーシップ、ワークショップとコラボレーション、地球の再設計と再考の助けを借りて、経口使用が提案された土壌の広範なコレクションを構成することです。

食用地球博物館は、2017年から開発および研究されています。モンドリアン基金、プリンスベルンハルトカルトゥールフォンズ、ニーメイジャーフォンズ、クリエイティブ産業基金NL、アルスエレクトロニカ賞(Award of Distinction 2021、Category)などの団体の支援を受けています。人工知能とライフアート)マシャルは、このプロジェクトを段階的に形にすることができました。最初は概念的に、次に2020年からゆっくりと、専用のディスプレイインスタレーション、オンラインプラットフォーム、コレクションのサンプルの調和したプレゼンテーションを使用して、より物理的になります。詳細な調査は、土食が行われている国への旅行を通じて行われ、その間にインタビュー、調査、ワークショップ、展示会が展開されました。

このプロジェクトでは、「環境を味わう」という感覚的な体験を通じてこれらのテーマに取り組むことにより、環境と持続可能性の問題に取り組む革新的な方法を開発します。私たちの博物館は訪問者に地球を味わい、彼らの味わいの経験を共有し、私たちの環境との関係だけでなく文化の違いについての対話に従事するように招待しているので、聴衆は私たちの仕事の中心です。革新的な芸術的作業プロセスを通じて、食用キノコ博物館は、地球を食べることに基づく参加型のインタラクティブなプロセスの中心に観客を置きます。

このプロジェクトは、マシャルの個人的な欲求に基づいています。彼らは子供なので、粘土や陶器を食べたいと思っていました。子供の頃、彼らは遊び場で砂を食べていました。学校では、彼らはチョークを試してみたいと切望しましたが、あえてしませんでした。彼らはアイントホーフェンの大学で教師として働いていたときに初めてそれを味わった。彼らはそれに夢中になりました。ジオファジーは広くて物議を醸すトピックであることが判明し、2011年以来、彼らの仕事と創造的な実践に存在しています。数年間、彼らは毎日地球を食べています。したがって、プロのプロジェクトに現れたのは彼らの個人的な実践と情熱です。彼らがアパートを購入し、アムステルダムに家を見つけた建物の住所は、Kleiburg(クレイバーグ)です。昨年、彼らは世界市民権のメタファーとして、素材のコレクションとセラミック製品の間のリンクを探しました。彼らは、アムステルダムのFrascatiTheaterでAbhishekTapharが監督したパフォーマンス「SurpassingtheBeeline」で、2018年11月にこのアイデアを初めて発表しました。これは、パフォーマンスからの引用であり、プロジェクトの動機の優れた説明として機能します。

「オランダに11年間住んでいても、まだ完全にオランダ人だとは感じていません。私は常に移民になります。同時に、私はもうロシア人ではなく、自分自身に問いかけています。私は白を食べに戻りました。正統派の教会や修道院がある神聖な山々からのチョーク。そのチョークが欲しかったのですが、それは純粋で自然から直接供給されたように見えましたが、腹痛がありましたが、食べるのをやめられませんでした。
過去1年間、私は世界中から地球を集めて食べる習慣を持っています。時々、それは私を世界市民のように感じさせます。私はさまざまな国のさまざまな種類の食用土を混ぜ始めました。この資料には記憶があり、土地が経験したことの歴史を保持しています。私が誰であるかを理解するために、私はこれらの資料を聞きました。それは家の移動、風、混乱、愛、喪失を経験しました。私がそれを知らせるのではなく、それは私に知らせるでしょう。地球は私よりよく知っています。私は、持続し、私を代表することができる、素材の正しい構成をマッピングしたかったのです。ただし、さまざまな種類の粘土は互いに反発し、流動性を保ちます。もちろん、私はまだ陶器のかけらを取り、それらを食べます。
これは、粘土、オランダ市場で見つかった食用土、フェイスマスク、私の国の粘土、そしておそらくいくつかの地元のオランダの土の混合物から製造されたセラミックカップです。なめることで一口食べたり味わったりすることができます。私はあなたと私の習慣を共有しています、そしてあなたがそれを取るかどうかはあなた次第です。たぶん、あなたがお茶を飲んでいる間に、これらのカップはすべて壊れそうになっているので、カップはすでに壊れていました。このプロジェクトは、異なる土壌間、異なる社会的/政治的歴史と記憶の間で交渉している限界点に住んでいます。」

免責事項:地球を食べることは食品当局によって推奨されておらず、あなた自身の責任です。

Please describe the concept of your artwork in 2000 words. (EN)

"She went back to eating earth... little by little she was getting back her ancestral appetite, the taste of primary minerals, the unbridled satisfaction of what was the original food. She would put handfuls of earth in her pockets, and ate them in small bits without being seen, with a confused feeling of pleasure..." - Gabriel García Márquez (One Hundred Years of Solitude)

Geophagy is the practice of eating earth and soil-like substances, such as clay, chalk, and soft rocks. Since ancient times, people have believed in the sacredness of the earth. The importance of touching or eating earth is present in many cultures. In the Bible and Koran, God created the first human out of clay. In Africa, South America and Asia earth-eating is still a common cultural, spiritual, or healing practice. Regardless of religion and country, the earth is an embodiment of nature as the mother. It symbolises female, life-giving forces, fertility, and the continuity of the lineage. In some cultures, eating earth can be seen as a spiritual practice of reconnection with one's origins, with oneself, and with the invigorating power.
While in Europe and the USA eating earth was as well a cultural tradition, it is now officially regarded as a psychological disorder, known as pica, which is included in DSM-IV (Diagnostic and Statistical Manual of Mental Disorders). However, some people in the Netherlands still practice various types of earth eating. Several popular brands available in health shops, such as Ecoplaza and Biomarkt, provide clay officially meant for internal use. Besides, several clays from Tanzania, Nigeria, Ghana, Congo, and Suriname are available on the Dutch market in cultural shops as unlabelled products.

The Museum of Edible Earth is a project from the Amsterdam-based artist masharu (RU/NL – They/Them) through their studio, the masharu studio. Its goal is to constitute an extensive collection of soils suggested for oral use from the most countries possible and, through their different cultural uses and histories, but also with the help of cross-disciplinary partnerships, workshops and collaborations, redesigning and reconsidering the earth.

The Museum of Edible Earth has been developed and researched since 2017. With the help of entities such as the Mondriaan Fund, the Prins Bernhard Cultuurfonds, Niemeijer Fonds, the Creative Industries Fund NL, and the Prix Ars Electronica (Award of Distinction 2021, Category Artificial Intelligence and Life Art) masharu has been able to give a shape to this project step by step. First conceptually, then slowly from 2020 more physically with a dedicated displaying installation, an online platform and harmonized presentation for the samples of the collection. The in-depth research happened through travels in countries where geophagy is practiced, during which interviews, explorations, workshops, and exhibitions are developed.

With this project, we develop an innovative way of engaging to questions of environment and sustainability, by engaging to these thematics through the sensorial experience of "tasting the environment". The audience is at the core of our work, as our Museum invites the visitors to taste the earth, share their tasting experience and engage in dialogues around our relationship to the environment, but also cultural differences. Through an innovative artistic work process, the Museum of Edible Earth puts the audience at the center of a participatory interactive process based on the eating of the Earth.

The project is based on masharu's personal desires. Since they are a child, they have been desiring to eat clay and ceramics. As a kid they used to eat sand on the playground. At school, they craved to try a piece of chalk but never dared. They tasted it for the first time only when they were working as a teacher at the university in Eindhoven. They got addicted to it. Geophagy turned out to be a broad and a controversial topic, which is present in their work and creative practice since 2011. For a few years, they are eating earth daily, thus it is their personal practice and passion that manifested in a professional project. The building where they bought an apartment, and thus found a home in Amsterdam, has the address Kleiburg (the clay burg). Last years they looked for the links between the collection of material and the ceramics product, as a metaphor for the world citizenship. They presented this idea a first time in November 2018 in a performance 'Surpassing the Beeline' directed by Abhishek Taphar in Frascati Theater, Amsterdam. Hereby is a citation from the performance, which acts as a great explanation of the motivation of the project:

"After 11 years living in the Netherlands, I still do not feel completely Dutch. I will always be an immigrant. At the same time, I do not feel Russian anymore, still asking myself, who am I? I went back to eat white chalk from the sacred mountains where orthodox churches and monasteries are located. I really desired that chalk, and even though it seemed pure and sourced directly from nature, I was getting stomach pain, but I couldn't stop eating.
For the past year, I have been in the practice of collecting and eating earth from across the world. Sometimes, it makes me feel like a world citizen. I started mixing different types of edible earth from different countries. This material has memory and keeps history of what the land has experienced. To make sense of who I am, I listened to these materials. It experienced shifting homes, wind, turbulences, love, loss. It would inform me rather than I inform it. Earth knows better than I do. I wanted to map the right composition of the material, which would sustain, and could represent me. However, different types of clay repel each other, and remain fluid. Of course, I still take pieces of ceramics and eat them.
Here are ceramics cups produced out of mixture of clays, edible earth found on the Dutch market, face masks, clays from my country and possibly some local Dutch earth. You are welcome to have a bite or taste them by licking. I am sharing with you my practice, and it's up to you, if you take it or not. Maybe the cup already broke, while you were drinking tea, as all these cups are at the verge of breaking. This project is living on a breaking point, which is negotiating between different soils, between different social/political histories and memories."

Disclaimer: Eating earth is not recommended by food authorities and is at your own risk.

Museum of Edible Earthは、科学的な方法で表示された芸術的な提案としてキュレーションされたさまざまな要素をまとめたミクストメディアのインスタレーションです。アースコレクションは、エコボード(有機性廃棄物で作られた複合材料)と金属で作られたモジュラーシェルフディスプレイでホストされています。この設置は、自立型にすることも、壁に固定することもできます。サンプルは、名前/コレクションへのエントリ年/ IDコードのラベルが付いたプラスチック容器に表示され、国のアルファベット順に並べられているため、アーカイブを簡単にナビゲートできます。設置は、最大容量で壁に固定すると長さ4,80m、高さ3m30(自立型の場合は2m20)ですが、展示会のニーズに応じて、より小さな部品で発送することもできます。

食用地球博物館のコアコレクションに加えて、多くのビデオ作品があります。それらのほとんどは、土食が行われている国へのマシャルのフィールドトリップ中に撮影されたドキュメンタリー映像です。これらの作品は、生産プロセス、文化的および精神的実践を紹介し、土食のトピックに関する議論を促進します。プロジェクトの本拠地であるアムステルダムなどで土食を実​​践している個人へのインタビューに焦点を当てた他のビデオ作品もあります。また、食用土壌を使ったパフォーマンスや芸術的なビデオ提案のドキュメンテーションのビデオ作品もあります。これらは、それぞれ18:20分(「科学的アプローチ」)、24:30分(「芸術的アプローチ」)、および24:45分(「民族学的アプローチ」)の3つの計算されたグループにまとめられています。

最後に、このプロジェクトでは、研究プロセスに私たちの仕事を知らせるためのインフォグラフィック作品を紹介します。これらのグラフィックデザイン作品は主に地図であり、世界的または地域的な食用土壌の存在を記録しています。また、コレクションの一部のサンプルに含まれる重金属の存在を調査するために研究所と共同で実施された研究の化学分析レポートもあります。これらのインフォグラフィックは長方形で、通常は最大1m50の大きさに印刷されます。最終的には、ワインテイスティングサークルに触発されたテイスティングサークルをインタラクティブな方法で提示します。このサークルは、土壌テイスティングアクティビティ中に視聴者がテイスティング体験を書き留めることができます。このように、私たちは訪問者からの手書きの情報を使用してローテクデータマイニングを行い、味の概念を調査します。これは、収集されたデータから新しいアートワーク形式を開発することを目的とした、私たちのプロジェクトの現在の研究です。円は直径約1mに印刷されています。

Museum of Edible Earthは、土壌の試飲、プレゼンテーション、パフォーマンスなどのさまざまな実写を通じても活性化されます。

The Museum of Edible Earth is a mixed-media installation bringing together different elements curated as an artistic proposition displayed in a scientific manner. The earth collection is hosted on a modular shelves display made of eco-board (composite material made of organic waste) and metal. This installation can be free-standing, or fixed to a wall. The samples are displayed in plastic containers labelled with their name/year of entry to the collection/ID code, and ordered in alphabetical order of countries, so that the archive is easy to navigate. The installation is 4,80m long and 3m30 high if fixed to a wall (2m20 if free-standing) at its maximum capacity, but can be dispatched in smaller parts according to the needs of our exhibitions.

Alongside the core collection of the Museum of Edible Earth come many video works. Most of them are documentary footage shot during the field-trips of masharu to the countries where geophagy is practiced. Those works showcase production processes, cultural and spiritual practices and foster discussions on the topic of geophagy. There are also other video works focusing on interviews with individuals who practice geophagy in the home-city of the project, Amsterdam, and beyond. We also have video works of documentation of performances or artistic video propositions with edible soils. These have been assembled in three computed groups of respectively 18:20 min ("A scientific approach"), 24:30 min ("An artistic approach"), and 24:45 min ("An ethnological approach").

Finally, the project showcases infographics productions to inform the research process of our work. These graphic design productions are mostly maps, documenting global or local edible soil existence. We also have a chemical analyses report of a research conducted in collaboration with a laboratorium to investigate the presence of heavy metals in some samples of our collection. These infographics are of rectangular shape and usually printed to a maximum of 1m50 large. Eventually, we now present in an interactive manner our Tasting Circle, a circle inspired by the wine tasting circles, that pivotates and allows our audience to write down their tasting experience during our Soil Tasting activities. In this way, we do low-tech data mining, with hand written information from our visitors, to investigate the notion of taste. This is the current research of our project with the goal of developing a new art work format out of the collected data. The circle is printed to around 1m diameter.

The Museum of Edible Earth also is activated through different live actions such as Soil Tastings, presentations or performances.

http://masharu.nl/References

https://vimeo.com/639929309

Your OfficialURL (Website, Instagram, Facebook)

https://museumofedible.earth/

Please describe how your work relates to the theme of the special prize.

The Museum of Edible Earth relates to earth as an identity. By bringing together hundreds of edible soil samples eaten by a large variety of individuals belonging to different cultures across the globe, we design a "global citizen" identity. If climate change is a common denominator to all beings on the globe, the earth element symbolizes materialistically this collectiveness. Our work proposes an awakening on the environmental challenge of the green transition through the simple act of eating. It gathers communities together through what connects all beings: food. We also celebrate the importance of degrowth, acknowledging low-tech processes and finding slower ways of gathering, producing and consuming.

The importance of soils, from a sustainable point of view, is crucial. Finding ecologically respectful production processes will depend on how durational our use of soils will become. Respecting the earth does not impact solely the direct production we make of it (agriculture, meat industry, wood production etc.), but also in a long-term perspective our technological development. Artificial Intelligences' production heavily depends on the Rare Earth Elements (REE): yttrium, lanthanum, cerium, praseodymium, neodymium, promethium, samarium, europium, gadolinium, terbium, dysprosium, holmium, erbium, thulium, ytterbium, and lutetium. These REE are produced by the long deep-cycles of our planet. For those cycles to happen, the normal functioning of the earth must be ensured, and a naturally balanced chemical composition of the soils is needed. In this way we understand that the respect of the Earth impacts also the virtual meta-verse in the making through the developments of our AIs.

Through the organization of our Soil Tastings, and exhibitions in general, we found a sustainable and easy way to raise awareness on the importance of the soils and our relationship to the Earth.