Previously Loftwork has conducted ideathons and makeathons thinking about the future of products, services, and experiences with various themes such as space, housework, and music.
This time it was titled "Designing the Future" and was held twice over the course of 2015 and 2016 with the cooperation of AXA Life Insurance Co, Ltd., a member company of one of the world's largest financial and asset management groups, AXA.
What sort of seeds towards the lifestyle of 2045 were created here?
The Year 2045, Thinking about the Possibilities of the Future
The theme of the first day was "The Lifestyle of the Future".
It is said that, by 2045, epochs will be made through various innovations.
For example:
・Through the evolution of artificial intelligence (A.I.) etc., we will reach a "Technological Singularity", a point where we come to the limit of our ability to surmise a model of the future from the previous history of technological development.
・With advancements in regenerative medicine and genetic research, the human lifespan will be extended by 5 hours per day, making the average life expectancy in 2045 one hundred years.
・Institutions such as the credit and monetary systems will be redefined by the expansion of Bitcoin and other cryptocurrencies.
・With innovations in mobility, such as self-driving technology, a world free of accidents will become a reality, changing the concept of "safety and security".
How do you think our lifestyles will change with the chain of various innovations that will occur as we head towards 30 years in the future?

At this event, various individuals with diverse backgrounds, including designers, engineers, entrepreneurs, planners, and marketers, gathered on the theme of "The Lifestyle of the Future".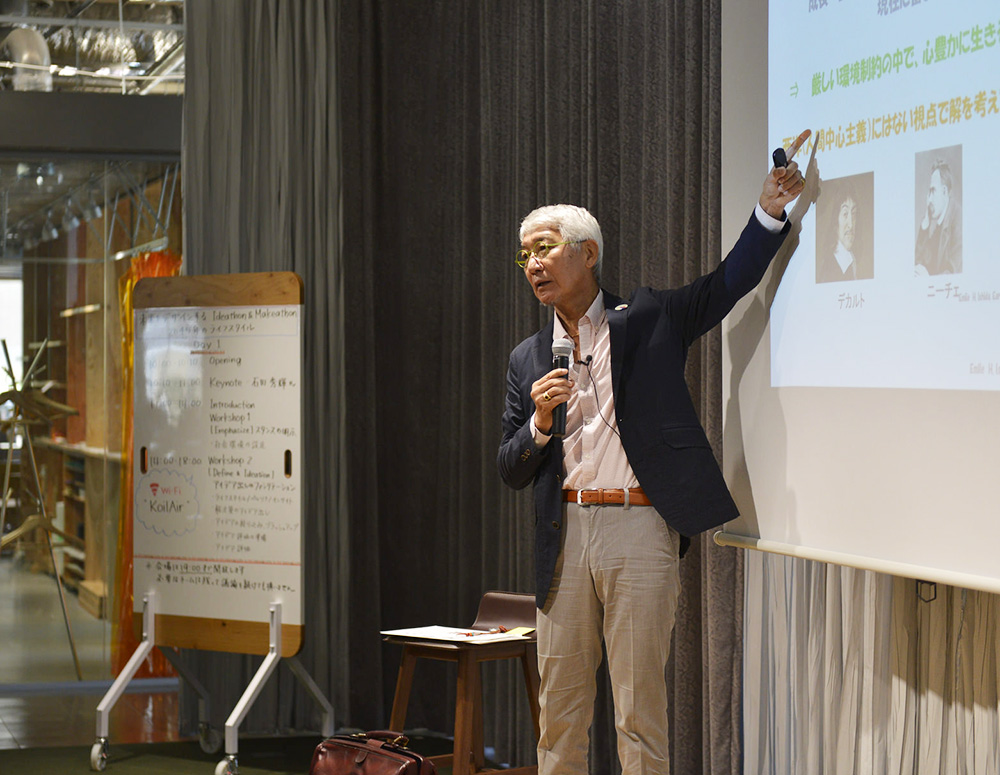 The event began with a keynote speech from Hideki Ishida, professor emeritus at Tohoku University, and representative of the LLC Earth Village Research Lab.
Mr. Ishida, who emphasized that it "is necessary to change your patterns of thinking when considering the future", explained the importance of "backcast thinking", drawing an ideal future from "global environmental problems" and calculating backwards to come up with policies that can be implemented in the present.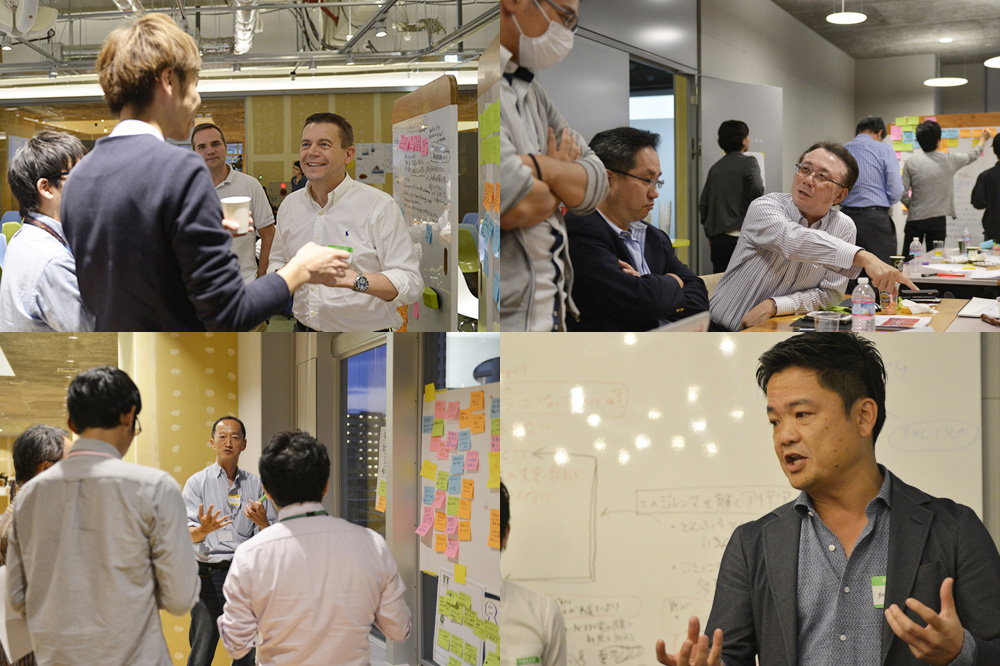 An important part of this workshop is the practice of "backcast thinking" thought of within constraints. Furthermore, this time, one million yen in prize money was prepared for an exceptional idea. A total of 15 teams, each made up of 4 or 5 members, gathered in various places on the KOIL floor and began to work on designing the future.
They prototyped while imagining the earth, life, and technology 30 years from now, and thinking about what goods and services would be needed there. From the ideathon and makeathon was created an exciting and stimulating diagram forecasting the future of 2045.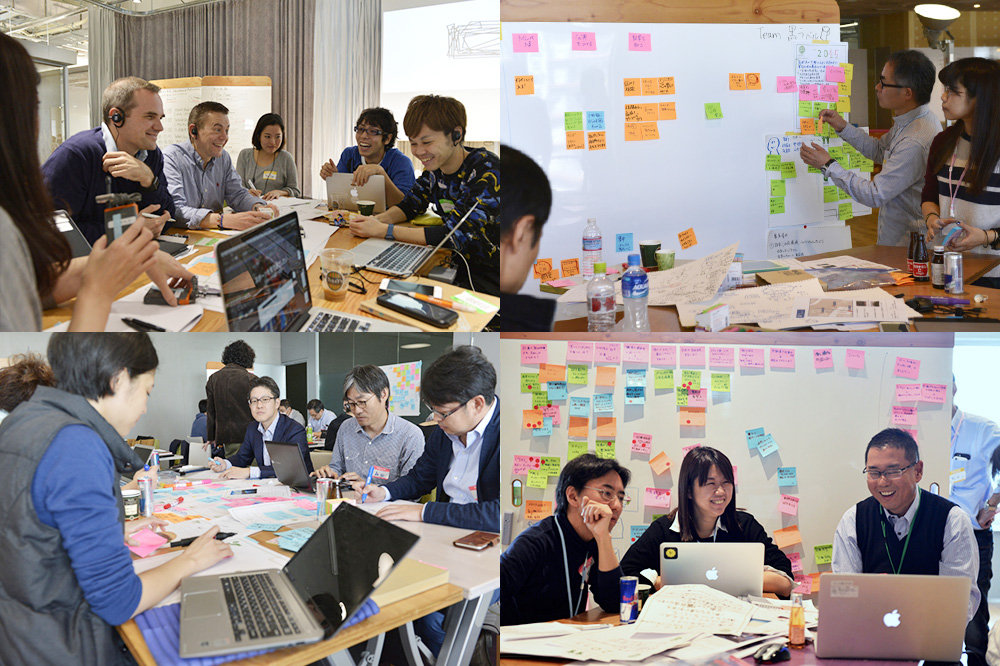 Using ideation work to describe our new lifestyle made by the advancement of technology, new experiences that will be created there were expressed through the ideathon and makeathon.
<Workshop Day 1>
While imagining what sort of life people will live in the expected future, and within what sort of social environment, they identified the wants of the people, and came up with ideas to meet them.
Work 1:Establishing the Social Environment.
Work 2:Considering Lifestyle/Persona/Insight.
Work 3:Coming up with Ideas for Solutions.
Work 4:Evaluating those Ideas.
<Workshop Day 2>
Each team forms their idea (prototyping), summarizes in on an A1 poster as a lifestyle proposal, and gives a 3-minute presentation.
Work 5:Investigating the System/Scenario
Work 6:Prototyping
<Presentation & Commendation>
Ideas Born through 2 Days of Contemplation

The judges were Michio Okada of the Toyohashi University of Technology, Yoko Kawashima, Director of ifs Future Laboratory, and Takeshi Okutani who dealt with the MUJI passport at Ryohin Keikaku Co., Ltd. (Muji).
Here we will introduce the ideas selected first place to fourth place by the judges.
(1st Place) Team Age Unknown
A mechanism that allows you to take skills out from a skill bank, and eat them, or transfer the skills to others. This would create a society where skills circulate.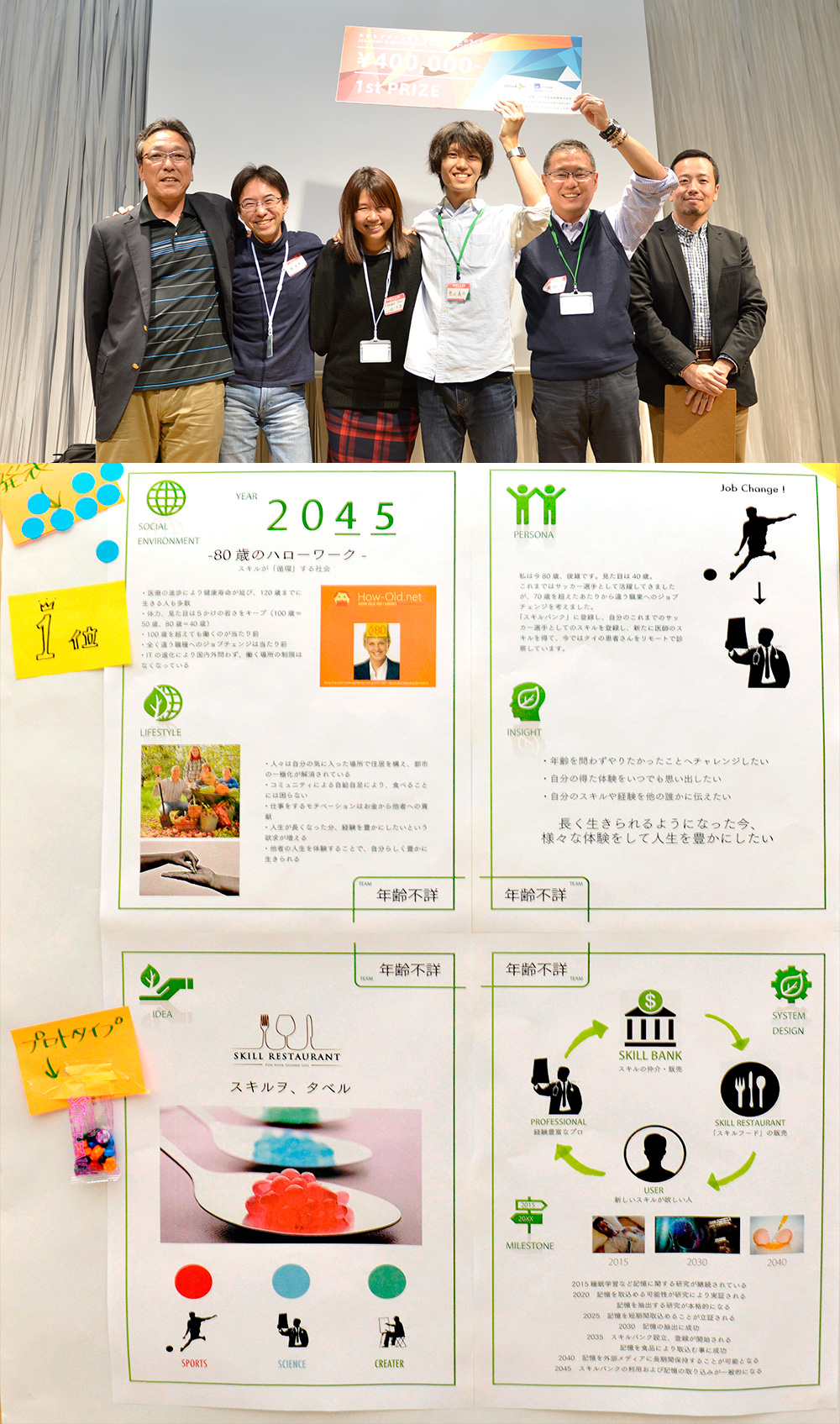 (2nd Place (Tie)) Team Spiro
We will create a future where you can work from any location. For example, by wearing a certain pair of glasses, even if you are in casual clothing, to your partner you will appear to be wearing a suit.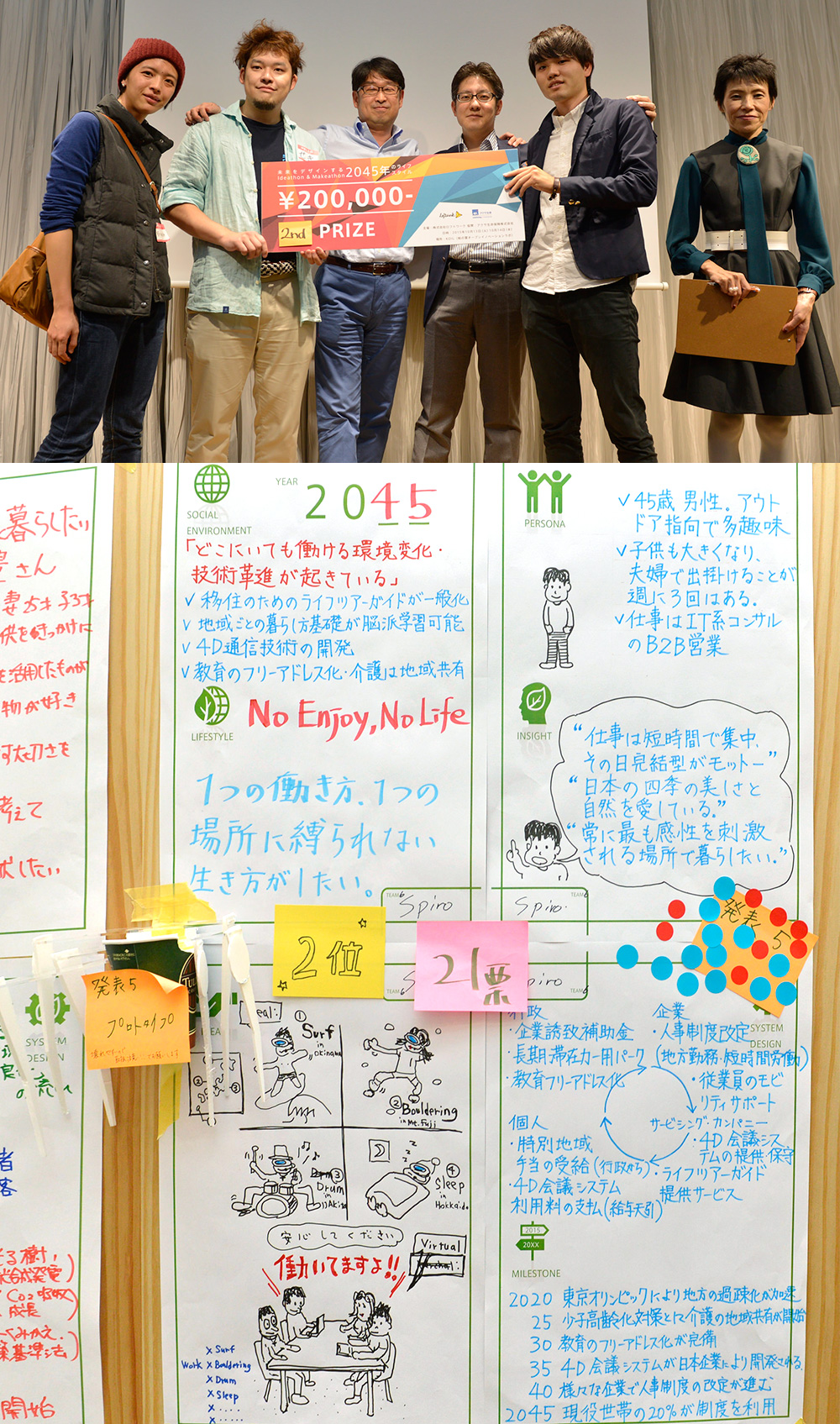 Team Go to the Nature
Proposed the concept of "toyosumi", positioned in between "settlement & travel", and "migration". 。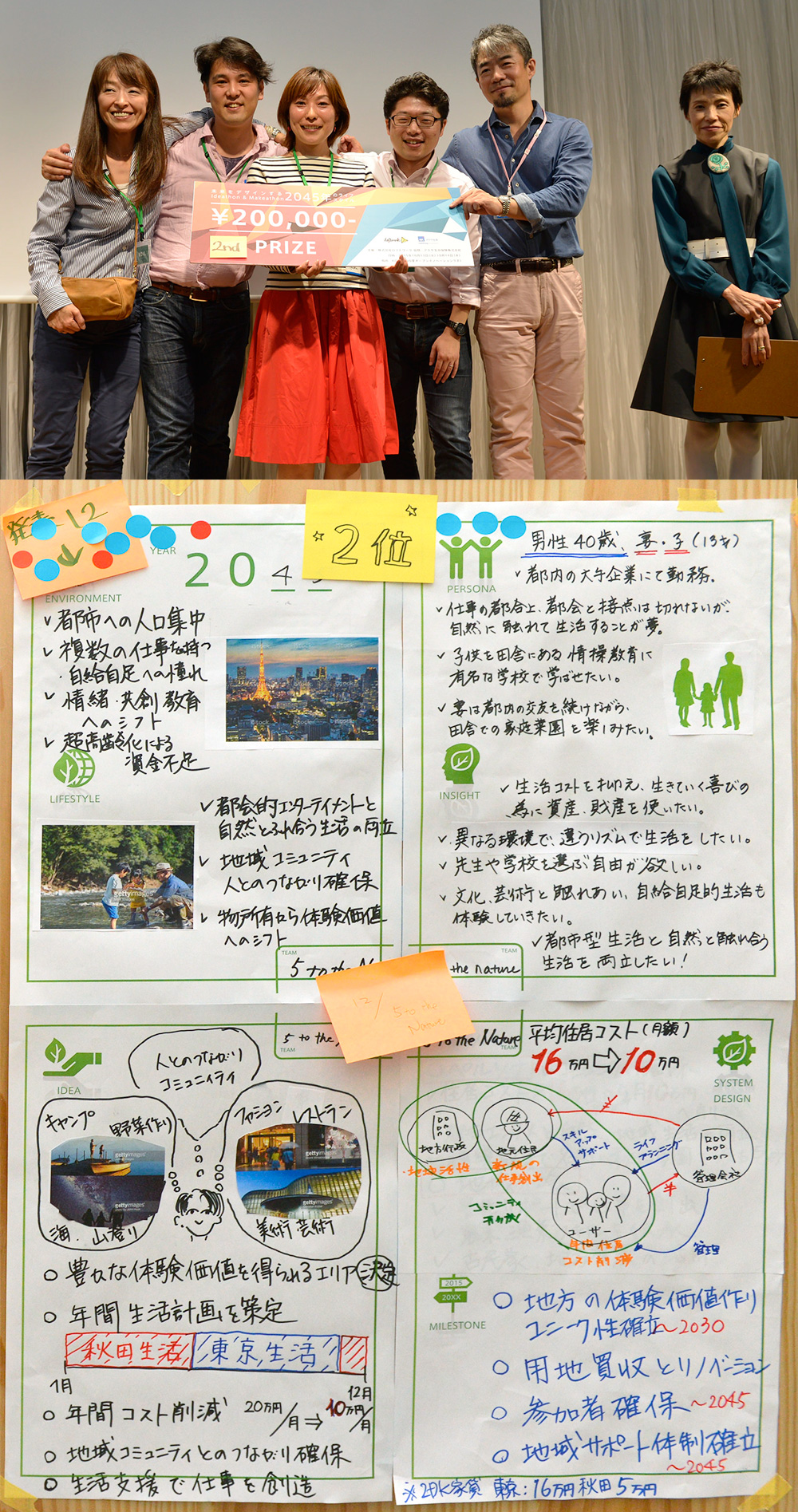 Looking back on the two days, Jacques de Peretti, President and CEO of AXA Life Insurance Co., Ltd., expressed his gratitude, saying, "Using the new way of thinking known as 'backcasting', I believe that we were able to have a very strong debate regarding unknown types of business, unknown people, and the future. Thank you very much for your participation." and ended the program.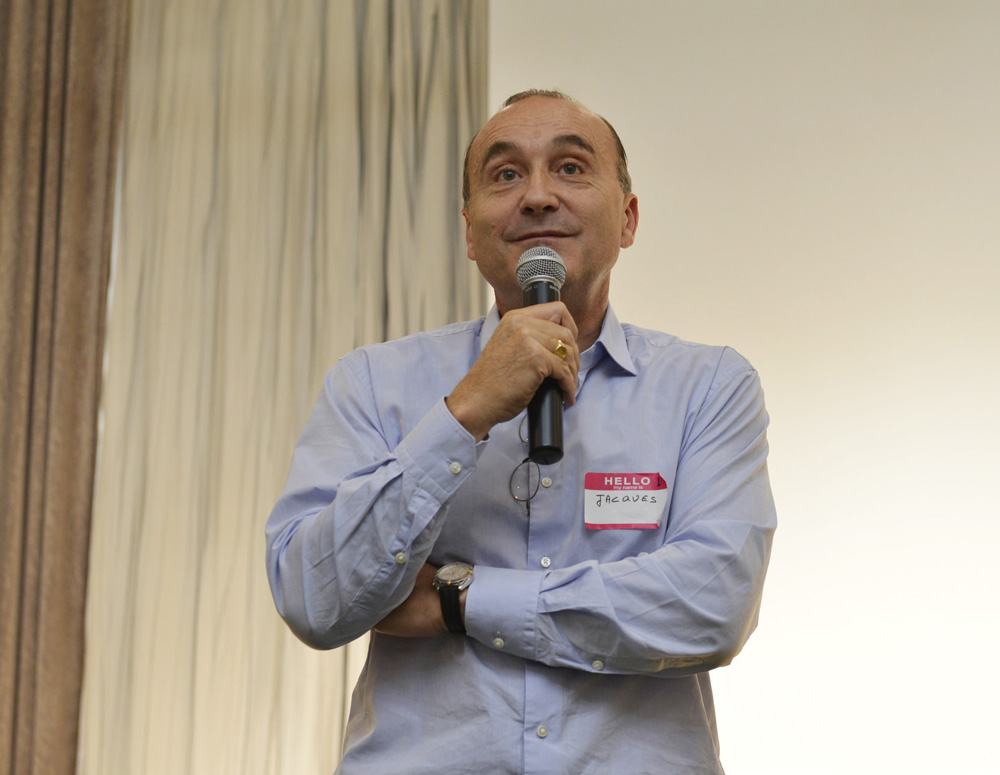 The detailed report for part one is here.

【Event Outline】
First Seminar Title:
Designing the Future Ideathon & Makeathon ─ The Lifestyle of 2045
Date: Day1 / 2015/10/13(Tues)10:00 – 18:00
Day2 / 2015/10/14(Wed)10:00 – 19:00
Venue: KOIL (Kashiwa-no-ha Open Innovation Lab)
Target: People employed by companies, creators, students, etc.
Prize: Total prize money of ¥1 million.
Sponsored by: Loftwork Co., Ltd.
Supported by: AXA Life Insurance Co., Ltd.
---
Part Two: Thinking of New Insurance with System Design Thinking
The second event was held over two days from August 3rd to 4th 2016 at Co-Working Space MONO in Tokyo's Koto Ward.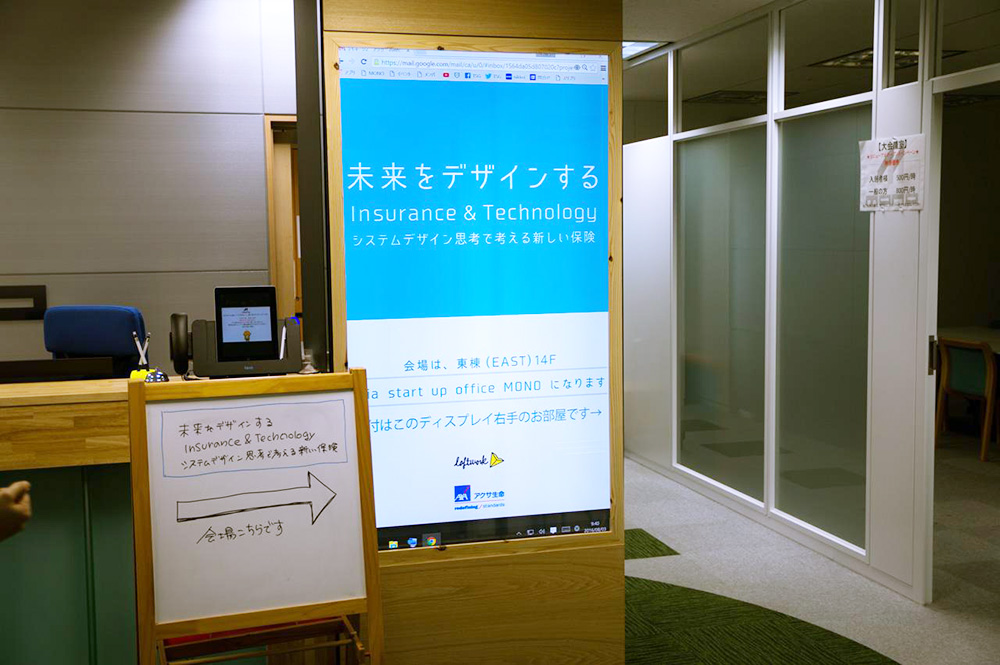 This time participants from different industries and occupations formed groups and shared ideas with each other related to the theme of "insurance". While using backcasting to think about the highly uncertain future, they created new services using system design thinking techniques.
Finance and insurance are tied to IT technology, and the insurance industry is reaching an era of momentous change. As the theme of "insurance" is at once both familiar, yet has few opportunities for it to be known, within the combination of people from different industries and occupations may lie many hints to finding services with brand new and impactful concepts.

As it is a workshop, please have a look at the various possibilities for the future that were created.
The Start of Manufacturing is Creating a Lifestyle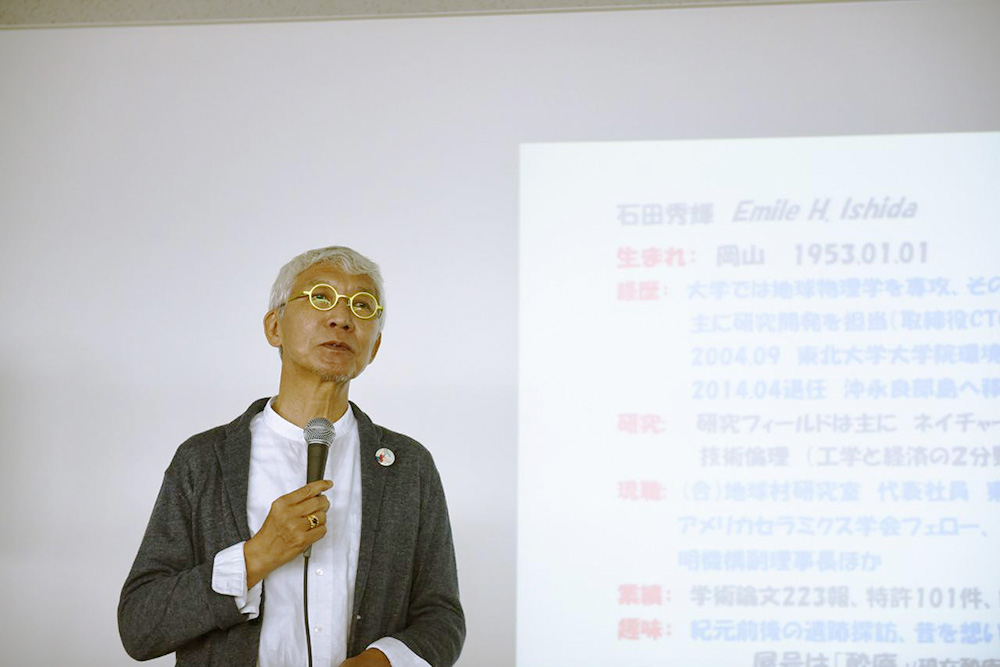 The same as the previous time, the event started with a keynote speech from Hideki Ishida, professor emeritus at Tohoku University, and representative of the LLC Earth Village Research Lab.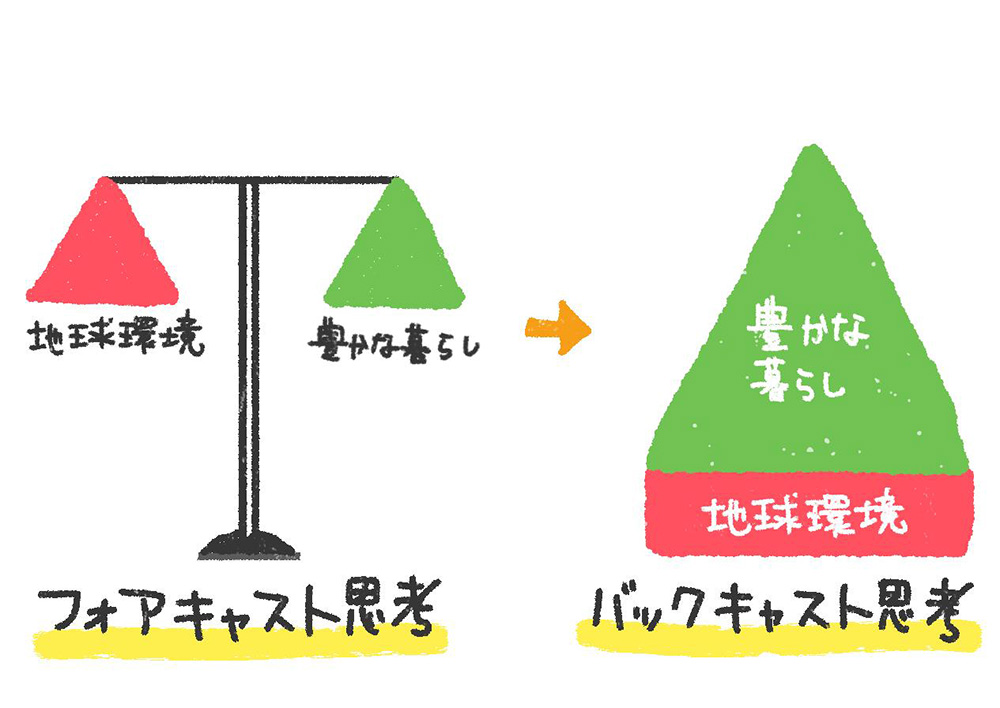 Following Mr. Ishida's valuable keynote speech on "backcast thinking", on the second day there was an inspirational talk from Mr. Matsushita of AXA Life entitled "The Influence of InsTech (Insurance Technology) on the Japanese Life Insurance Market – The Fusion of Insurance and Technology".
What is important is a customer experience that surpasses expectations.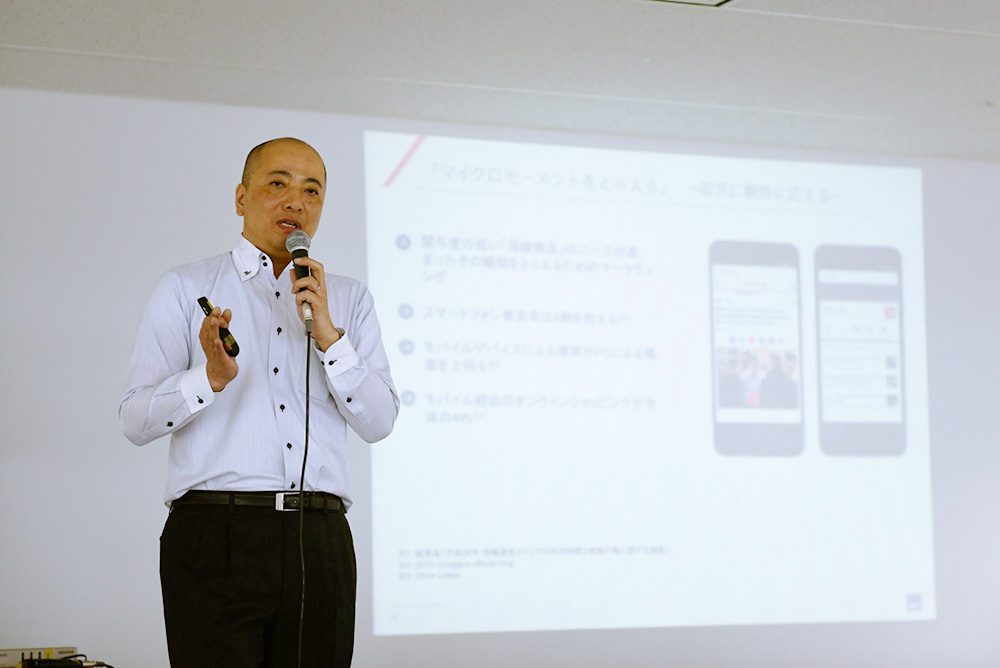 "Insurance premiums are calculated according to risk," says Mr. Matsushita, "but currently they are only determined by age and gender. Insurance will doubtlessly change drastically with the use of IoT devices etc. in this area.". The three areas of reform introduced that AXA is currently grappling with are:
1. Products / Offers
2. From Health Payer to Health Partner
3. Measures Towards Sales / Distribution
Acquisition of a policy holder's health situation using an activity tracker, smartphone apps to watch over seniors, target segmentation to capture the moment when desire is created within a prospective policy holder, etc., rather than the bit by bit policies that have existed up until now, an approach that considers the optimum customer journey was introduced.
"If we cannot provide a customer experience that surpasses customer expectations, we cannot continue to grow. That is why we are pursuing the possibilities of the digital domain." In closing, along with a message of AXA Life's brand campaign, "Born to Protect. We Wish to Protect Beyond Insurance.", he shouted that he was "Eager to see everyone's ideas for new insurance proposals.".
Getting this input, what sort of ideas were created over the two-day span the workshop was held?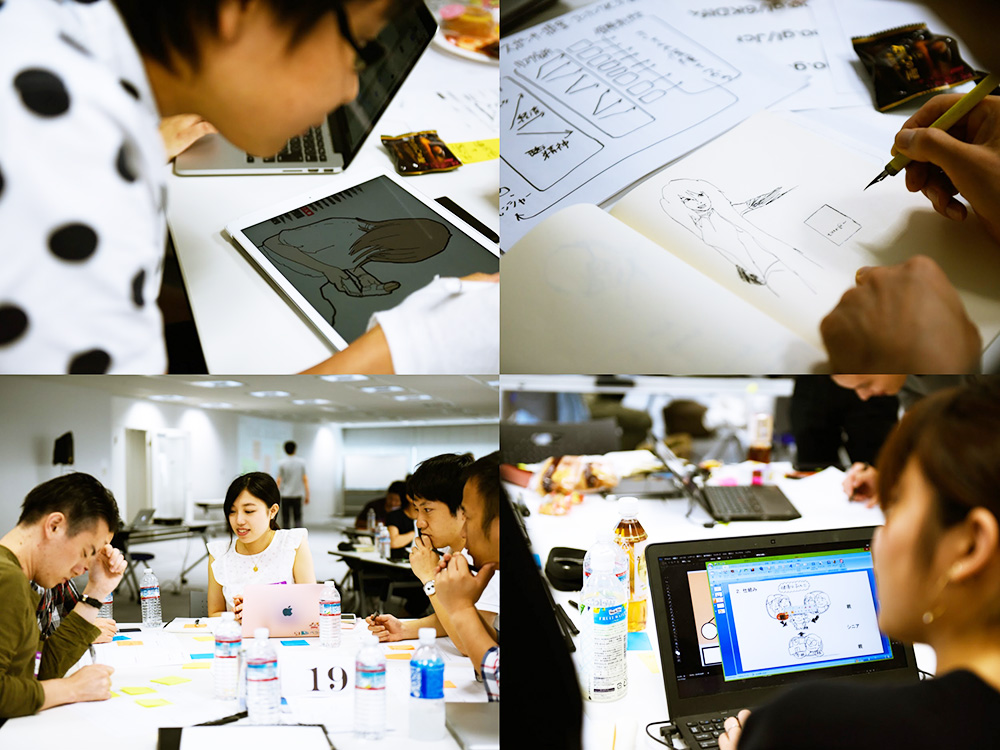 <Workshop Day 1>
Work 1: What is Insurance?
Work 2: Think of a Lifestyle 10 Years in the Future, Different from Now.
Work 3: Social Activities and Services to Fill the Gaps, and the Insurance they will Require.
<Workshop Day 2>
Work 4: Group Debate and Debate with Other Teams.Inspirational Talk: "The Influence of InsTech (Insurance Technology) on the Japanese Life Insurance Market – The Fusion of Insurance and Technology" by Mr. Matsushita of AXA Life.
<Presentation & Commendation>
The Insurance of the Future Created through System Design Thinking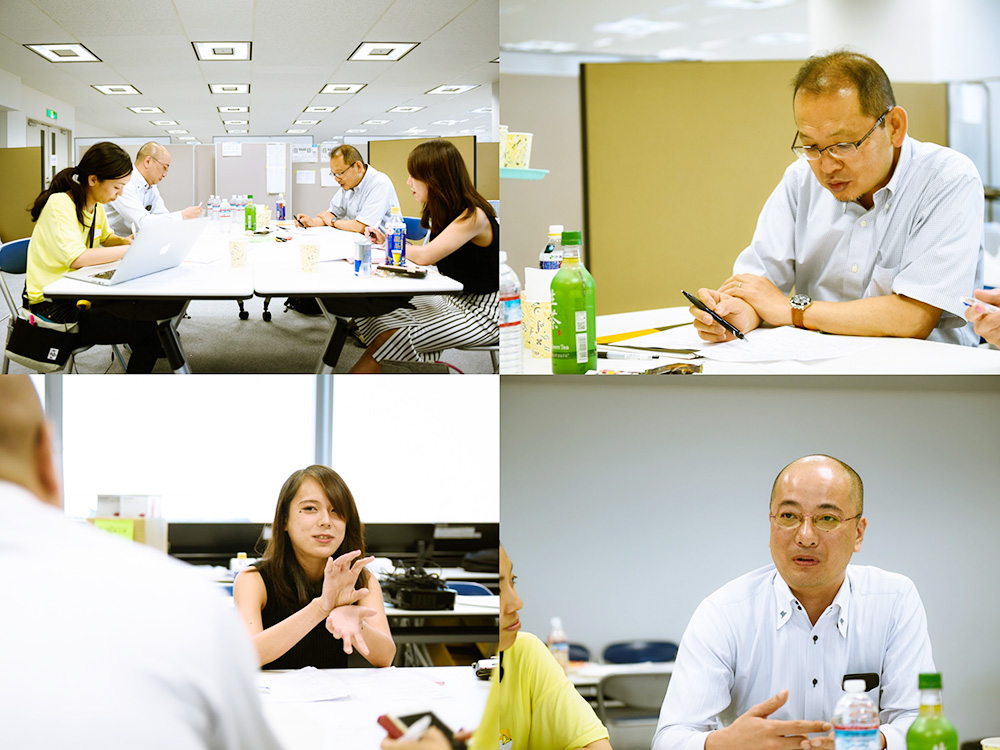 The three people who served as judges for the final were: Takashi Maeno, Chairperson of the Graduate School of System Design and Management and Professor at Keio University, Kenichiro Matsushita, Executive Officer and Medical and Protection Division Manager at AXA Life Insurance Co., Ltd., and HealthTech News Founder Miyako Yoshizawa.
We will introduce the three ideas chosen by the judges from different perspectives for the Innovation Prize, the System Design Prize, and the Backcasting Prize, along with that chosen by the votes of the participants.
Audience Prize
Team Number 16 KCM Insurance

This idea was chosen by a narrow margin by participant voting, where the top three spots were all separated by only one vote.
KCM is an acronym for Kigyo (enterprise), Culture, and Mental Health. The official name is "Corporate Culture Reflective Mental Health Insurance". It is an insurance for the insurance industry to help improve the mental health of all people who work at companies. A sensing device measures the corporate culture, and through this, employees are secured for a fixed premium. At the same time, it makes the level of unscrupulous activity at a company viewable to the public.
Innovation Prize
Team Number 6 Health Bitcoin

An idea where efforts by subscribers towards their health are reduced to the cryptocurrency Bitcoin and used for various economic activities.

"There are expectations for the blockchain, but I felt that there was great impact in having that be done by insurance companies. If data on health care fees etc., which insurance companies have not been able to access until now, became available to them, insurance might begin to change." (Yoshizawa)
System Design Prize
Team Number 14 Pursue Your Dreams Insurance

In a future where convenience stores and fast food restaurants are hit by sharp food shortages, and eating alone becomes monetarily, physically, and mentally risky, insurance companies offer insurance that provides healthy meals and a partner to eat with.
"Just listening to the presentation, you may not be able to call this insurance. However, of the elements that contribute to health, you can acquire data related to sleep and exercise from a device, but getting data regarding meals is difficult and has become a problem. Through tracking the meal data of the people who join this, it may become the infrastructure of the future. I felt high expectations for that element of it." (Matsushita)
The detailed report for part two is here.
【Event Outline】
Second Seminar Title: Designing the Future, vol. 6 Insurance & Technology – Thinking of New Insurance with System Design Thinking
Date:DAY 1 / 2016/8/3(Wed)10:00〜18:30(Open:09:30)
DAY 2 / 2016/8/4(Thurs)10:00〜17:30(Open:09:30)
Venue:MONO
Target:People employed by companies, creators, students, etc.
・People active in creative fields such as art, design, etc.
・People acting as researchers in various academic fields.
・People engaged in concept design, service design, business planning, etc.
・People practicing / interested in customer experience design.
・People in ventures and start ups in the tech sector.
Prize:Total prize money of ¥300,000.
Sponsored by: Loftwork Co., Ltd.
Supported by: AXA Life Insurance Co., Ltd.
Cooperation: Panasonic Co., Ltd. Appliance Company