A serial project where the editor-in-chief of AWRD, Kao Kanamori, goes to meet with award winners and promoters who have piqued her interest. Part Two is about nu Q, the animation creator surrounded in mystery, who has been involved in music videos, commercials, etc.
She told me about the story behind how her unique style came to be, we also spoke about the areas of her future activities.
The world that she, who had been drawing since her elementary school years using a graphics tablet, discovered.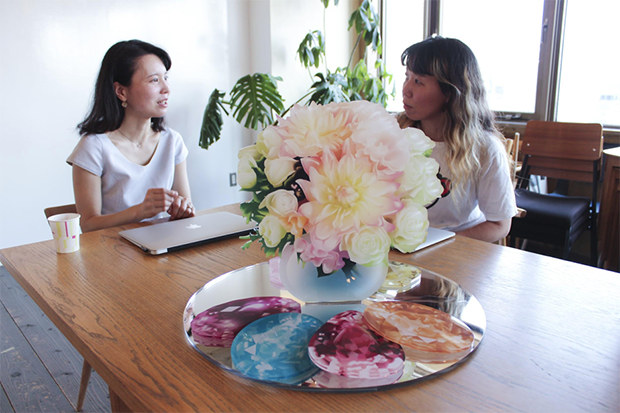 ー(the editor-in-chief of AWRD, Kao Kanamori. Omitted Below)When did you start to draw?
(nu Q)
When I was a young, I drew cute pictures of things like girls playing jump rope, Sailor Moon, and so on, just like a regular young girl.
ーAnd when did you start to create animation?
I attended Tama Art University, enrolled in the graphic design department, and animation was a required subject in the basic course when I was a first and second year student.
At the time, I wanted to become a cool and stylish designer like Kashiwa Sato in the future, and I held on to the preconceived idea that animation was for children, so I was not particularly interested in animation class. However, when I tried it in class, my eyes opened, and I thought that having pictures move was genuinely interesting! That's when I decided to study it seriously in grad school.
ーWhat were you using to draw during that period?
Computers. I had been making CG using drawing software and graphics tablets since my later years of elementary school.
My father prepared a digital environment for me. Since I was always able to have access to computers, I played by drawing or looking at the internet. It must have been around the turn of the millennium.
And the basis behind the unconventional naming and style is in fact a fusion of "beauty" and "laughter".
ーhere is an amazing gap between the atmosphere that you yourself possess, Ms. nu Q, and that of your work. Do you get told this often?
Yes, I do. But I think that a creator and his or her works are unrelated. Personally, I want to be beautiful as a woman.
ーYou're right, my apologies. But your style is so mysterious, what are you influenced by?
I have those original feelings of wanting to be beautiful, to become beautiful, as a woman, so as usual I like jewelry and flowers. At the same time, I love things that can make you laugh.
On the internet there are many things that are somewhere in between being beautiful, mysterious, and funny, and I love those.
I feel as though something interesting in the world media is that there are many cases where it is separated, with funny things being funny, and pretty things being pretty. I thought that it is possible for things to remain beautiful, remain pretty, and still be interesting, and that is reflected in my work.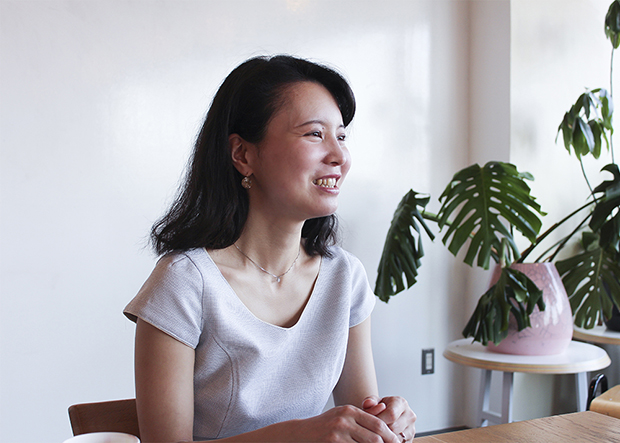 Her job started due to her uploading her graduation project to YouTube.
ーWhat was behind you starting this job?
It was due to a work I made for my grad school graduation project, "NEW TOKYO ONDO".
Usually you finish by making one work during your first year of grad school, and another in your second, but in my case, I made one piece over the two-year period. In those two years, I drew around 9000 frames. Nobody had done that before and it became a bit of a topic of conversation amongst people, from there I was able to receive a job and various opportunities.
Title: NEW TOKYO ONDO
ーAnimation is amazingly time consuming... Did you present this work somewhere? What enabled you to connect with your job?

It was because I uploaded it to YouTube, so I was able to hear from various people. I was happy to have been able to have it shown at animated short film festivals in Europe, Asia, and around the world. What's great about videos is that they can be reproduced and then played.
If terms of awards, the piece was awarded top prize in 2012 at the The 18th Student Campus Genius Contest, Top Prize and participated in the 16th Japan Media Arts Festival, Animation Division Judges' Recommended Work. having been selected as the animation division judges' recommended work.
ーAre there any award experiences that made an impression on you?
I was glad to receive the top prize in the "Student Campus Genius Contest". I had never had a number one work before, so I was really happy!
Also, in 2015, at the New Chitose Airport International Animation Film Festival, my work was chosen as the music video for Chatmonchy's song "Kokoro to Atama". As a result, I became a judge the following year, and was able to handle promotional movies for the film festival itself.
Title: Kokoro to Atama
Title: New Chitose Airport International Animation Film Festival 2016 PR Movie
It was played in Chitose airport as well! After that, posters matching the characters were also created.
"I Want to be a Player for a Long Time. I Want to Draw as Much as I Can."
ーYour works have a mysterious charm, but do you think of the scenes as you are drawing? Or do you have clear storyboards?
I have a general idea for the scenario and then decide on each scene as I draw them. When it is for work, I show it to the client and decide on what direction to take, but when it's one of my original works it's just me coming up with an image and then drawing it, so I just go ahead and draw.
When I'm making a scenario I always start thinking from the end. Viewers will be confused if they do not understand the meaning, so I always start making a work after, even just simply, coming up with the conclusion.
ー I can hear your sense of hospitality, or rather, your respect for laughter. What sort of creative discoveries have you had with recent works?
Recently had a job where I was asked for a set of promotions for PARCO GRAND BAZAR.
A lot of things that I had to do appeared, other than animation, and it was impossible for me to finish them all by myself in the time I had been given.
The words of one of my teachers at university came back to me, "There will come a time where you will be unable to do everything yourself, where you will have to cooperate with somebody else in order to go any further.".
I oversaw all the animation and illustration on this job, but the music was done my Ms. Kayoko Yoshizawa, and the art direction was done by Piki-Piki Dokan, along with the cooperation of everyone on the editing team, we were somehow able to finish on time.
Due to this, we were able to create a miraculous work that we had not imagined. We were able to create a work that was 120%, precisely because of the multiple tasks that could be accomplished while working with others.
Title:PARCO GRAND BAZAR 2018
ーWhat sort of process do you actually follow when making a work? Do you draw each picture one at a time?
There are numerous ways to produce animation, 3DCG, breaking one picture into parts, and using them to create the motion, there are various different methods, but I draw everything by hand.
The facial expression of each one is different. While it may be just one frame, I'm extremely motivated, and make 20–30 drawings to produce just one second. I think that this is necessary to make a character feel lively and dynamic. It's a taste that you can enjoy precisely because it is drawn by hand.
It is extremely fresh to have characters do unexpected movements in VR.
ーI would like to ask about your VR project, NEWVIEW, as well. Is this your first time tackling VR?
It's my first time. I selected pictures as though they were billboards, placed them in various spots, and was able to create a space. It felt similar to being an illustrator, and it was really fun to learn that even I could do it.
Title:SWEETS_EMPIRE
※NEWVIEW is an experimental project/community where the design of new creative expressions and experiences is developed within a 3D space (VR/AR).
NEWVIEW: https://newview.design/

ーWhat about the swaying movement?
That movement was done by a free software program called Mixamo.
Since I am an animation creator, adding in the movement myself is my job, but this time I had the system do it using Mixamo. Having my own characters perform movements that I didn't expect was extremely fresh.
ーThe STYLY Awards are beginning, but can people applying to them use things such as Mixamo as well?
I think they can. They can take what they have drawn in 2D, and have it raised into 3DCG. Also, with Mixamo you just have to designate what sort of motions you want the character to do, like dancing, or kung-fu.
Since it's in 3D, it can be viewed from multiple angles. It's impossible to do this with 2D so it's perfect for VR.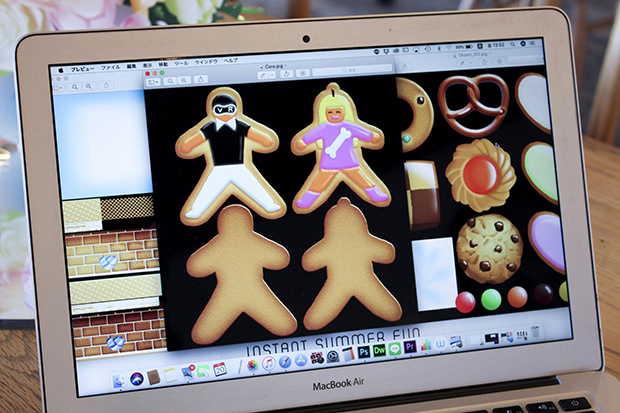 ーToday you showed me these wonderful flowers, are you also interested in three-dimensional objects?
Yes, I am. Since videos can only, in the end, be a story told within a screen, it's great having my pictures exhibited in this way, through a 3D object with an actual feel to it.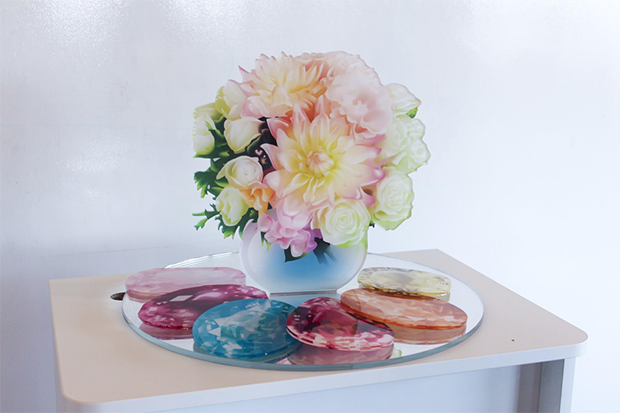 ーThey are three-dimensional, but amazingly flat. The feel of them too, is very smooth and shiny, but doesn't leap out at you. It is incredibly interesting, it feels as though they are a 3D continuation of the video media.
Since I think they would work well with show window displays and department stores, I'm hoping to have them exhibited there. I like single drawings, videos, I like anything and everything.
ーThis will be my last question today, but do you have any advice or anything to say to those individuals aspiring to express themselves?
Recently I feel as though the wages of a content creator are for the amount that she or he has brought happiness and fun to others. I think that the reason why my previous works didn't get much attention, or didn't make any money, is because at that point there were not many people who were happy or had fun because of them.
If your feelings of wanting to make people happy or have fun are increasing, little by little, your works will make their way into society and return to you in the shape of money.
ーPlease say a few words to the creators and competition participants entered here at "AWRD"!
Let's all do our best together!
Editor's Notes
Hearing that "laughter" and "beauty" were the basis of her work, I felt as though I had been touched a little by the strength of the source that these works, which give off such mysterious charm, possess.
Also, I felt as though the awards and tools that emerged in the early days of the internet (graphics tablets, bulletin boards, unique comedy, etc.) gave energy to her paintbrush, and created a type of nostalgia and feel. I remembered the first decade of the 2000's again.
With her clear manner of speaking, forward-fixed gaze, and flowing words, she had the unwaveringness of someone who has continued to draw and think about that pursuit. I am very much looking forward to her future works!
kanamori kao
AWRD編集長
出版社リトルモア、ファッションブランドシアタープロダクツの創業プロデューサーなどを経て、AWRD編集長に就任。主婦・NPO法人ドリフターズ・インターナショナル代表・「悪魔のしるし」代表代行・マクラメ部部長など兼務。 After working fora publishing house LITTLE MORE and acting as a founder and creative Producer of a fashion brand THEATRE PRODUCTS, Kao is now Chief Editor of AWRD. Housewife, Director of the NPO Drifters International, Acting Director of Akumanoshirushi, Director of Macramé Department, among others.
---
PROFILE: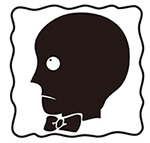 nu Q /Animation Creator
Her graduation production animation work "NEW TOKYO ONDO" took top prize at the 18thStudent CG Contest ("Campus Genius Awards") and was a judges' recommended work at the 16thJapan Media Arts Festival, etc. Her works have been shown extensively both within Japan and overseas. In addition to holding solo exhibitions at galleries such as pixiv Zingaro and TETOKA, she is also involved in plenty of work for clients including illustration, commercials, and music videos.
Awards History
●2012
The 18thStudent Campus Genius Contest, Top Prize
16thJapan Media Arts Festival, Animation Division Judges' Recommended Work.
●2014
Elected to the Project to Support the Nurturing of Media Arts Creators
Recent Work
●Maruman's Sketch Book 60thAnniversary Movie:http://www.e-maruman.co.jp/zua...
●Wednesday Campanella Videos