The Material Driven Innovation Award 2022 (MDIA 2022), a material award to explore the new value of materials, was conducted by MTRL (Material), a materials-themed creative platform operated by Loftwork. The award attracted 102 entries from around the world during the one-and-a-half month application period. After rigorous screening, a total of nine works were selected: one Grand Prize winner, three finalists, one Encouragement Award winner, the Junji Watanabe Award, the Yasuhiro Horiuchi Award, the Kumiko Idaka Award, and the Kazuya Ohara (Benkei) Award.
How does the idea of "wellbeing," a state of physical, mental, and social fulfillment, connect to and contribute to our wellbeing when viewed from a material (material) perspective? In the first part of this report, we will report on the possibilities for "wellbeing" of materials discussed at the on-run jury meeting, and in the second part, we will focus on the award-winning works.
「Material Driven Innovation Award 2022」 Online Screening Participants:
Watanabe Junji / Lead Researcher of NTT Communication Science Laboratories
Yasuhiro Horiuchi / CEO of Trunk Design
Kumiko Idaka / Curator
Frederic Seiller / General Manager Aesop Asia and Natura &Co China
David Tena Vicente / FabCafe Barcelona CEO
Kazuya Ohara / Head of MTRL Division
Ryohei Sekii(AWRD / Screening Operations)
Eri Matsuda(AWRD / Screening Operations)
Christine Yeh(AWRD / Screening Operations)
"Well-being" captured by judges from different backgrounds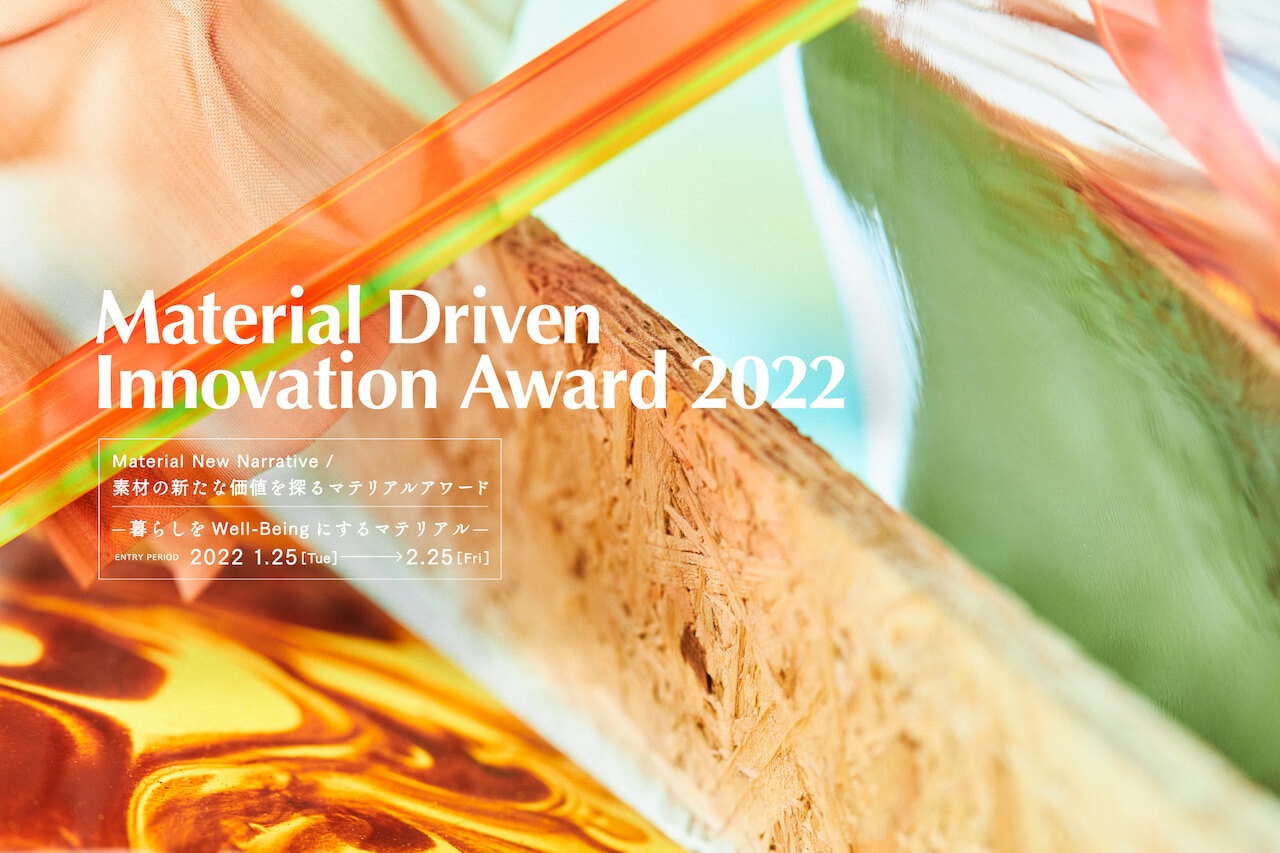 The judging session began with an online discussion of the entries that each juror had picked out from the pre-screened entries. The judges, who are at the forefront of various fields, talked about how they dealt with wellbeing materials, sharing their own backgrounds and how they approached the judging process.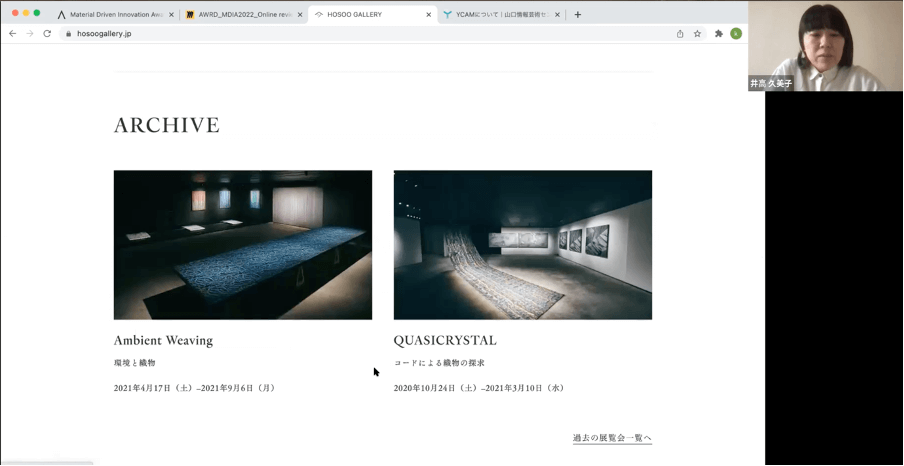 One of the judges, Kumiko Idaka, has organized exhibitions and artworks at the Yamaguchi Center for Arts and Media [YCAM] and is currently in charge of organizing exhibitions in various fields of art and technology. At HOSOO GALLERY, run by Hosoo, a Nishijin textile company in Kyoto, she is planning an exhibition that considers textiles as a medium. Recent exhibitions he has been involved in include "A Sign of White" (2021), "Ambient Weaving - Environment and Textiles" (2021), and "Quasicrystal" (2020). He is engaged in research and development projects with the theme of constructing textiles from the structure of weaving.
Idaka: When I was a student, I studied mainly video expression and interactive art, which were developed in a closed environment, a black cube instead of a white cube. In recent years, however, I have been interested in connecting with the real world beyond the world of materials, monitors, and video expression, and have been actively practicing history, fieldwork, and community research. Based on this background interest, I have continued to collaborate with artists based on various research projects after becoming independent.

I live in Aichi Prefecture now, but I have also lived in Yamaguchi and Tokyo, and have firsthand experience of the diversity of values and regional characteristics within Japan. I have also had many opportunities to reexamine social values from various perspectives through my research in Southeast Asia. I hope to discuss with you from various perspectives at this year's awards.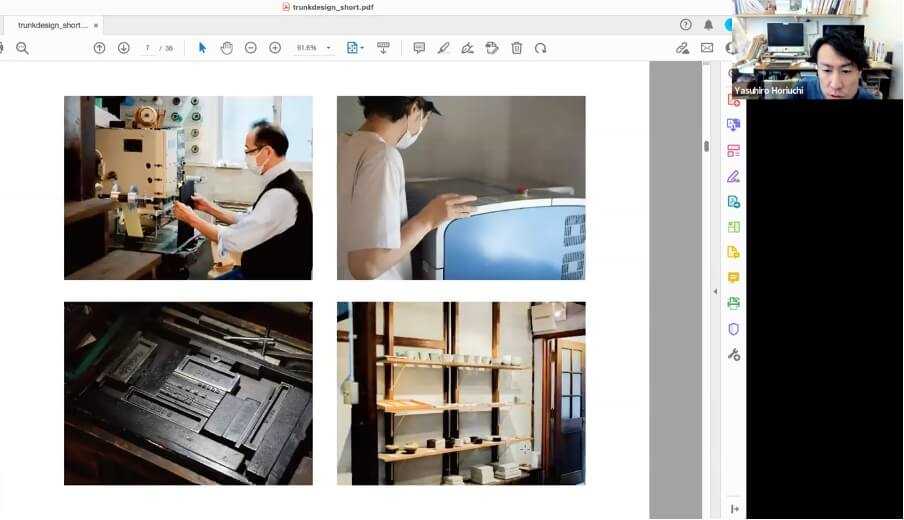 The second judge, Yasuhiro Horiuchi, founded his "TRUNK DESIGN" office and store in Kobe, Hyogo Prefecture in 2009. He has been involved in a wide range of production and branding direction and design for local industries and traditional crafts. 2011, he launched "Hyogo craft" to introduce Hyogo craftsmanship, and has produced apparel, incense, stationery, tableware, etc. in-house, and has 8 The company now has 8 brands. Currently, we provide consistent support for producing, branding, developing domestic and international sales channels, and regional branding for local industries and traditional crafts not only in Hyogo but also throughout Japan.
Horiuchi: My first encounter with local industry was when I met a local match factory for lighting fires. From there, we helped with product development and launched a product called "hibi" in 2015, which is a combination of matches and incense. This product has won the Good Design Best 100, Good Focus Award, and Taiwan's Golden Ping Design Award, among others. In addition, since 2011, we have continued to promote manufacturing in Hyogo Prefecture.
For the screening this time, we will be looking at the three themes of the award criteria (function: the potential of the material / meaning: contribution to affluence / story: a consistent story) from the perspective of how much can be manufactured, what is the balance between supply and demand, and whether the product can be used more freely by those who use it. We would like to judge from the viewpoint as described here.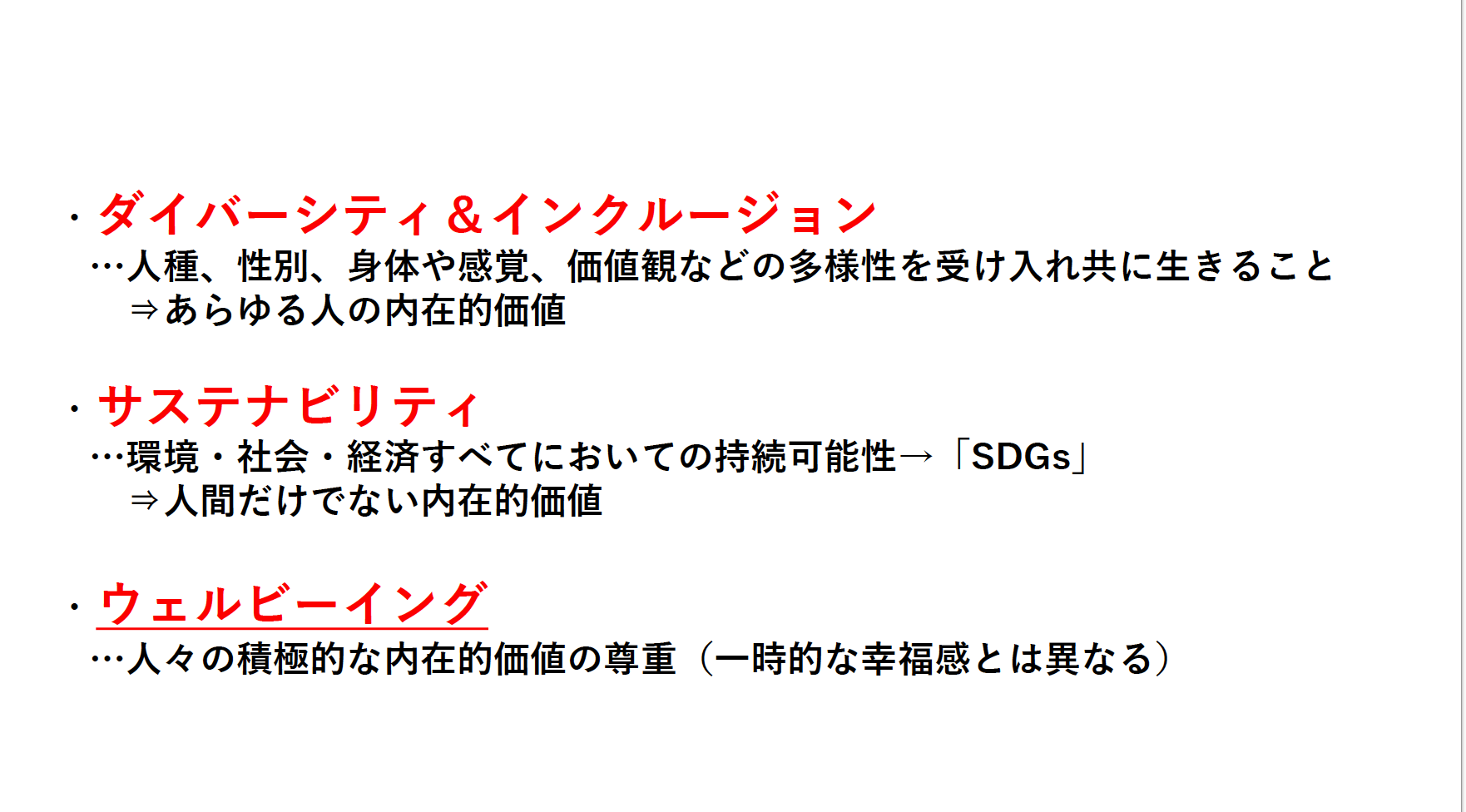 Diversity & Inclusion
… Living together accepting diversity in race, gender, body and senses, values, etc.
→ The intrinsic value of every person.
Sustainability
… Environmental, social and economic sustainability "SDGs.
→ Intrinsic value, not just human.
Well-being
… Respect for people's positive intrinsic value (as opposed to temporary well-being)
---
The third judge is Junji Watanabe, who works at NTT Laboratories and conducts research on the mechanisms of human tactile perception and communication from the perspective of human information science, while exploring methodologies to realize a wellbeing society that connects people.

Watanabe: First, let me talk about my research on wellbeing. There are many aspects of wellbeing for which there is no right answer. However, one thing that I think is important when thinking about wellbeing is the concept of intrinsic value. It is not that an object is valuable because it has some function, or that a person can do something, but that the existence of the object itself is valuable. For example, a baby itself can do only a few things in terms of functions, but its existence alone makes people feel happy.

Well-being is not something that can be measured by economic indicators such as GDP, nor is it something that can be exchanged equivalently, but I think it is a kind of movement to respect the value that each person has in their own way and to create a sustainable society.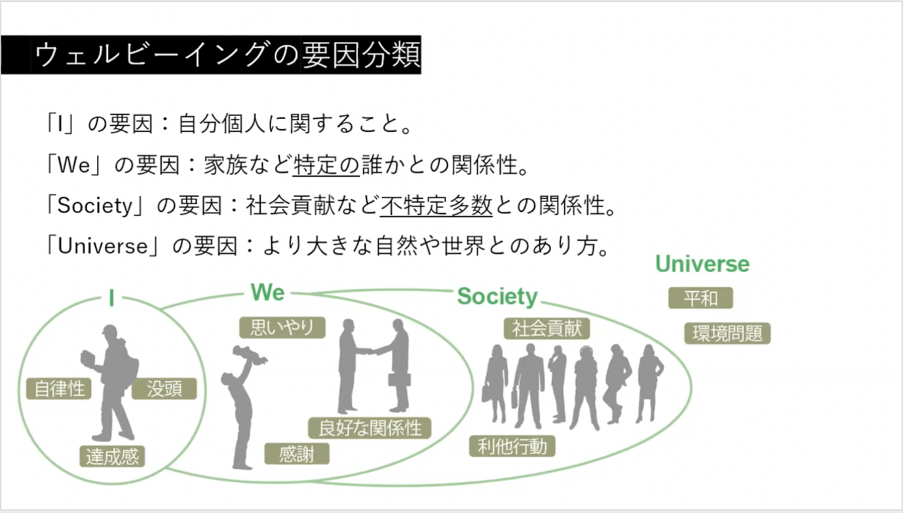 Factorial Classification of Well-Being
The "I" factors: about the individual self. (autonomy, immersion, achievement)
The "We" factor: relationships with someone specific, such as a family member. (Compassion, appreciation, good relationships)
Society" factors: relationships with an unspecified number of people, such as contributing to society. (social contribution, altruistic behavior)
Universe factors: how we are in relation to the larger nature and world. (Peace, environmental issues)
---
Let me talk a little more about wellbeing. Subjectively, a good state of being or a good time can occur in relation to oneself, or it can occur in relation to society, for example, in relation to family members, intimate people, or creating new values in society. We believe that there are many different ranges, such as our relationship with nature or something broader.

I was thinking that the materials used in this project were originally from nature or something that existed in the wider world, but once they appeared in front of people, they sometimes returned to nature and sometimes connected people to each other, and I was thinking that a wide range of factors related to wellbeing were emerging. I participated in the screening, thinking that the word "wellbeing" this time includes a wide range of meanings, from oneself, to connection with society, to relationship with nature.
Thinking about wellbeing through materials
Kazuya Ohara (Benkei), the organizer of this award, is also serving as a judge and facilitator of the jury this year.
Benkei: Let me ask Mr. Horiuchi. In your practice of connecting local industries, how do you think it is possible to create new value in goods? As Mr. Watanabe illustrated earlier in his "Factor Classification of Well-Being," when the value of the goods themselves is scaled, what kind of value and requirements should be there?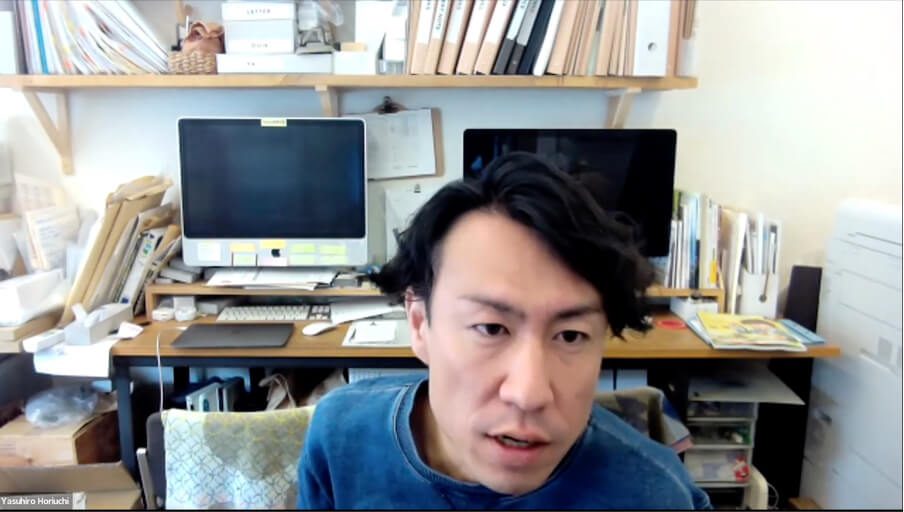 Horiuchi: I still think it is basically a balance between supply and demand. There are so many things in the world, and we, as consumers, have a choice to make as users of these things. For example, there is the option of choosing regular paper, recycled paper, or paper made from food waste, but if only a small amount is produced and therefore not available to the public, we are left in a situation where we want to choose but cannot use it.
Even if a product claims to address environmental issues, if it cannot be produced in quantity, it raises the question of whether the environmental issues are really being accessed and solved. Also, when disposing of the product, it is necessary to consider whether the disposal method has also been considered. It is necessary to broaden the perspective from the point of production, to the point of use, to the point of disposal when the product has finished its role, to the point of recycling, to the point where it is meaningless to burn it and throw it away, and to the point where, although we talk about reducing CO2 emissions, CO2 may be emitted again when it is discarded.
We hope to judge this year's awards with an awareness of whether the products can be used by an unspecified number of people when they want to use them, whether they can be selected, and whether they are in a form that allows proper circulation.

Benkei: I think that in the past, there was a situation in society where the more things were produced, the cheaper and more widely accessible they were. One might ask whether this is wellbeing in the first place, but what triggers you to determine the balance between supply and demand in the coming age?
Horiuchi:I believe that the impact of the pandemic has brought about a sudden change in values and the reality of demand over the past two years or so. The demand has shifted from the demand for mass-produced, inexpensive, and convenient products to the demand for products that can contribute to society through their use, and the demand for products that are made by people who understand the process and value of the products they are making.

I feel that the sense of demand is changing, with people having a chance to rethink the things and food they use in their homes, wanting to buy things that they know where and by whom they are produced, including online purchases, and wanting to incorporate vegetables grown without pesticides into their lives even if they don't look good. I think the premise is whether or not we can respond to such demand.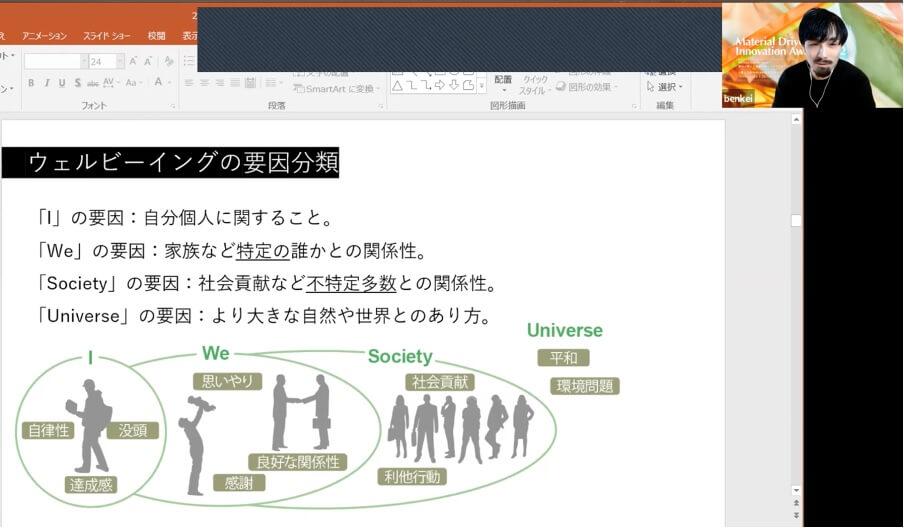 Benkei:Following Mr. Horiuchi's discussion on the balance of supply and demand, what did you think about Junji's illustration of "I", "We", and "Society", which suggests that communication in terms of human senses and emotions may be undergoing a transformation?
Watanabe: From that perspective, it seems like you have a long view of the relationship with stakeholders. What I mean is that we are not only looking at a single interaction, but we are also looking at the value for all stakeholders, from the point of birth to the point of use and beyond. I feel that we are talking about how to strike a balance between maintaining these options and ensuring that the product is well distributed.

In my case, when I focus on the sense of touch, I start from the point of connecting with the objects and people in front of me. On the other hand, I wondered if those who are engaged in manufacturing have a different perspective on the raw materials and the process by which they are made, and if they are looking at the same thing from different directions.
Benkei:Thank you very much. Mr. Junji talked about the relationship among stakeholders, and Mr. Horiuchi talked about the balance between supply and demand in the future. Ms. Idaka, could you tell us how you think about this screening from the perspective of how you are trying to connect traditional industries to the future with new techniques and technologies?

Idaka: I am involved in art, and the first thing that I found very difficult was to position art in this award. I have the idea that art is punk and should always be a counter to society, and I believe that we must create and present values that are in some sense autonomous while still being connected to the larger trends of society.

In my mind, a state of wellbeing is not unrelated to the values of the community as a whole. For example, if I were alive during the period of rapid economic growth, I would think that bringing my state of being to the values of the society as a whole, such as wanting the three sacred treasures or 3K to get married, would lead to "happiness. Today, the nature of the community itself is changing, and values are diversifying along with it, but I still think that a state of wellbeing is not unrelated to the values of the community as a whole.

In that sense, I was wondering what perspective to take in this screening because I feel that art has a mission to connect to values that are sometimes contrary to a state of wellbeing.

With regard to traditional industries, I am also interested in them in the sense that I can get a bird's eye view of "changing values". Taking Nishijin textiles as an example, it has a history of being the first among modern dyeing and weaving production centers to introduce the Jacquard loom from Lyon, France, which was the most advanced industrial technology of the time.

Originally, it was completely tailor-made for the privileged classes. Further tracing back to the original, it seems that the dyeing and weaving techniques of Nishijin textiles were almost established as a technology during the pre-Han dynasty in B.C. The technique was then introduced to Japan, where it was used in the textile industry of the time. It is thought that it was introduced to Japan, and changed according to the techniques and design fashions of the times. Therefore, I do not think that Nishijin brocade can be called Nishijin brocade without using such techniques and materials. I think that the interesting thing about Nishijin textiles is that they are innovative and embody the best of the techniques of the time, and that is what makes traditional industries so interesting.
I myself focus on modern technology because I believe that technology itself can be a medium to express "modern society" when considering today's "chic = values". In a sense, textiles are also an "information medium," and the materials used for yarn, dyeing, weaving, and even design cannot be completely unrelated to the economic, geographical, and cultural requirements of the time. I feel that this is the very act of searching for contemporary values.

I would like to consider the definition of wellbeing from the two-sided perspective of not only these autonomous values of art, but also the shifting technologies and values of the times and environment. I hope to explore this through discussions with you all.

Watanabe: Speaking from a perspective characteristic of wellbeing, the term "self-awareness," or understanding of one's own framework itself, is said to be important.It is a little difficult to describe, but when scoring well-being itself becomes an objective, like how many points you get for wellbeing, you gradually start to optimize yourself toward that goal. In short, I believe that when you become like a tool of the future, that is not well-being.

Well-being also emphasizes how we become aware of ourselves and the process of continuing to relate to the world while understanding our framework itself. I believe that this involves a kind of encounter with a new self, a kind of recognition of oneself.

Social relations are also a major factor in this process. For example, let us consider the wellbeing of a person who is ill. For example, if you think about the wellbeing of a person who is ill, if you think about it in terms of a health model, you might say that the person is not healthy and therefore not wellbeing.

Some diseases are socially acceptable, while others are difficult to accept. For example, if someone says he/she has a broken bone, it is likely to end with "Oh my God, that's terrible," but as soon as we start talking about mental health or personal characteristics, the acceptance of society changes completely. In these areas, the unique relationship between society and the individual is very important, but if you try to generalize and design human beings, you tend to end up with a model that conforms toward that generalization, and there are parts of me that wonder if that is the right way to go.

Benkei:Thank you all very much. Ms. Idaka's perspective on permanent values based on art, and the changing technology and values according to the times and environment, and Mr. Horiuchi's attitude of questioning the balance between supply and demand in the future based on the changing quality of demand, are once again very important. As Mr. Watanabe mentioned in his comment, I was given a perspective to think about wellbeing in terms of the process of becoming aware of one's personal values and "self-awareness," the process of becoming aware of one's own values, and the scale of the complex intertwining of these relationships. It was again meaningful to me that we should think about well-being in terms of "materials" produced by manufacturing and industry, which have been formed as a kind of social model over a long history.