"Mask Design Challenge by FabCafe Global" Result Announcement
Following the screening process, four distinguished designs were selected from the Mask Design Challenge. Looking through all the original works submitted, we at Loftwork felt we reached a glimpse of the answer to how creativity could be applied to the sudden arrival of the COVID-19 in our world. Take a look at the four works chosen out of over 220 ideas from around the world.
Online live event to showcase award-winning works!
On Saturday May 23rd at 5:00 p.m. (JST), we will hold a live-streaming event to introduce the award-winning works. The prototypes of the winning entries will be shown by Shirohato, where we will ask comments from both the judges, and winners. More details will be released soon, so be sure to check it out!
Shirohato Prize・Jury Prize(Pichit Virankabutra)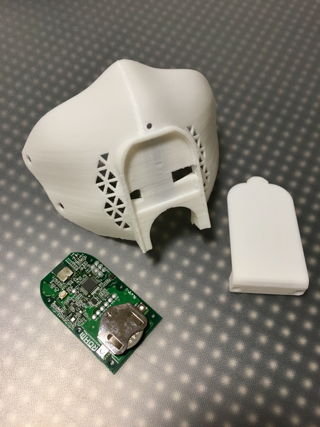 Title
SensingMask
Creator
Comment
I feel honored to receive this award. Thank you very much. To tell you the truth, I did not know about this award until the day before the deadline. I had been working as a maker for a while now, and asked myself, "Can't we take a stand against COVID-19 with the power of manufacturing?" I was working on a few works on preventations, including masks, with the hope that I would be able to win this award when I heard about this award from my friends. By confronting the changing world not only intensely, but also seriously, the mask product will not be limited to infection prevention, but I believe it will be evolved into a product that creates further added value for the future. I feel that this award has given me a great opportunity to do so.
Judge's comment: Shirohato co. ltd

The epidemic of COVID-19 has led to the recognition of the effectiveness and importance of masks not only in Japan, which is said to be a developed country for masks, but also in Western countries where wearing masks is not a custom. At present, people's awareness of masks is about to change drastically, and this is linked to the concept we have set before COVID-19. This work was a perfect portrayal.

Judge's comment: Pichit Virankabutra/ พิชิตวีรกานต์บุตร(TCDC Director of Creative Space Development Department)

smart mask that can detect the exhalation temperature and the number of coughs from the combined analysis data to understand your health condition.
This piece, came up to my mind that the designer have integrated a functional respirator and a censoring device that could analysis personal data of the wearer which will benefit health check and link essential data for future use.
Jury Prize(Dr. Kenneth Kwong Si-san, Maibelle Lin)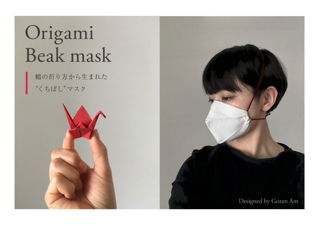 Title
Origami Beak mask
Creator
Comment
I am an anonymous artist, making masks with a biased taste. I was fortunate enough to learn about the award just when I was thinking of how to put my experiences and thoughts to good use to help others. I am delighted to have received such an honorable award, as well as being evaluated with recognition as a result. Thank you so much! At a time when the culture of masks is changing, such as communication between masks and people, and between people wearing masks, it was very inspiring to see so many ideas. I would like to thank everyone involved in FabCafe Global for organizing this award, gathering ideas from all over the world at a time when the world is moving rapidly under the influence of COVID-19. I will continue to do my best to explore what I can do.
Judge's comment: Dr. Kenneth Kwong Si-san/鄺士山博士(Former Lecturer at the Chinese University of Hong Kong)

1. There is a large air space inside the mask, which enables to air to pass through a large area filter. Therefore very high breathability.
2. Different ways (type A, B & C) to tie the mask. Very feasible. Type A is the best for medical professionals. Type C is most suitable for the children.
3. Very elegant design based on origami, yet very high breathability.
4. Very easy to sew.

Further improvement:
If a plastic strip or metal strip inserted on the top edge for better coverage of the nose. Less leakage of gas from the gap between the nose and the mask.

Judge's comment: Maibelle Lin/林怡君(Co-founder/Chief Product Officer of Pinkoi)

I like the way this piece offers comfort and aesthetic pleasure via inspirations by origami and bird's beak. The extra room surrounding the mouth and nose area makes wearing masks less suffocating. Using traditional Japanese paper art in mask design makes a deep impression with elegancy, lighting up our ordinary days with masks. I also like the fact that it can be easily made three-dimensionally with paper and cloth at home. It empowers people all over the world to overcome mask shortage by DIY themselves in a difficult situation like the COVID-19 pandemic.
Jury Prize( Taku Omura)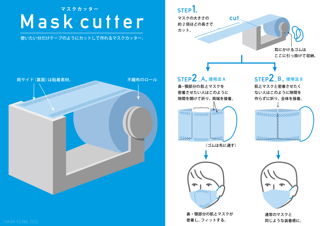 Title
Mask cutter
Creator
Comment
Thank you very much for choosing my design for the Jury Prize. I came up with this "mask cutter" as my daughter loves cellophane tape. I see her cut and paste with the tape cutter almost every day. Observing this, I thought it would be interesting to have a mask that is like an extension of the tape, customizable to your liking, like a craft. I hope that no matter what the situation, we can enrich our lives with designs that are easy and fun to use.
Judge's comment: Taku Omura/大村卓(Product Designer)

In our current situation, this is the solution that offers a realistic and new. The idea of ​​obtaining what you need when you need will be more useful in a family or public setting than for an individual. There were multiple proposals for rolled masks, however, we decided that this proposal was more effective, as sizes were easily adjustable using a cutter-knife as a set-piece. Although there is a lot of room for improvement, perhaps cutting the mask like a tape, as well as some concerns about dust, it is a design that I would really like to see commercialized.
FabCafe Prize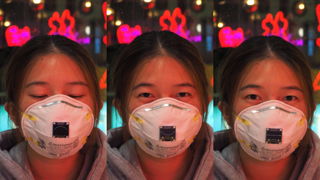 Title
MojiMask
Creator
Comment
It is a big honour for us to receive this prize, in particular considering that there have been so many inspiring entries. We hope that MojiMask can move people emotionally a bit closer together during this time of social distancing. Our dream is to turn MojiMask into a product. We welcome feedback and we are open to collaboration.
Judge's comment: Daiki Kanaoka(FabCafe Tokyo CTO)

In the midst of the corona disaster, this work proposed a mask to not only functional as a tool to prevent the spread of corona virus but also as a communication tool. In a world where it is no longer possible to communicate with others without a mask, with Mojimask, we are able to show our emotions to others, simply and humorously. At first glance, it's pretty rough prototyping, but I appreciate the realistic design of prototyping that allows you to hack an existing mask and use it. When you see people using it on the street, it gives you hope that if there is human creativity, we can overcome COVID-19.