Learn about the Japanese wood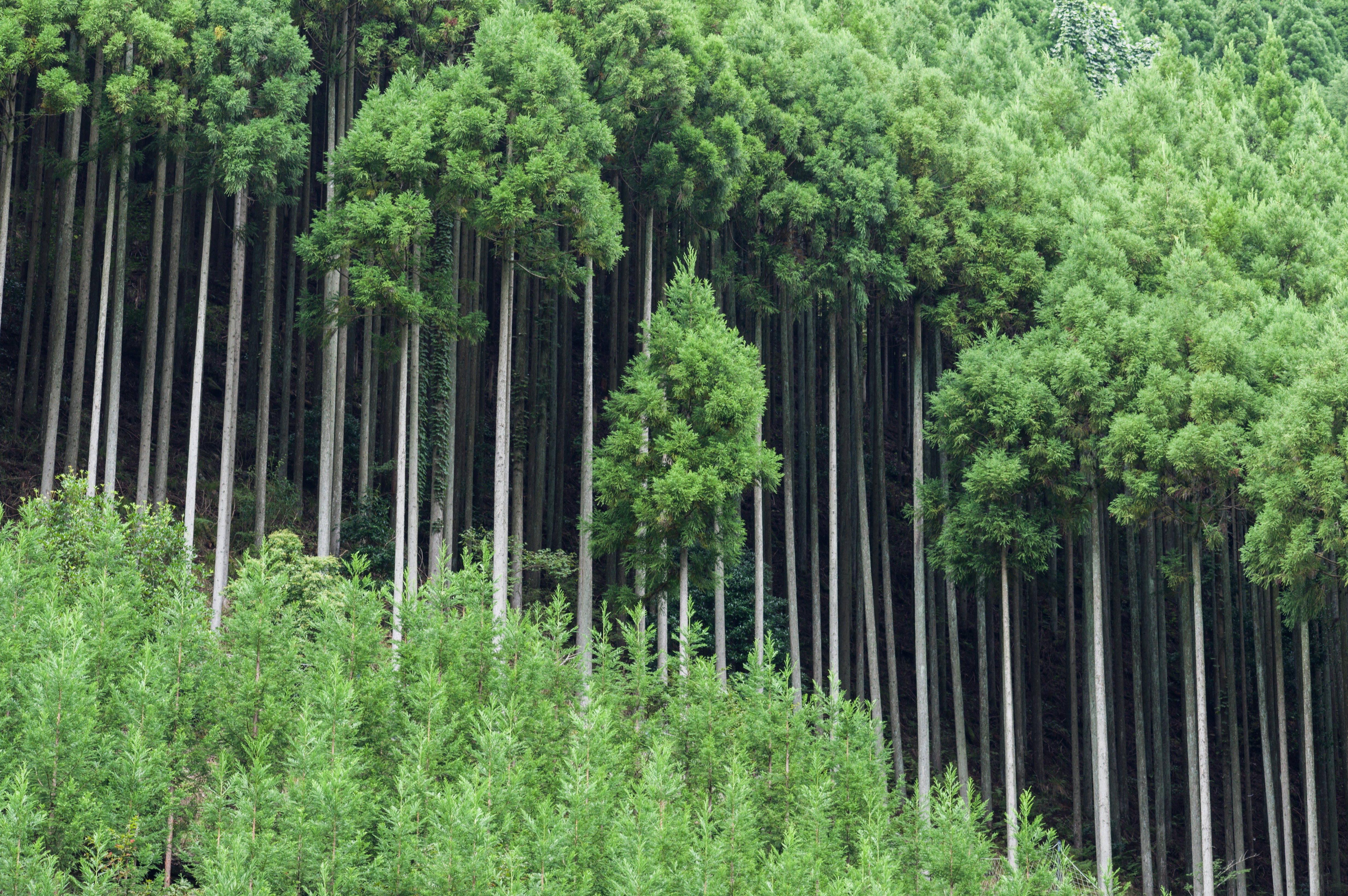 ①The supply and target usage volume of Japanese materials in 2025 is around 50% of the total demand at 40 million m3 (around 1.7 times more than the 2014 record).
Forestry Agency, Ministry of Agriculture, Forestry and Fisheries, Japan forecasts total demand for domestic wood and imported wood to be 79 million m3 in 2025, and has set a target for the supply and use of domestic wood of 40 million m3, or about 1.7 times the 2014 level, or about 50% of total demand for domestic wood. (The amount of domestic wood supplied and used in 2019 was 31 million m3, or about 38% of total demand for domestic and imported wood combined.)
Source: " Forestry Basic Plan (revised in May 2016)", "Chart of the demand of wood in 2019 (September 2020)"


②The period of use of planted forests and the need to "harvest, use, plant, and grow".
Half of the planted forests are more than 50 years old and now entering a period of use. In 2020, it is forecast that around 70% of planted forests will be higher than 46 years-old , which means that forestry sources are more abundant than ever before. On the other hand, planted forests need to be periodically thinned to adjust their density, as otherwise sunlight will not come through between the trees and the fertile soil will be lost from lack of grass, creating a landslide risk. Additionally, without appropriate harvesting, new trees cannot be planted, and the forests will be filled with old trees which will reduce carbon dioxide absorption and lead to reduction in the multiple function of the forest.
By harvesting and using planted trees, also planting and growing them, we can protect the sustainable cycles of each forest for the future.
Source: "FY2017 Annual Report Forest on Forest and Forestry in Japan", Public Relations Office, Government of Japan "Let us use wood and bring back a healthy forest! (March 2018)", Forestry Agency, Japan Website "WOOD CHANGE through "Kizukai Undo"(attention to wood use)"


③ Current challenges, and the aim of "WOULD CHANGE CHALLENGE"
In order to achieve the goal of approximately 50% wood self-sufficiency, it is necessary to increase interest in domestic wood and increase the demand for domestic wood.
Efforts to rethink and promote the value of domestic wood in architecture, products, and other specialized approaches have been made to date, but we believe there is still room to "change" (convert, transform, renew, and expand) the value of domestic wood, and that is the reason why "WOULD CHANGE CHALLENGE" project has been launched.By increasing the demand for domestically produced wood, the project aims to establish a cycle of main harvesting and reforestation, to pass on a wealth of forest resources to the next generation, to make the forestry industry a growing industry, and to ensure that the forests continue to function in the public interest.