Company introductions
Here are eight companies that will take on the Taiwan market.
Fujita Metal Manufacturing Co., Inc. / 藤田金屬株式會社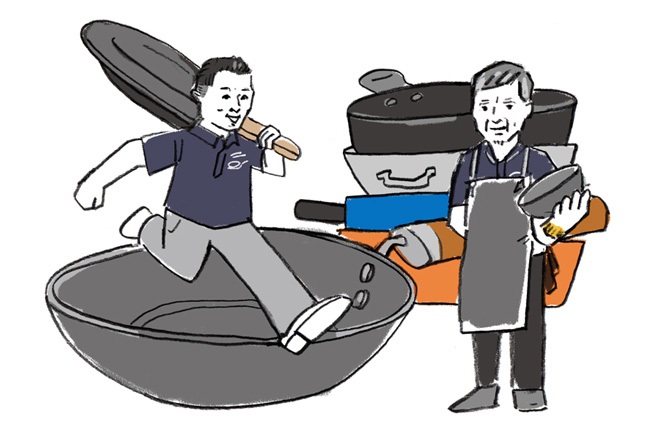 Fujita Metal Manufacturing Co., Inc. manufactures and sells kitchenware, principally frying pans and cookpots. At the time of foundation, it made aluminum teapots and tableware for school meals, but began manufacturing frying pans 40 years ago. To meet the needs of the times, it manufactures and ships as many as 120,000 various products a year, from iron frying pans to coated frying pans, coming in shallow and deep types.
藤田金屬株式會社是專門製作炒菜鍋以及鍋具,同時也販賣製造廚房用品。創業當時是製作鋁製的茶壺以及大眾食堂的餐盤,從40多年前開始製造炒飯鍋,隨著時代的需求轉變,從鐵製的炒菜鍋到鍍膜的不沾鍋、淺盤・深盤的設計,藤田金屬株式會社一年可以製造・出貨21萬個不同類型的商品。
Hototogisu Co., Inc. / Hototogisu株式會社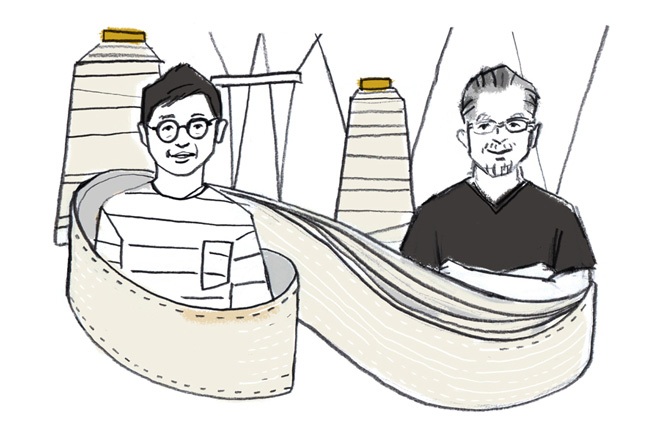 These days, there may not be many people who have slept under a mosquito net. A characteristic of mosquito nets, known as insect repellents, is that their texture is the roughest among textiles. For that reason, it has unique characteristics as a cloth material, such as high air permeability and easy drying. Hototogisu Co., Inc. is a company that manufactures mosquito net cloth using such mosquito net fabric. Mosquito net cloth is 100% cotton, so if you use it, it will become soft enough to fit the hands of people well. The company has broadened the product lineup to include mats and blankets, with a focus on the signature product Sodateru Fukin.
曾經在蚊帳裡頭睡過覺的人,應該不多。以驅蚊為主要目的的蚊帳布,在紡織品裡面是織數最少的,也因為這樣蚊帳布以布料來說,它擁有透氣性很高且快乾的特徵。Hototokgisu株式會社便是使用蚊帳布來製造「蚊帳布巾」的廠商,蚊帳布巾使用100%全棉,因此越用會變得越柔軟,觸感更佳。Hototokgisu株式會社以蚊帳布巾商品「Sodateru Fukin」為中心,也開展地墊及毛毯等商品線。

Daiichi Sogei Co., Inc. / 有限會社大一創藝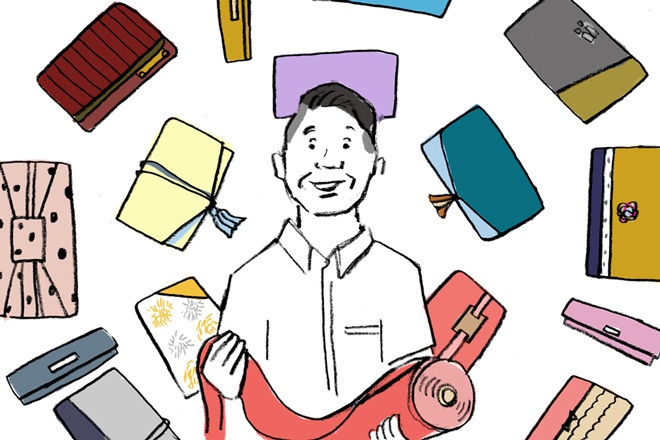 The product fukusa (silk cloths used for gift-wrapping or for wiping equipment during the tea ceremony) is a manifestation of courtesy and consideration for others on the part of Japanese people on ceremonial occasions. Daiichi Sogei Co., Inc. is a company specializing in the manufacture of products such as bags used for congratulations and condolences, gift envelopes, with a focus on fukusa cloths. Although it was a company that almost exclusively made things to order, it started manufacturing original in-house products in 2015. It is searching for new forms of fukusa: it is developing "style fukusa cloths" that fit the present age, where ceremonial occasions have become diverse, by endowing them with a functionality to be finely folded and using fashionable textiles.
袱紗,是婚喪喜慶之際,日本人用來表達對他人的禮節與展現體貼的商品。有限會社大一創藝是製作袱紗為主的專門業者,也生產慶弔用的包包、其他布料品等相關製造。有限會社大一創藝過去以承包案件為主力業務,從2015年開始製造自己的原創商品,至今開發出可以細部折疊的機能商品、採用具有時尚感的織品設計、開發符合現代婚喪喜慶多樣化需求的「原創設計袱紗」,持續地摸索新的袱紗樣式。
Lapis Co., Inc. / LAPIS株式會社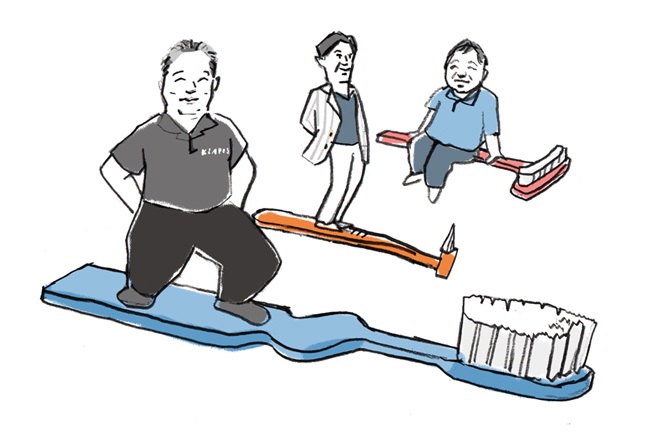 Lapis is a company that manufactures oral care products and makes about 30,000 toothbrushes and tongue brushes a day. Other than products for which they receive orders from major manufacturers, they also carry many original products, and their signature product is the "one-tuft brush," which is used at dental clinics and so on.The brush is cut into a distinctive cone shape and is useful for cleaning between teeth and so on.

LAPIS是專門製造口腔保健產品的廠商,一天可以製造3萬支牙刷及舌刷。除了承包大企業的訂單商品之外,也開發自己的原創商品,LAPIS的熱銷商品是牙科醫院也在使用的「健康單束毛牙間刷」,這是裁切成圓錐狀的牙刷,可以確實地清潔齒間。
Kinjo Rubber Co., Inc. / 錦城護膜株式會社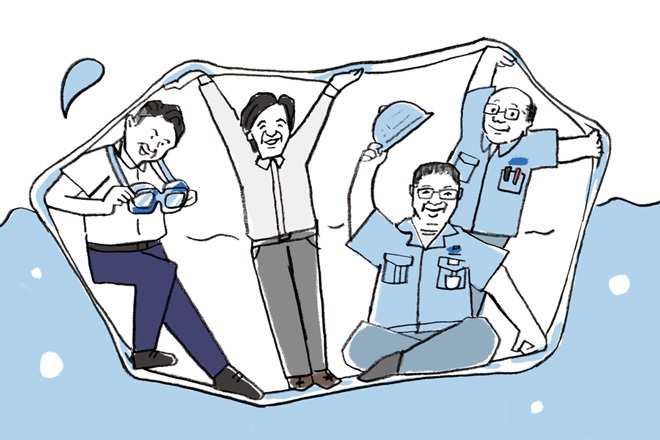 Packing inside the lid of a thermos or rice cooker and warmer, a tip attached to an endoscope to protect the internal organs, goggle straps or caps that inconspicuously support Olympic swimming medalists… Kinjo Rubber Co., Inc. is a manufacturer of rubber, a material that inconspicuously supports all manner of products. It is a completely B2B company, and what it manufactures is only part of the products. Although it is almost unknown to many people, everyone must have touched a product manufactured by Kinjo Rubber Co., Inc. at some point.
魔法保溫瓶與電鍋蓋子內側的密封膠圈、為了不傷害到內臟,在內視鏡的先端裝置的橡膠、在幕後幫助奧運游泳選手奪牌的蛙鏡橡膠圈及泳帽……。錦城護膜株式會社專門生產橡膠製品是世界上許多產品背後的影武者。完全的BtoB,而且他們的產品僅僅某個商品的一小部分。雖然大部分的人並不清楚這家公司,但是幾乎所有人都曾經用過這家公司出產的製品。
Akasaka Engraving Lab / 赤坂模具雕刻所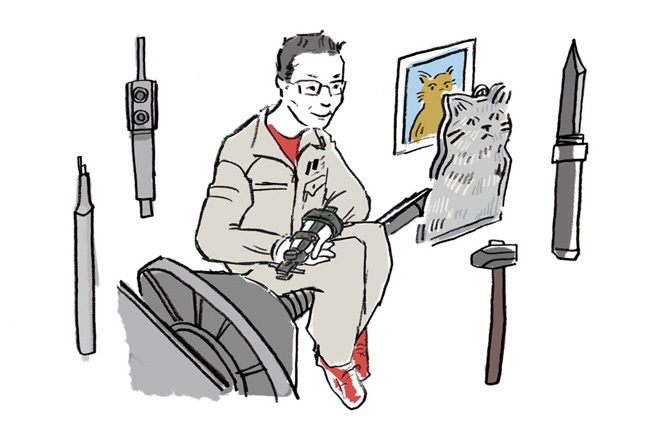 The "Akasaka Half Moon Engraving Method" was established by first generation engraver Hyounosuke Akasaka. Akasaka Engraving Lab is a metal processing and mold manufacturing company that combines the latest processing machines with highly developed carving techniques that have been passed down for generations. The products are of such a high quality that they can stand up to even the strictest scrutiny. The spirit of honest craftsmanship is alive even today, preserved through the use of state-of-the-art computer technology. The work is characterized by clearly defined edges in even the most intricate engravings, and is suitable for customizing small metallic items such as home appliance parts, logo plates, stamps and frying pans. The technology has become even more advanced in recent years, and it is now possible to transfer photographs to metal plates.
第一代・赤坂兵之助確立了「赤坂式半月雕刻法」。赤坂模具雕刻所是金屬加工・模具製造的公司,結合了傳承自第一代的熟練雕刻技術與最新的加工機器。他們的,精細細緻到必須要用力凝視才能看得清楚,即便已經是數位電腦化的現在,還是可以處處感覺到坦率的職人精神。赤坂模具雕刻所的雕刻產品,特徵是纖細且站在時代尖端,家電產品的零件、LOGO名牌、烙印或是炒菜鍋的刻印等等,擅長在小面積的金屬上加工,這幾年也展開在金屬板上轉印加工照片的服務,也持續在精進技術當中。
O-TWO Co., Inc. / 株式會社O-TWO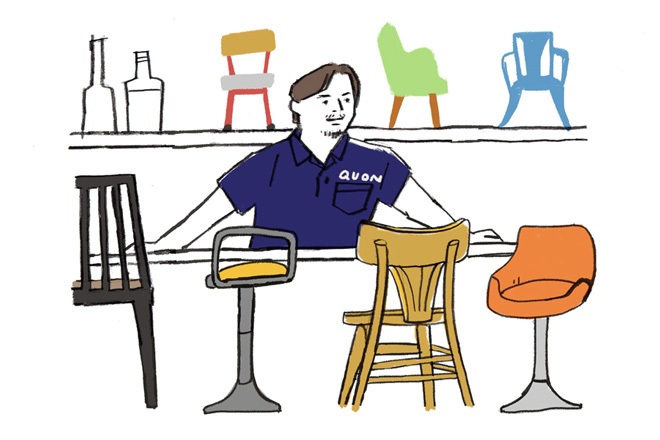 This is a manufacturer of chairs and tables specializing in B2B. After being founded as an ironworks, the company has expanded its business to manufacture furniture for business use, with a focus on making trumpet-like chairs widely used in pachinko parlors and mah-jongg houses. Because it manufactures for business clients, it is not well known to general consumers. However, "those chairs" that you can see in stores and cafés spreading all over the country have actually been made by O-TWO. In addition to the products in the catalog, it also accepts orders and handles individual designs. Since the launch of the new brand Quon in 2011, it has been expanding its field of activities to the world.
株式會社O-TWO是專注於BtoB,椅子與桌子的製造商,最早是鐵工廠,後來主力改為製造柏青哥店或是麻將館的喇叭椅,轉型成業務用的家具製造業。因為專賣業務用商品,在一般消費者當中知名度不高,不過全國連鎖規模的商家或是咖啡廳,他們所用的桌椅就是來自O-TWO。除了既有的商品品項,O-TWO也承接單一的設計訂單,2011年成立新品牌「QUON」,將活躍舞台擴展到全世界。
Runeseikou Co., Inc. / 有限會社Runeseikou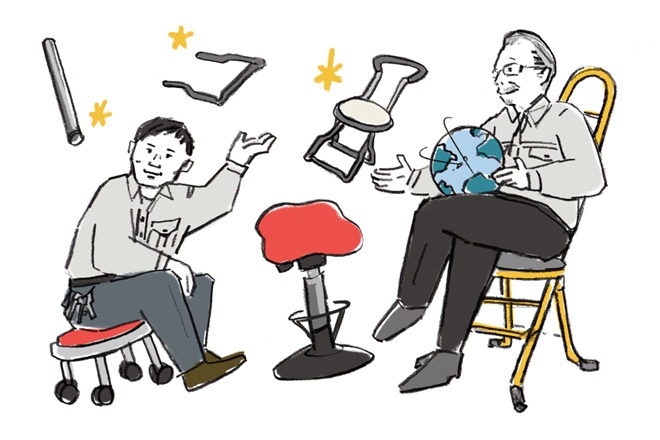 This is Runeseikou Co., Inc., that takes pride in being a domestic producer. It manufactures and sells sturdy and easy-to-use chairs for business uses. Its processing technology, which specializes in metals, produces a sturdy durability not found in overseas products. Its strong point is products that make good use of artisanship, such as folding chairs and office chairs, and it launches products full of ideas that give shape to the user's thoughts, "I wish I had something like this."
有限會社NUNESEIKOU是專注在日本國內生產,販賣製造堅固好用椅子的公司。以金屬為優勢的加工技術,可以產製外國產做不到的強韌耐久力並且擅長製作展現技術能量的折疊椅及工作椅。客戶的一句話「要是有這種產品就太好了」,就會想盡辦法實現充滿創意的商品。