What is an award competition?
An "award" is a prize given to an excellent person to honor them. A "competition" is a means for selecting the best from multiple candidates. This is typically how these terms are defined, but both are tried and true methods to "aim for greater heights by competing in quality in a certain subject."

Why are award competitions currently a popular topic?
In these quickly changing times when people's values are becoming more diverse, "award competitions" are being incorporated in businesses as engines for giving form to the core of certain subjects while simultaneously promoting innovation. As such, they are gathering renewed attention as methods for "open innovation."
The following types of people are also making use of "award competition" methods
New business managers who want to encounter new ideas and talents
Product planning managers who want to create new products with never before seen points of view
Local government officials who want to rediscover the appeal of their region
Marketing and PR managers who want to expand awareness of new products and services
These competitions range from logo design to the development of new projects within the company. Let us share with you the specifics of creating and planning a project based around an award competition!
---
5 Points:
Point 1: Decide what kind of topic to recruit with
Point 2: Rid yourself of distractions and concentrate solely on preparation! Checklist and model schedule
Point 3: The event starts! Implement measures to get everyone excited
Point 4: For the judging committee, take the initiative to recruit external leaders
Point 5: Announcing the results is the starting line for the next event. Think beyond the competition

---
Point 1: Decide what kind of theme to recruit with = one that faces the future you want
When holding an award/competition, you must set a theme. What do you want to do through the project? What do you want from the future? What new encounters do you want? In other words, what pieces are you missing? This is also a chance for you to face these questions together as a team. That's exactly why the careful selection of a theme is so important.
(Example)
A) "We want to advertise our region from a new viewpoint"
--> Recruit creators to produce a "PR movie" that will communicate how "SUGOI (amazing)" the region is
Example:TAKA Winter Video Camp
Point 2: Rid yourself of distractions and concentrate solely on preparation!
Check list and model schedule

From the time you select your theme and concept to the point at which you begin accepting submissions, there are a variety of necessary preparations. If you start thinking about all the things you need to do, it's easy to lose your way. You should aim for a period of one month to work out project requirements and steadily work through the preparations. Here we will introduce a "must" and "optional" to-do checklist.
To-Do Checklist
MUST
Create visual materials --> Make something that will stand out when being shared through SNS
Make requests to the judges --> This is directly connected to the qualities of those who will apply
Create the application summary --> Use simple words and make it easy to understand
Create the terms of the search --> Point: Will you want to use the winning piece as a product? etc.
Decide on the incentives, such as the prize and prize money --> Design it so that the winner is given a unique experience and honor. If you will be making the idea/piece into a product, you must prepare a reward
OPTION
Create a certificate / trophy --> Design it so that people will want to take pictures of it! This also contributes to the event branding
PR measures (press release, advertising, distributing posters, etc) --> You'll get as much out as you put in! Develop your PR so that it matches your target audience to get the most effect
Consider / plan an application information session --> Set up a space where the hosts can meet applicants directly and communicate the value of the event
Consider / plan an award ceremony --> This is an important event for everyone involved to interact and share what they got from the event. An opportunity to express the event's priceless value in words
Model Schedule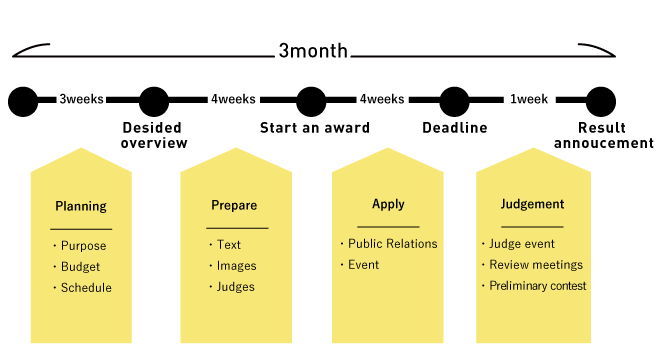 In reference to the idea of holding an application information session
A "meet-up" plan for raising the quality of the submissions
This was an opportunity to hear the opinions of the judges and experts and brush up on our ideas before applying.
Event example: ANA WonderFLY CreativeAward07
Point 3: The Award starts! Implement measures to get everyone excited
Your work doesn't end after starting the competition. Deepen your understanding of the project, actively promote the award by approaching the media and holding application information sessions to share your goals, and create points of connection with the participants.
Notes from PR Manager
What should we do if we receive no submissions soon after opening the competition? You might feel yourself getting anxious about this and other issues. When that happens, use media outlets that post information about awards! I'm tempted to keep these to myself, but here are some recommended competition information sites.
Domestic
Toryumon、AXIS、Kobo Guide Online
International
designboom

The above sites are media outlets that actively post information about award competitions. "You can trust these sites, they're sure to bring you more submissions!" (AWRD Editorial Department / Shinohara)
Point 4: For the judging committee, take the initiative to recruit external leaders
When you fill your judge panel with insiders, it may be difficult to ensure fair judgment as the opinions could be biased or a superior in the organization will be given the final selection choice. By inviting leaders from outside, you can bring in viewpoints that insiders wouldn't have as well as expert opinions. This will liven up the judges' debate! You can see the team members' different opinions and you might even discover something new in the process.
This will ultimately link to choosing a high quality winner. Of course, depending on the lineup of the judges, the quality and direction of the applicant may be what is chosen. Select experts that can express and act on the output you want.
Point 5: Announcing the results is the starting line for the next event. Think beyond the competition
You must not forget to reveal the results that came from the winning submission. By announcing the results in a visual way, people from both inside and outside the organization will be able to judge it and this will bring you to the next step. Plan this event with colors and decorations that match the theme, and make it into something everyone can enjoy. Of course, don't forget to reserve the venue for the after party.
Holding the award ceremony

Event venue design, food catering

Notes from the operating manager of the Global Award
The amount of time the busy judges can devote to judging is limited. Providing a no-stress judging environment for the judges is an important factor that links directly to the quality of the award. Here we will talk about the things you need to think about in regards to the judging committee.


Things to think about for the judging committee
Set a reasonably long pre-judging period (1 – 2 weeks)
On the day of, leave time for judges to look over the submissions once again
Print the submissions out on their own pieces of paper and make them visually easy to understand
Secure staff who can completely facilitate the judging space, such as organizing the talks and handling time managemen

Please be mindful of creating an environment where you can get the most out of the judging. For example, plan out the venue selection, a generous period of time for the judging, and a method for viewing the submissions. (Fab Director / Daiki Kanaoka)
Managed award: YouFab(https://www.youfab.info/2018/)

What is "AWRD", a service perfect for operating award competitions?
There's a lot to think about and operating such events seems difficult. If you feel this way, please try out our "AWRD" service. You can confidently entrust event design and administrative management to "AWRD."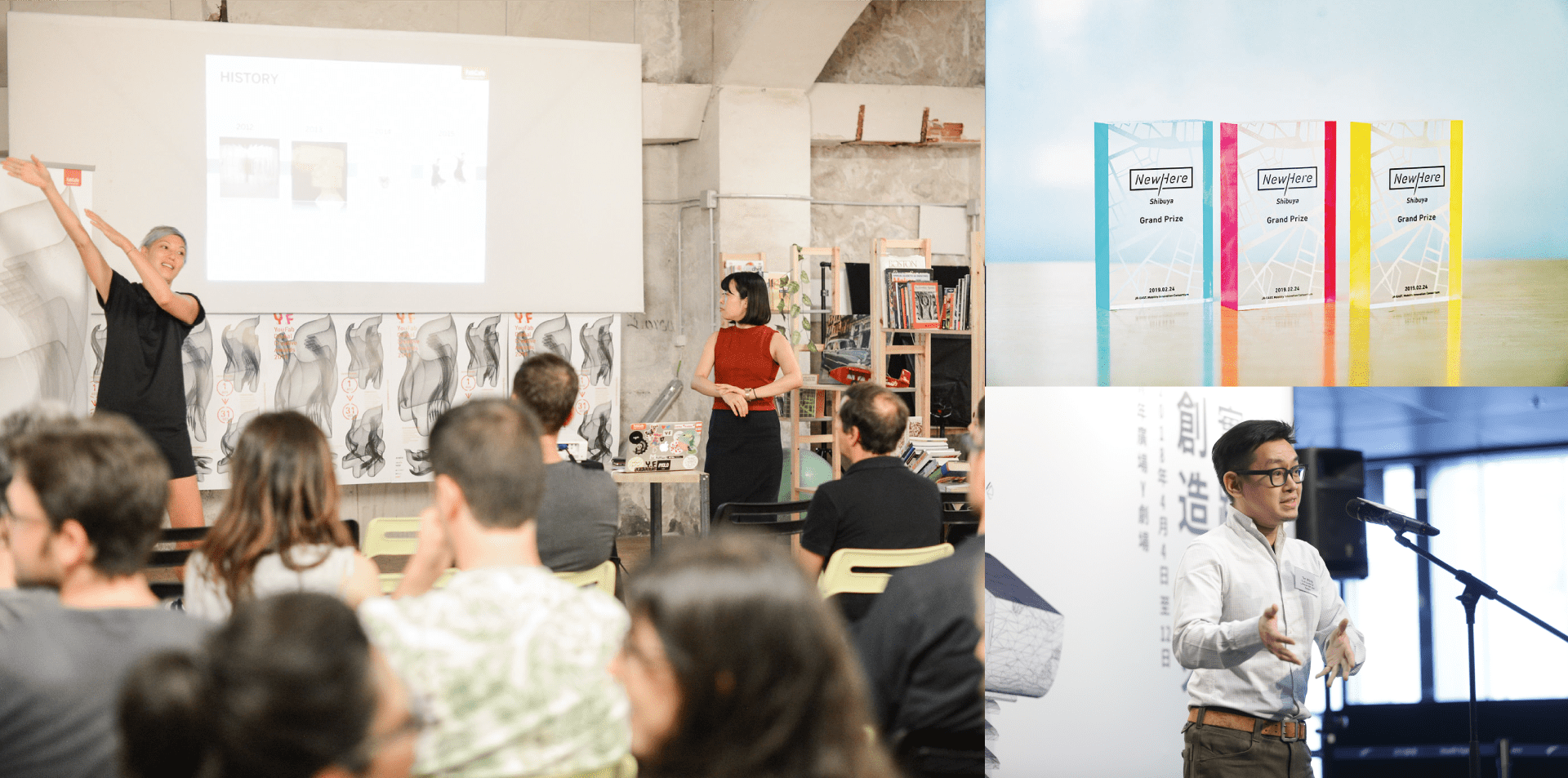 Based on managing company Loft Work's diverse successes in operating "open innovation" projects, and of course using all of the tips and tricks described above, we will put on an award competition order made to your wishes and we will produce successful results.
The benefits of AWRD
For use in branding and PR
AWRD can be used as an opportunity to publicize your company's activities toward the media, as well as create contact points with users through methods such as application announcements, application information sessions, and announcement of winning submissions.
A creator network with approximately 70,000 members
AWRD has a network comprised of around 30,000 registered creators and around 40,000 people based around FabCafe Global. Depending on your goals, you can narrow down your targets further and approach the most appropriate people.
Bilingual
Compatible with both Japanese and English. By simply pressing the language change button, you can easily switch between Japanese and English. Gather ideas from all over the world!
AWRD makes it easy to create a management system and maintain an application website for your award competition
Recruitment advertisements, application reception, submission management, online judging, and result announcements can all be brought together through a single online system. There's no need to create a website from scratch. In less than one day, we can release a site where applicants and judges can participate from anywhere in the world. We don't charge expensive monthly server use fees, allowing you to keep your costs down.
You can also choose our AWRD "PRO plan" starting from about 150,000 yen a month if you only want to use the system.

---

How was it? There are a number of tips for putting on a Hackathon. Please use these tips as reference when planning your own event.
Click here for examples of award competitions that used AWRD
*You will be brought to the website of Loft Work, AWRD's managing company
AWRD supports the creation of new value as a platform that gives birth to sympathy and co-creation through award competitions!
Please feel free to contact us for advice on award competitions or for a quote.